There's no denying that the kitchen is the heart of any home. It's where family and friends gather to share meals, stories, and laughter. And while the appliances and fixtures that make up a kitchen are essential, there's one element that can take your kitchen to the next level: a kitchen island with a wine refrigerator.
Not only does this stylish addition provide additional storage and countertop space, but it also offers a convenient and sophisticated way to keep your favorite bottles of wine at the perfect temperature for entertaining.
Whether it's a romantic dinner for two or a lively get-together with friends, this addition to your kitchen is sure to impress and elevate any occasion.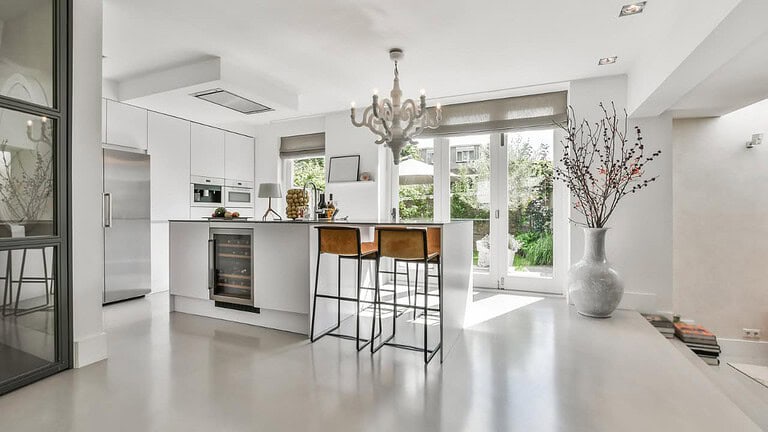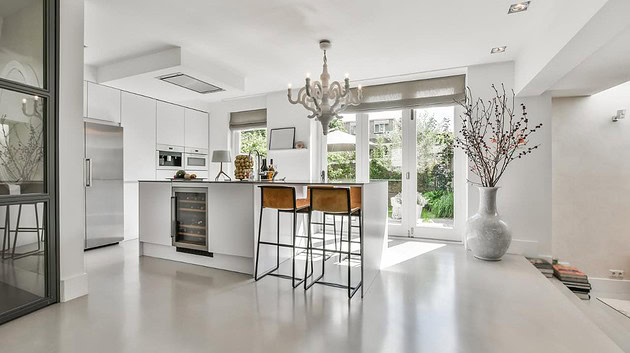 Benefits of a Wine Cooler in a Kitchen Island
A wine fridge built into a kitchen island offers numerous benefits beyond simply having a designated spot for your wine bottles.
Convenience
One of the primary advantages of having a wine fridge in your kitchen island is convenience. Imagine cooking a meal for friends and family while entertaining guests. With a wine fridge in your kitchen island, you no longer have to make frequent trips to the refrigerator or wine cellar to take a new bottle. Instead, you can simply reach down into your kitchen island and get a chilled bottle of wine to complement your meal.
Decor
As a designer, I know that kitchen islands can serve as the focal point of a kitchen, and adding a wine fridge can enhance the overall aesthetic appeal while also making it more functional. The beauty of incorporating a wine fridge into a kitchen island is that it offers a level of customization that other appliances don't.
Proper Wine Storage
Another advantage of incorporating a wine fridge into your kitchen island is temperature control. Wine storage is a delicate process, and temperature plays a significant role in maintaining wine quality. A wine fridge is designed to keep wine at an ideal temperature range, typically between 45 and 65 degrees Fahrenheit, which is crucial for preserving the flavors and aromas of your wine collection.
Features and Design Options to Consider When Choosing a Wine Fridge
It's important to choose a wine refrigerator carefully, as there are numerous features and design options that should be taken into consideration beforehand:
Capacity
Well, choosing the right wine refrigerator ultimately comes down to personal preference. If you only consume wine occasionally, a smaller wine cooler with a capacity of up to 18 bottles can be a great option for you.
However, if you're an avid wine collector who cherishes aged bottles, it's advisable to opt for a larger wine cooler with a capacity of 46 bottles or more to meet your storage needs.
Single Zone vs Dual Zone
There are two types of wine coolers, single and dual zone. Single Zone wine coolers are the more affordable option, but their functionality is limited to maintaining one temperature throughout the cooler. This means that regardless of the type of wine you are storing, you'll have to set the temperature to the average recommended temperature.
Dual zone wine refrigerators have separate sections for both white and red wine that can be adjusted by the type of wine that you are storing.
Aesthetics
Initially, it's crucial to contemplate the general style of your kitchen and select a wine refrigerator that matches its aesthetic. Certain wine refrigerators are available in a variety of finishes, including stainless steel and black, which enables you to choose the one that aligns with your kitchen's overall design scheme.
Furthermore, the lighting type inside the wine refrigerator is another aspect to consider. The majority of wine fridges have interior LED lighting, which serves to not only brighten up your wine assortment but also adds a touch of luxury to your kitchen island. Certain models offer adjustable lighting options, such as dimming or color-changing characteristics.
Lastly, you may want to think about the type of door on the wine fridge. Glass doors are a popular choice, as they showcase your wine collection and add a touch of elegance to your kitchen. However, if you prefer a more discreet look, solid doors are also available and can blend in seamlessly with your kitchen island's cabinetry.