When it comes to renovating your house, chances are you aren't afraid to invest almost your entire savings account on it. You choose the best design for your kitchen and bathroom, the most stylish furniture for your living room, and the comfiest bed for your bedroom. This is because you want to feel comfortable in every room in the place you live in. But, if you have an apartment on the side, you can remodel it so it is just as comfortable and stylish as your house and get some money out of it. Remodeling your apartment can make it more attractive for renting. According to statistics, about 36% of U.S. citizens live in rental properties. By upgrading your apartment, you will also be able to create a space that will be more inviting and make anyone feel at home.
Creating an attractive apartment can really help with raising the value of it. There are many real estate marketing ideas you can use to attract more tenants. One way to achieve this is by creating irresistible visual content that would make your apartment stand out. For that reason, we are giving you several interior design ideas you can borrow to make your apartment more appealing to new tenants.
Update the rooms
The first thing you must do is start with the big stuff and work your way down. This refers to updating the rooms in your apartment. Whoever is going to be living there, they should be able to have all the commodities like any other home.
Starting off with the kitchen
First, you can start with the kitchen if you are planning to renovate it completely as it is probably the most complex job and it will take longer to make it look good. However, if you aren't willing to do that, then you can still do some repairs that won't cost you a fortune. For example, if you think that the kitchen needs more storage, you don't need to install extra cabinets, but you can hang floating shelves. Then, you can bring in an inexpensive dining table big enough to fit at least four people. You can even add different wallpaper designs and splashes of color to make it livelier. For a high-contrast look, paint the base of your kitchen in a darker color and leave the cabinets or shelves in a brighter one.
Photo by Creatv Eight from Unsplash
The living room as the most attended space within homes
Next up is the living room. This part of the house is probably the one where everyone spends most of their time at home. The most important part of the living room is the furniture. If the budget allows it, you can buy a cozy sofa with a small coffee table that will be placed as the focal point in the living room. If not, just rearrange the furniture so it opens up more room for easier traffic and more accessories. If you want to get a fresher look, you can paint a feature wall or different designs that will be more impactful.
Bedroom remodel that will alter the way it's used
The bedroom is just as important as any other room in the house. The appearance of the room should give anyone a peaceful feeling since that room is mostly used for relaxing. Having a comfortable bed and a night table may not be enough to make the room more inviting. Mix warm and cool colors such as blue and yellow to make the room more serene and cheerful at the same time. If the space of the room allows it, you can add a desk that can be used for work or storage. Speaking of storage, you can also install floating shelves for some decorations such as scented candles or photos.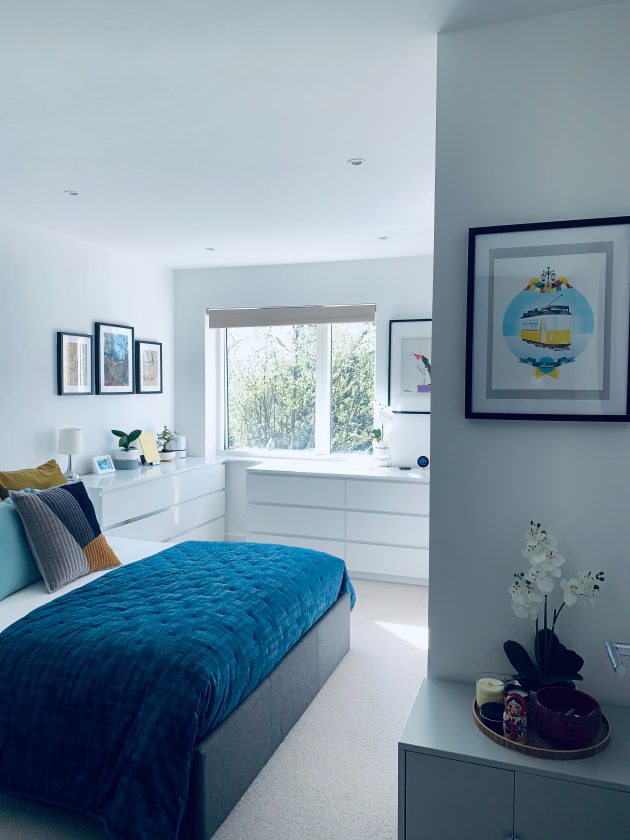 Photo by Josh McLove from Unsplash
Bring the spa to your home with a bathroom remodel
The bathroom can also be updated by doing several small changes. For example, you can start by adding more storage space in the bathroom. Use storage containers or freestanding shelves to remove the clutter from the counter or other areas of the bathroom. Don't forget the vanity in your bathroom which you can create from an old chest of drawers providing even more storage. If it is within your budget, update the tiles with different textures and colors. This way you can coordinate the accents by matching your cabinet doors with your tiles, creating a harmonious color palette.
Add decorations
There are endless options on how you can decorate each room in the apartment. All you have to do is be creative and make the most of it. We mentioned painting the walls and appliances in different colors, but there are also other ways you can update the apartment. You can add more color by using throw pillows with different textures and hanging blankets on an old ladder in your living room and bedroom. Also, there can never be too much art in the apartment. You can display some in the living room making the room look like an open gallery. And don't forget your plants. They are probably the best decoration that can light up any room in the house. They can be placed on any type of shelf combined with candles and books. Finally, a multicolored rug can make any room more appealing too.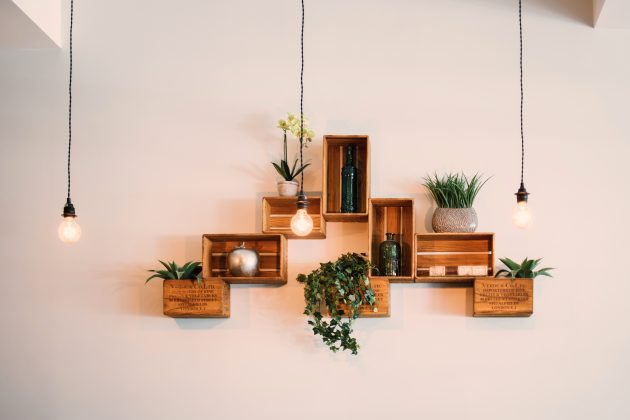 Photo by Lisa Fotios from Pexels
Install better lighting
Lighting also plays a major role in making the apartment more attractive. For example, you can match the shape of the dining table with the lights so the whole table is lit up. If you want to go with accent lighting, then you can use candles, recessed lights or buffet table lamps that will rest on the floating shelves. The good thing about accent lighting is that it can be installed in any room of the apartment. The kitchen can have pendant lights above the counter or ceiling ones if you want to go for a more professional look. Wall lamps or fairy lights around the headboard of the bed create a nice and minimal ambiance in the bedroom. For the bathroom, any type of side and top lights will do, even though many opt for vanity lights because they reduce shadows.
Final thoughts
Creating a sanctuary out of your apartment makes it more attractive for new residents to rent. Don't be afraid to invest in it because by upgrading it you provide more coziness and make people feel as if that is their own home. Borrowing these interior design ideas can make renting easier which will benefit you as a homeowner, as well as the new tenants, providing them with the perfect place to live.