When you look at photos of luxury interior design magazines, you hide your head in your hands and sigh over the complexity of interior design. Let's admit it, exclusive interiors look extremely sophisticated and as designed by the most famous interior designers. However, decorating a home is not as difficult and expensive as it may seem.
A stylish and luxurious interior does not have to absorb your entire budget right away. Who says you can't mix old furniture with the new ones? Finds from flea markets or antique shops, and preferably the heritage of grandparents and parents, combined with modern forms, testify to your good taste. Such classic furniture will look chic and expensive, even in the most modernist interior. They will also prove your efforts in arranging the apartment.
This is particularly important when decorating the interior of a house that is intended for sale. This case requires you to understand future buyers' universal needs to receive the highest cash offer possible. People appreciate the effort you put into decorating the house, but you do not necessarily have to put a lot of energy into it. It is enough that you will learn creative solutions that are not huge at all and have a massive impact on the house's overall appearance.
In this article, we will present the most useful tips for luxuriously furnishing your home so that everyone feels special in it.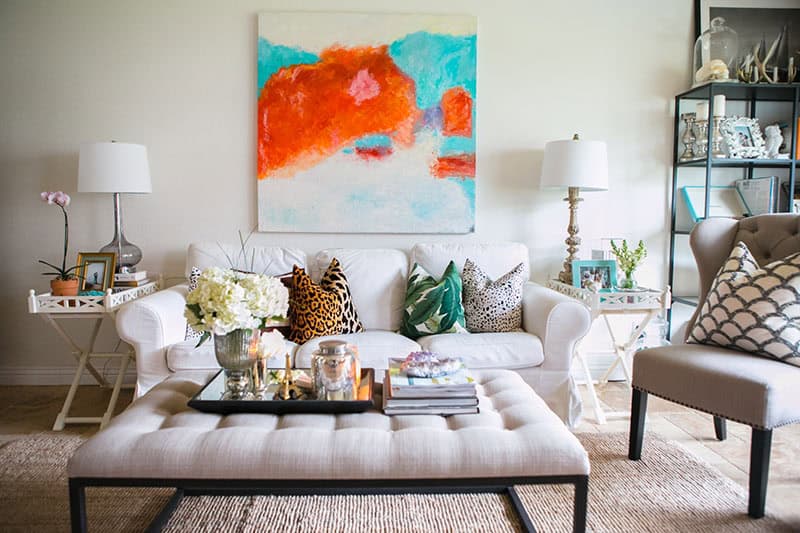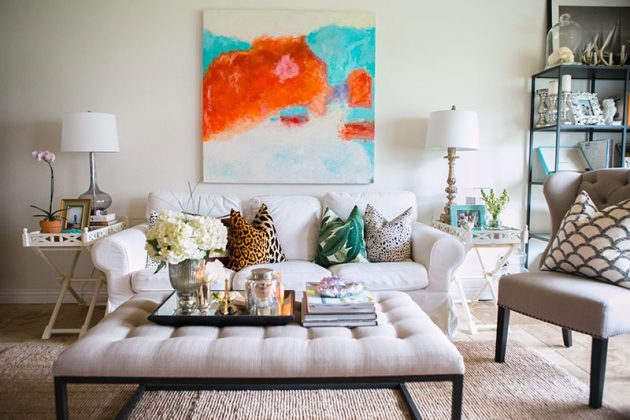 The Dark Color on the Walls
To give your home a luxurious and expensive look, try painting the walls in a dark color. This will make the rooms take on depth and provide them with the impression of being very elegant. Dark colors on the walls bring chic and luxury. However, some people are afraid that painting the walls in a dark color will make their interiors smaller.
But don't be afraid of this effect. You can reduce it by adding some golden accessories, bright furniture, and fabrics to expand the interior. Also, remember that correct lighting will brighten and warm up space.
Invest in Art
The best piece of art for your home is something with a personal touch that evokes pleasant feelings. Check out the antique markets for items with history and soul. Often, art universities organize student exhibitions. Such an event is a real mine of talent. You can buy a painting produced by a young talent for a small price, and perhaps, once the artist has gained recognition, your work of art will get more value.
A huge, eye-catching work of art can spark a conversation and saturate the living space with a luxurious and beautiful element. If you're on a very tight budget, be creative, and do it yourself (all you need is a giant canvas from an art supply store, paint, and a bit of inspiration). Graphics, posters, or even artistic photographs hung in decorative frames are also a distinguished decoration.
Bedspreads With a Fur Texture
Such soft blankets create a cozy and warm atmosphere in the master bedroom or guest room. In the bedroom, you can keep the rest of the bedding simple to balance the whole room's look. However, in the fancy living room, such a blanket adds style and allows the household members to wrap themselves up during autumn evenings with a book.
You don't need to buy real fur – and it's even better not to! There are many interior proposals that look stylish and elegant without using animal-based products. Artificial fur comes in beautiful colors and with different lengths of hair. Gray and beige tones will be perfect for an exclusive-looking interior.
Impressive Wallpaper
The choice of unique wallpaper, for example, with large flowers on it, gives the interior the right atmosphere. Rooms become classy when there is a print on the wall showing a beautiful pattern or composition. Please note that such wallpaper does not like too many ornaments. It is better to give up paintings hanging on the wall and decorative wall lamps in a room with decorative wallpaper.
It is worth choosing a piece of furniture with a similar color shade. For example, it can be an armchair with velvet upholstery that will add warmth to the interior. You can buy such an armchair on the antique market and give it to a craftsman who will cover it according to your preferences.
Conclusion
It is essential to think carefully about how a luxurious-style house will look like. Before you choose all the accessories, it is worth considering the composition – to avoid excessive splendor, it would be best to plan carefully how individual rooms will be decorated.
You should also keep in mind that it's crucial to make other family members feel comfortable and at home. In addition to focusing on elegant accessories and tasteful decor elements, it is worth ensuring that the house is cozy and nice to live in it.
©Paula Sieracka