Concrete-look tiles have been a trendy home decor for quite some time. Even when you look at new modern interiors, you'll find concrete look porcelain stoneware tiles used as a default decor. Why? Because of its majestic feel of simplicity and elegance. The rough finish with a sophisticated look makes the surroundings more pop to the guest's eye. Who wouldn't want that?
Concrete-look tiles, what are they?
Concrete-look tiles are porcelain tiles that are individual tiles of rough and materialistic finish. They come in different tones like matte-finish, glossy or textured, and even the most trendy distressed look. With low maintenance and low water absorption rate, these porcelain tiles are a go-to home improvement material if you are looking for one. Manufacturers like Refin ceramic tiles have a wide range and tone in their collection, offering something for everyone's preference in their catalogue.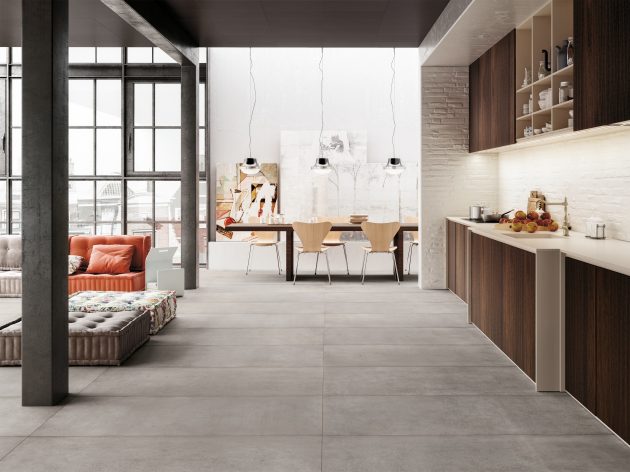 Why go for concrete-look tiles?
Rugged and rough outlook is the new trend. Having concrete-look finish all over your home or a part of it brings a more down to earth feeling to anyone visiting. Minimalistic yet detailed, it makes a very tiny space feel more open and relaxing. For example, a corner for a reading place with a lamp, detailed with concrete-look tiles, can be less distracting and powerful at the same time.
Even for bigger spaces – a concrete look flooring, maybe a wall detailed with textured concrete porcelain tiles and a rug on the floor can elevate the atmosphere. The fact that they have an easy installation and easy removal quality make them even more convenient. So if you ever need to change a part of the tiling, you won't have to face a lot of work. Its longevity makes it more convenient for any house decoration.
Where to install concrete-look tiles?
Thanks to the various shades, tones, and finishes available, there are many ways of decorating your home with concrete-look tiles. For example, you can opt for a transition of shades from the entrance of your home to your living room or a similar pattern for your hallway to the bedroom. Besides, your bathroom walls can also have a concrete look as it brings in a more modern vibe to the space. Even your fireplace can have a whole wall of these porcelain tiles, as they can withstand heat and any temperature change.
As more and more time is spent in a modern kitchen, using relatively vibrant concrete-look tiles here that match your stainless and black and white cookware can make a huge difference. Any guest who comes will compliment your choice of the tone or the outlook of your kitchen. And it is an easy to clean feature that requires just a swipe of the wet mop.
Final words
Porcelain tiles are sturdy and can withstand a lifetime if it is maintained well. And talking about maintenance, a simple floor cleaning solution in hot water can take off any grease, dust or spill. So, you can just install and forget about them.