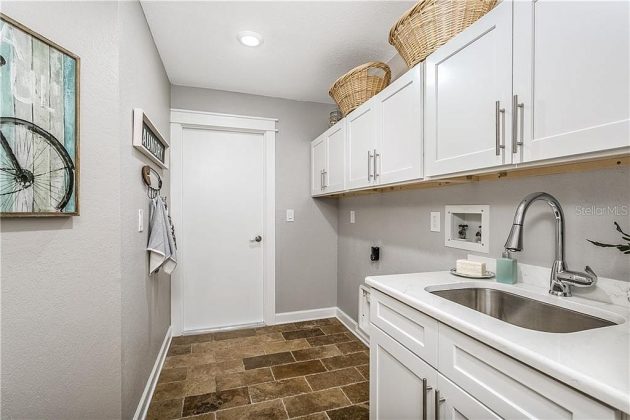 The laundry room is often overlooked and not much effort is made to make it look more beautiful. It can make a big difference, however, if you create a welcoming space as it makes doing the household tasks more enjoyable. In this article, I will talk about the different ways you can design this space to make it more appealing.
#1: Window Dress Your Laundry Room
If you are lucky enough to have a window in your laundry room make sure to take advantage of this. Natural light will make the space more appealing and if you dress the window you can make it look very beautiful.
#2: Create Laundry Room Cabinets For Storage
Storage space can be problematic, especially if you have a washing machine and dryer. That is why laundry room cabinets are vital as they can create the space you need to store everything and make the room clutter-free. You can keep things like your washing powder, ironing board stored away to keep things organized.
#3: Add Shelving For Deco
If you have not put up shelving yet, it is a must as you can store lots of items that would otherwise be lying on the floor. They can also be used to make the room more beautiful by putting planets, pictures, or decor on them. Just make sure that it is securely fitted as if it is above the washing machine or drying, the vibrations could make the items on the shelving fall off.
#4: Create A Countertop To Maximize Usable Space
If you are fortunate enough to have a large laundry room, make sure to make full use of this space. One of the best ways is to create a countertop along with the cabinets below. It will give you a space to place your clothes when you're doing the ironing and will come in very handy for lots of tasks.
#5. Cover Your Laundry Appliances With Cabinet Doors
If you keep your washer and dryer in your laundry room, they can make it feel non-appealing. That is why the best solution is to keep your appliances in special cabinets and custom handles so that cabinet doors can be placed on the machines. There are lots of different styles to choose from so you could go high gloss with bright colors, wooden, etc. It will make a big difference and make the room more appealing to be in.
#6: Warm Colors Instead Of White
A large number of laundry rooms are painted white which is boring and does not bring any warmth to the room. Adding pastel colors will help bring a more warm and vibrant feeling. Alternatively, you could keep with the white but use the cabinet doors to add pop colors to give it that modern feeling.
#7: Do Underestimate The Power Of Plants
You can boost your productivity, creativity, mood, and concentration by putting a planet in your laundry room. Doing household chores can be stressful and plants have been scientifically proven to help reduce stress levels and fatigue. Also, they help to keep your laundry room clean by increasing oxygen levels and absorbing toxins. They also help to reduce noise which is great for when you have your washer or dryer turned on.
#8: Use Mirrors To Give The Illusion Of Space
If your laundry room is small it can feel claustrophobic when inside. By adding a large mirror it will boost the sense of space and make it feel a lot larger than it is. It also provides a focal point and placing the mirror near a window will bring in reflective light or you could be creative and group mirrors together for more visual interest.
#9: Tiles Are Better Than Carpets
One big mistake for a laundry room is to have carpet. The reason why it is not a good idea is that you will be doing your laundry and you do not want your wet clothes dripping on your carpet. It will make it smell and you will have to clean it regularly. Ceramic tiles are the best option as they are easy to clean, just make sure you do not slip when the floor is wet.
Final Thoughts
With the right design, you can even use your laundry room for other tasks like a chill-out room or additional storage for the home. Adding a wooden countertop that doubles as an ironing station, or gets some much-needed extra storage space with a wall of shelves. After the makeover, you're sure to find yourself enjoying your laundry room a lot more often.