Designing the modern home of your dreams is dependent on you making the right artistic choice at every turn. The theme, walls, furniture and fixtures, all need to fit together perfectly to make your dream a reality. One aspect that is often overlooked and underestimated is the flooring. The right floor design is vital for a home to feel charming, attractive and welcoming at the same time.
There are plenty of flooring options, each that brings something special to the look and feel of your home. Timeless favourites like tiles and woods never go out of style and can be used quite creatively to make floor designs that stimulate the senses.
Similarly, a luxurious wool carpet is always bound to catch the eye. Concrete floors too are a possibility, maybe adorned with wall to wall carpeting to make them look more appealing.
Want something more practical and eco-friendly? Cork and bamboo floors are also in-vogue these days. They bring that extra bit of cosiness into homes and are much cheaper alternatives to hardwood with a similar look.
At the end of the day, your choice of floor design depends on how you want your modern home to come across. Let's take a look at some of your options in more detail:
Terry from IB Flooring agreed "Flooring plays a big role in the styling and homely feeling of your house, where walls just don't cut it."
Concrete Floors
Although it is one of the oldest floor types, concrete has that cool, polished appearance that looks good even today. This is especially true if your walls too are concrete, then the floor can help give your room a measure of synchronization. You can go for radiant heating under your floors to protect against cold.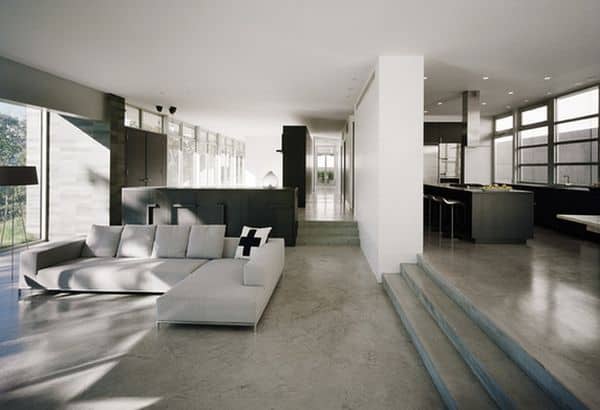 Concrete floors are often covered with carpets and rugs for that extra dash of colour. Just imagine a brilliant, shiny concrete floor, covered with a gorgeous plush rug. Now that's one floor design idea worth a punt.
Carpets and Rugs
The thing with carpets is that you have a whole range to pick and choose from. So essentially you can go for anything that suits the overall theme and feel of your home. Go for the rich feel of a natural fibre carpet to give your home a high-end, elegant ambiance. Or you could go for your basic inexpensive types with a bold design to add colour to the mix.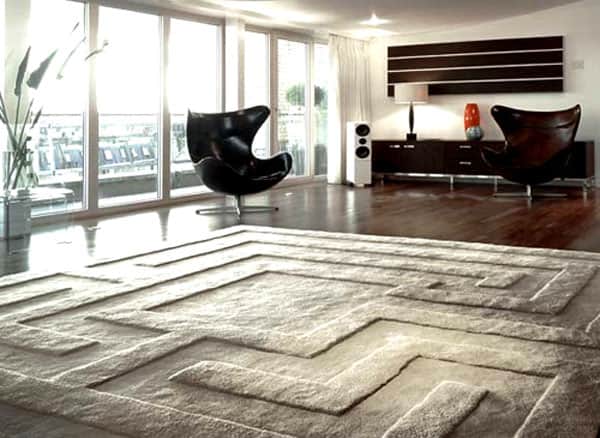 Natural wool silk rugs are very popular and will inject some life into your place. The glowing, soft feel of this type of modern rug is great on the toes. It really does stand alone in a class of its own. If you prefer a young, exuberant style, it would be worth your while to look into shag rugs. The cushiness of the rugs makes them very popular these days, plus the long plush fibres are quite fashionable.
Tiles and Marble
Tiles and marble continue to be a popular flooring choice in modern homes. Their cool elegance, functionality and versatility make them one of the easier floors to fit into any theme. Be it hexagonal tiles or rectangles or any other shape, the symmetrical placement of the tiles lends to a visually appealing floor.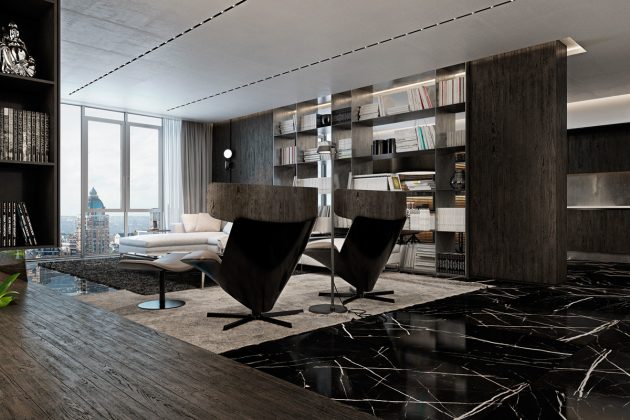 Place a rug over the floor or leave it as is, experiment and see what fits. Anytime you feel that your tiled floor isn't working for you anymore, you can paint over it and have a new floor design in no time.
Bamboo and Cork
Go green with bamboo and cork floors. Much cheaper than hardwood, these floors are a standard for comfortable and personable modern home designs. A favourite for baby nurseries and kid play areas, bamboo and cork floor designs tend to be attractive and overall very soothing to the eyes.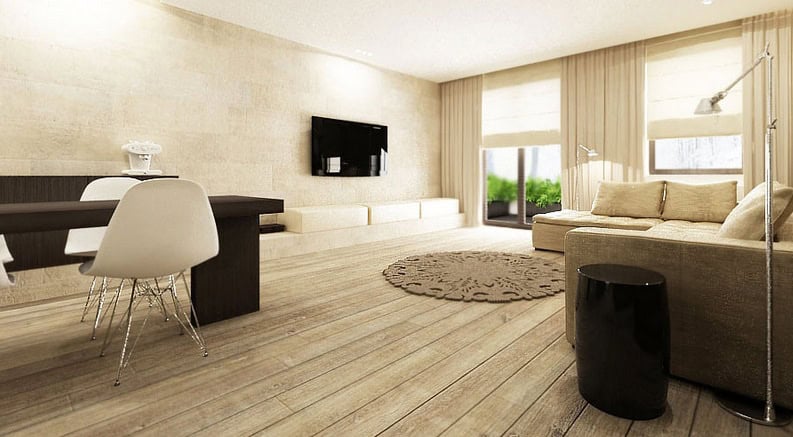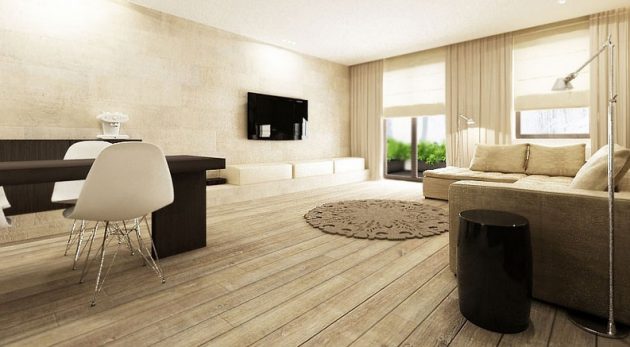 Wooden Floors
Wooden floors have always been the standard bearers of modern homes, and it isn't any different today. They have this timeless, graceful look that works in all sorts of interiors. Dark hardwood floors are especially great for striking a balance against a light-coloured backdrop. Ask professional floorers for assistance in picking the right type of wood for your home.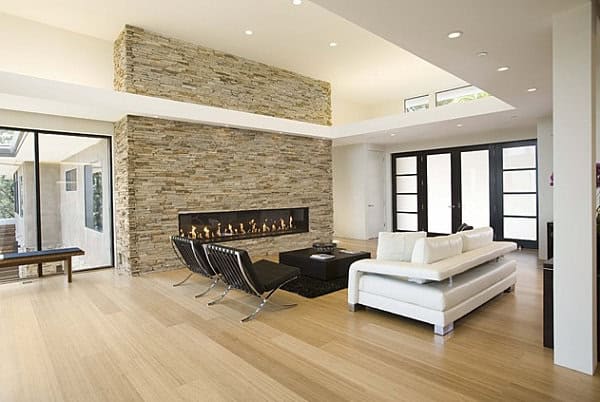 Two-toned wood flooring is doing well these days. It fits the minimalist, comfortable themes of modern homes and can really echo the cool, chic aura of your place.
3d Floors
If you want to go for something really unique and out-of-the-box, look into investing in 3d floors for your home. There is an endless array of designs to choose from, while the 3d aspect is bound to increase the 'wow' factor tremendously. Colour, artistic flair and innovation are all at your fingertips here. It's just about taking a leap of faith, one which could give your modern home the look of a lifetime.