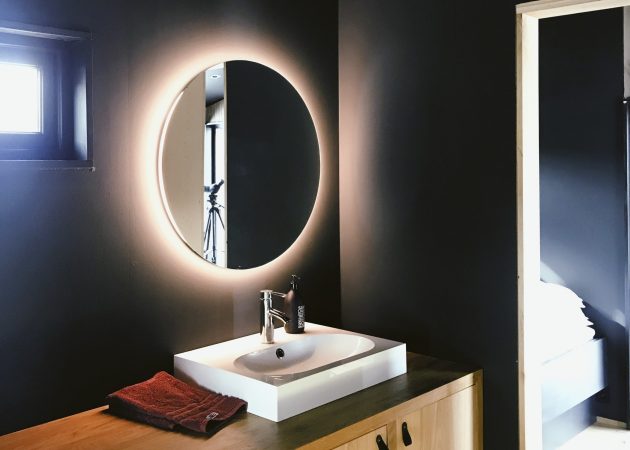 Interior design features are ever-evolving, becoming more fashionable and more functional. As trends shift toward a more minimalist approach, especially as space becomes more limited, the bathroom is often the first place revisited.
As bathrooms tend to be the smallest, most commonly used room in the house, it's important to find that balance between style and experience. Here are five smart modern bathroom design features you'll love.
Going "Sinkless"
Sinks tend to take up a lot of counter space in a bathroom– often more than is ever really needed. Since Kim Kardashian-West showed off her custom-designed sinkless counter, interior designers have been looking for ways to incorporate this feature into the everyday household.
The sinkless feature is an illusion. The counter appears perfectly flat and unbroken, with a small slit under the faucet to capture water. In reality, there is a very gradual slant downward toward the drain that keeps water flowing in the right direction. This feature doesn't require any specialized plumbing installations either. When looking for a plumber Melbourne based King & Sons recommends looking for someone with years of professional experience when incorporating new design features.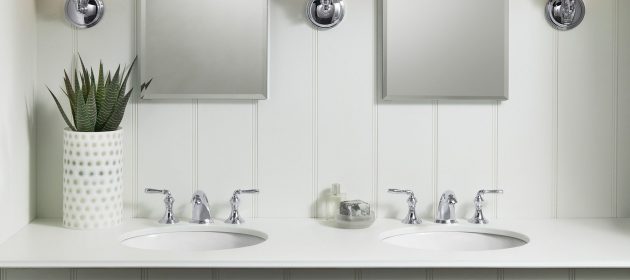 Backlit Mirror
Bathroom lighting is a challenge, especially for those who use the bathroom as a place to get ready for work and events. The traditional downlighting can be stark and cold, casting hard shadows that make it difficult to apply makeup or relax in the bath after a hard day.
Backlit mirrors reduce the need for bulky fixtures that require additional cleaning and introduce soft, diffused light that isn't as jarring during late night trips to the restroom and creates a calmer atmosphere.
Round the Edges
Traditionally, square angles are used in bathroom design. In small bathrooms, however, rounding the edges creates the illusion of more space and better overall design flow. The rounded edges soften the room and make it less austere, creating a more relaxed environment.
Consider rounding the edges on the vanity, a standing shower, and any counter space that may be a part of the room. For a complete look, ensure the sink, fixtures, and accessories are free of sharp angles as well.
Large Windows
Bathrooms are often windowless or have small windows as an effective way to protect the privacy of the occupant. However, it can also create a cave-like environment that's void of natural light, as mentioned before. There are plenty of ways to incorporate large windows into the bathroom without sacrificing privacy.
The shape and position of a window will ultimately indicate how well it works for privacy protection. Additionally, including sheer drapery or stylish roman blinds can create a barrier while allowing diffused light to enter the room. Those who prefer something a little more concrete can use a frosted window to let the light in without being visible to the outside world.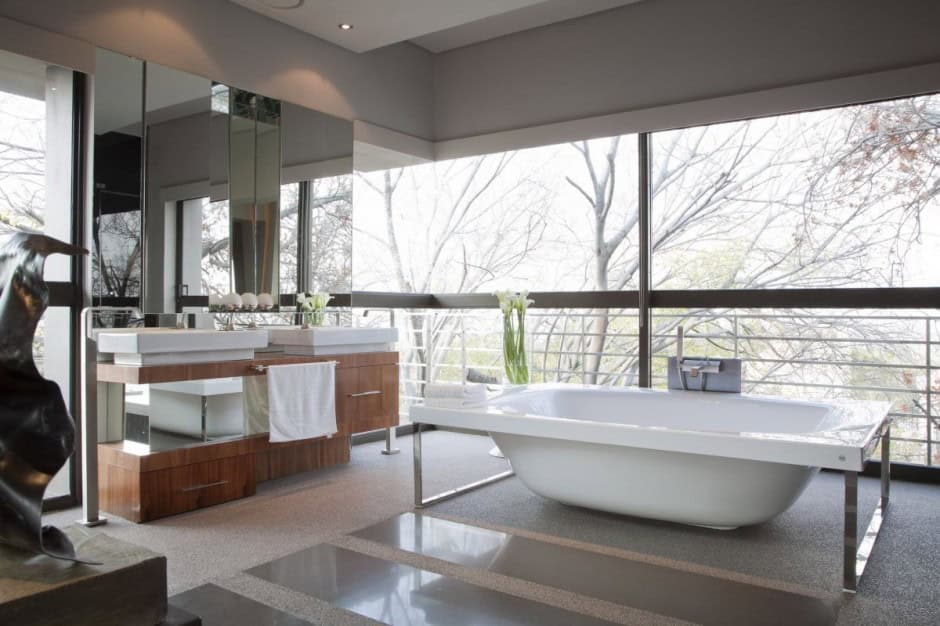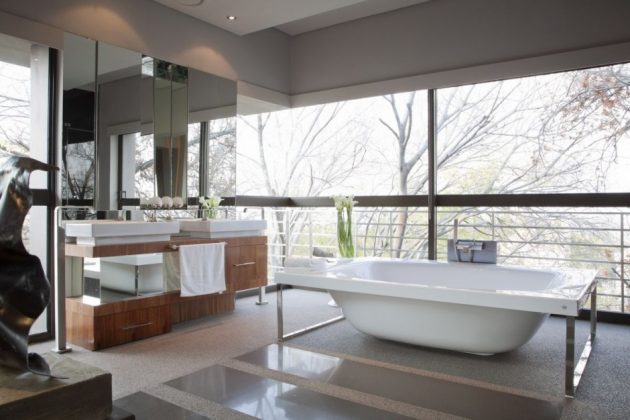 Mixed Materials
Designers are moving away from the more sterile bathroom surroundings and starting to incorporate natural elements. Using mixed materials, such as stone accents and wood encasements around the tub, creates a spa-like effect that will turn your bathroom into a private haven. Open, industrial-style piping and angular tiles in combination with natural elements create a genre-defying style that's entirely unique.
As a part of the mixed materials trend, houseplants are finding a home in bathroom decor. The green plants add a pop of life and color and warm up the area. Those who struggle to keep house plants alive will see the added benefit of continuous exposure to moisture. The purifying qualities of the plants can help keep the bathroom clean and fresh.
Modern bathrooms prioritize comfort and function in conjunction with one another. By looking at ways to optimize space and make the environment warmer and more welcoming, your bathroom will become an asset in your overall design scheme.