For busy families, avid home cooks, and seasoned hosts, the kitchen is an essential part of their homes. Having the best kitchen means having the perfect balance between beauty and functionality. However, designing your dream kitchen will not be an easy task. If you're looking out for ideas for your next home renovation, then continue reading this article to learn about different kitchen design ideas you can use.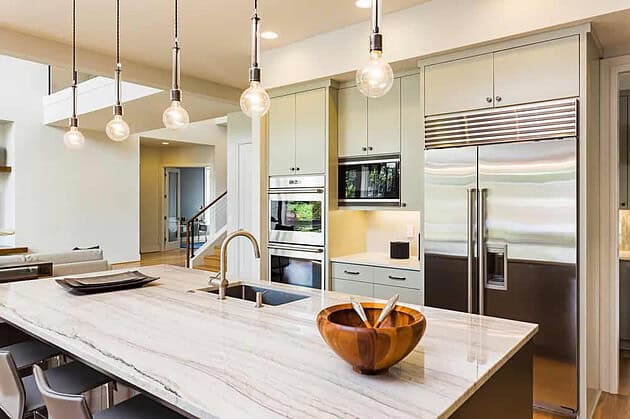 That said, here are some ideas you should consider when you're eyeing to renovate your home:
1.Dark-Colored Cabinets
White cabinets are becoming a thing of the past. Although they're classic looking and are commonly used in any kitchen style, these light colored cabinets are rapidly losing their popularity. In today's trends, different varieties of wood stains and dark-colored paints are becoming a staple of modern kitchen designs.
Consider using colors with shades of green, blue, navy, black, and plum. These colors work well in enhancing your kitchen's sense of space and give it a luxurious and dramatic feel. Dark-colored kitchen cabinets render an atmosphere of deep luxury and full-on elegance. However, you should also be careful not to make your kitchen feel perpetually dark and overpowering.
2.Streamlined Designs and Textured Materials
Streamlined designs and textured materials are becoming popular amongst homeowners. And when it comes to kitchens, a clean aesthetic is always a welcoming sight. Simple and clean-looking designs can make your kitchen appear much brighter and larger. However, you should also avoid making the design too simple, as it can end up becoming boring.
Consider a streamlined design with textured materials. Use rough wood and metal tubings for your open shelving to have a rustic feel. Floor tiles made from natural stones that are beveled or sculpted also makes an excellent focal point in your kitchen.
3.Custom Cabinetry
If you're an avid home cook that needs a lot of storage space for utensils, cutlery, and ingredients, you'd surely need a practical storage solution. However, basic drawers and shelves usually have void spaces in between their framework, which makes them inefficient when it comes to storage.
Custom cabinets will have large enough spaces to stow away small appliances, dividers for utensils and cutlery, caddies for pans and pots, and rollout or pullout trays for spices. Other options may also have deep drawers and wastebasket cabinets for garbage. These cabinets can make your daily life more effortless and make cooking more fun.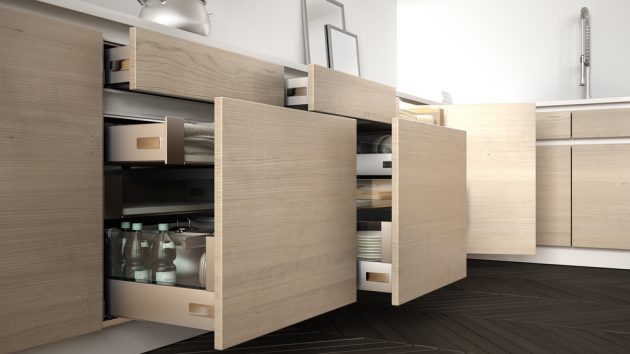 4.Smart Technology
Technology can play an essential role in improving your kitchen. Most of the modern kitchens today utilize technology to enhance the functionality of appliances such as stoves, fridges, and microwave ovens to improve the user's overall cooking experience.
Get a refrigerator that alerts you when your grocery items are going bad, a motion-sensing faucet that automatically turns on and off, or a coffee maker that can be programmed to make you a fresh cup of coffee as you wake up. You can also have your lighting system integrated into your smartphone or tablet. Having a smart kitchen can generally make your life a lot easier.
5.Ceramic Flooring
When it comes to kitchen flooring designs, the two most popular options would be hardwood and ceramic. However, hardwood can sometimes be expensive and harder to maintain. On the other hand, ceramic tiles are easier to maintain and comes in a variety of sizes, styles, and designs.
Ceramic flooring can be designed to look like or mimic a wide range of materials such as natural stone and hardwood. When it comes to sizing, ceramic tiles can also be custom cut to resemble hardwood planks or any other unique pattern.
6.Multipurpose Kitchen Islands
Kitchen islands have become a focal point in today's modern kitchens. They are made larger to serve multiple uses and are designed to make a statement. Modern kitchen islands provide seating for casual dining and drinking, and are usually fitted with under-counter appliances and storage cabinets, which can also be beneficial for designs that have less wall cabinet space. If you have a large and open living room space, you can also consider extending your kitchen island to ensure that it doesn't clutter your kitchen space.
Closing Thoughts
Having the perfect kitchen will give you the best cooking experience and also keep you aesthetically impressed. May this article help you find the best designs for your dream kitchen. Always remember that having the right balance of beauty and functionality is the key to creating the ultimate home kitchen, so do your research and ask for professional advice.