If your bedroom suddenly seems to be lacking in style, it might be due for a makeover. While most remodeling projects are expensive, you don't always have to spend a fortune to liven up your bedroom.
Usually, the smallest and cheapest changes will make your space more beautiful and more comfortable. So, keep reading this article to learn some inexpensive ways to revive your bedroom's aesthetic.
1.Add a fresh coat of paint
Repainting your walls is the most inexpensive way to revamp your bedroom's decor. It's also the easiest way since you don't need to be a professional to learn how to paint well.
The issue most DIYers face when painting, however, is deciding what colors to paint on their walls. But when in doubt, simply choose one or more vibrant hues that blend brilliantly with the colors of your fabrics.
2.Hang mirrors
Mirrors will make any room look brighter and larger by reflecting light all around the room; this makes them especially useful in dark spaces.
If your bedroom is poorly lit, or if its atmosphere is usually moody, you can hang a mirror directly opposite the largest window in your room—this will reflect more natural light around the room and improve its overall ambiance.
3.Add a headboard
Installing a new headboard, or updating an existing one, can add a dramatic change to your bedroom's aesthetic. Headboards come in different shapes and sizes and can be customized to fit your bed, whether it's the regular bed or the sleeker adjustable bed.
They are also inexpensive, but you can always build one yourself if you're crafty enough. If you love the idea of having a headboard but are short on cash, another option is to create a faux headboard using wallpaper or a painted-on stencil.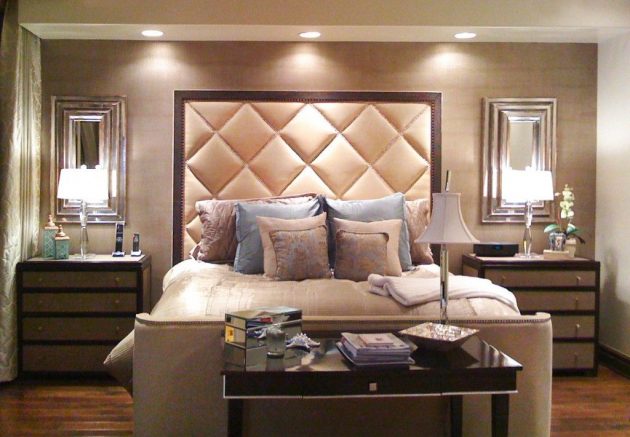 4.Update your lighting scheme
Overhead lighting may not be as important in the bedroom as in the living room, but that shouldn't stop you from adding a statement pendant to your room.
When combined with accent lighting, especially nightstands and wall sconces, pendant lights can infuse your space with a warm glow, thereby making your bedtime reading a more tranquil experience.
One advantage of accent lighting is that it does more than improve your bedroom's ambiance. When placed in the right positions, accent lights can add visual interest to other decor pieces in your space, such as greenery, wall art, or even bookshelves.
5.Update your hardware
The most subtle changes to your hardware can make a huge difference in your bedroom's decor. With just a little money, you can transform your bedroom by replacing old knobs and drawer pulls with newer, more decorative ones.
Fortunately, thrift stores tend to sell bedroom hardware at a reduced price, so you'll be saving some money on your purchase.
6.Hang potted plants
Nothing adds elegance to a bedroom like fresh flowers and greenery. Houseplants are a great addition to your bedroom, not only because they are nice decorative elements, but also because they generate oxygen and purify the air inside your space.
If you don't mind investing some money in improving your health and bedroom decor, buy some potted plants to keep your bedroom lively. You can get low-maintenance plants such as pothos, spider plant, and snake plant.
Pots, like plants, are available in a wide variety of shapes, sizes, colors, and patterns; so be sure to choose the most decorative ones that will match your bedroom's interior decor.
7.Add an accent rug
Accent rugs make a room look bigger and cozier, even if the room is one whose floor is covered with a wall-to-wall carpet. Whether you gravitate towards traditional hand-tufted rugs or romantic hand-hooked ones, a properly-sized accent rug can instantly update your bedroom.
For the best result, layer an accent rug under a portion of your bed and another piece of furniture to add texture, color, and personality to your space.
8.Install a seating
Last but not least, another simple way to glam up your bedroom is to place a bench or an armchair at the end of your bed. Aside from the added storage space this bench and chair will provide, they will also make your room look finished.
So take your time to install seating in your room this weekend. Layer it with a mix of decorative pillows and see if it won't elevate your bedroom's style and comfort.