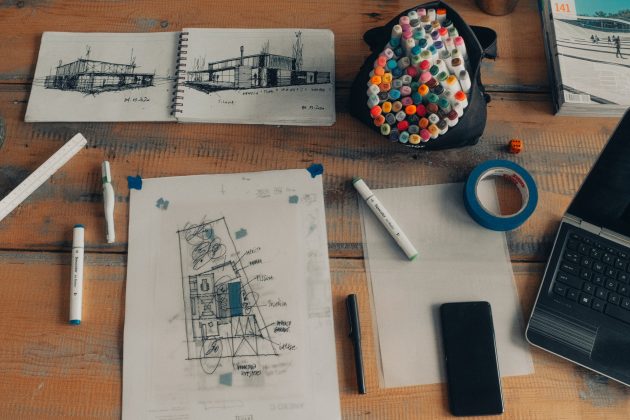 As creatives, the ability to push the very boundaries of your chosen industry and to reshape the world one small piece at a time is, inarguably, the driving force behind our success. Regardless of the medium – whether pencil and paint, digital media, photography or, of course, architecture – there is some intangible quality to all creative professions that makes them so rewarding and motivating all at once.
For the architects of the world, one of the greatest feelings – and one that is impossible to explain to those who do not work in the profession – is seeing your hard work come to life before your eyes. The conflation of your hard-earned logic, your unique creative process, and your flair for the medium is something you want to share with the entire world – and, for the sake of your career, must share, too.
For this reason, beginning the process of putting together an architecture portfolio will be a pivotal moment in your career. Not only will it enable you to look back at your hard work, but it will boost your visibility among industry professionals and prospective clients alike, and make certain that the searchlight continually lands on you as you seek to increase your impact on the world.
Here is everything you need to know as you begin to draw together your architecture portfolio.
Your Online Portfolio Will Prove Pivotal
In days gone by, the portfolio represented a more concrete notion: a professionally bound compendium of photographs and drawings that exemplified the work professionals were doing, and the projects they had completed.
Now, with the emphasis turned squarely on the digital, your ability to create a memorable, professional and eye-capturing portfolio is far more complex and nuanced.
Building you own portfolio website affords you much greater visibility – enabling you to exhibit your designs and creative distinctiveness beyond the scope of those who step into your offices, or request a brochure – and gives you a great deal more creative control over the many design elements that go into creating a visually impactful site.
This site will, when finished, represent the face of your creative services. Not only will it offer a professional and practical platform from which prospective clients looking to hire an architect can reach you, but it will also ensure that, through careful design, you will be able to carve out a unique space on the internet that eponymizes your own creativity.
Curation is an Ongoing Process
In the early days of your career, you had only a small few projects to exhibit to prospective clients. As such, curating your photographs and drawings together was a relatively easy process.
As you develop and take on more work, however, you will see your list of success stories begin to grow and, over time, curating your portfolio will mean getting creative with organization and categorization, rather than following a chronological order.
The categories you use to organize your work will, of course, depend entirely on the nature of your work, and the ways in which you want to present yourself to prospects in the future. Know, however, that creating these categorize will ensure a far more fluid process for those looking into your portfolio, and ensure that you can make a much stronger impression much quicker.
Let it Grow Alongside You
As an architect, your style has no doubt undergone many small (or drastic) revolutions since you first started out within the profession. It is the nature of the job that, with every new project and client you take on, your creative processes will be forced to bend and reshape themselves – a fact which will, ultimately, alter your entire nature as an artist in myriad ways.
The beauty of the portfolio is that you have complete control over it. Working online means that nothing is carved in stone, and that you will always be free to make adjustments – or total overhauls – to its design.
In this line of work, moments of quiet reflection over your own attributes as a creative are essential – and this is never truer than it is when it comes to designing a portfolio with which to attract new business.
Formalities Still Matter
Working for yourself, or on a freelance basis, has plenty of benefits – but it can make every one of us a little complacent when it comes to those all-important formalities like good spelling and grammar.
While pictures will always reign supreme online – particularly when it comes to an architectural portfolio – so too will the importance of putting across an attentive, careful, and detail-oriented impression to others.
So, if you are not feeling terribly confident in your writing skills, reach out to a professional content writer to give your site an extra edge. Otherwise, make sure you are taking the time to cross all your Ts and dot all your Is before going live.