Mahmutlar is one of the most popular districts of Alanya among tourists and home buyers. It is located just 10 km east of the central part of the city. This attractive place is markedly different from other areas in its larger area and population. The reason is that, in the past, until 2014, it was a separate town. Before you buy real estate in Mahmutlar, check out the following area's characteristics, such as:
Climate;
Location;
Public transport;
Shops;
Public catering establishments;
Educational institutions;
Real estate value.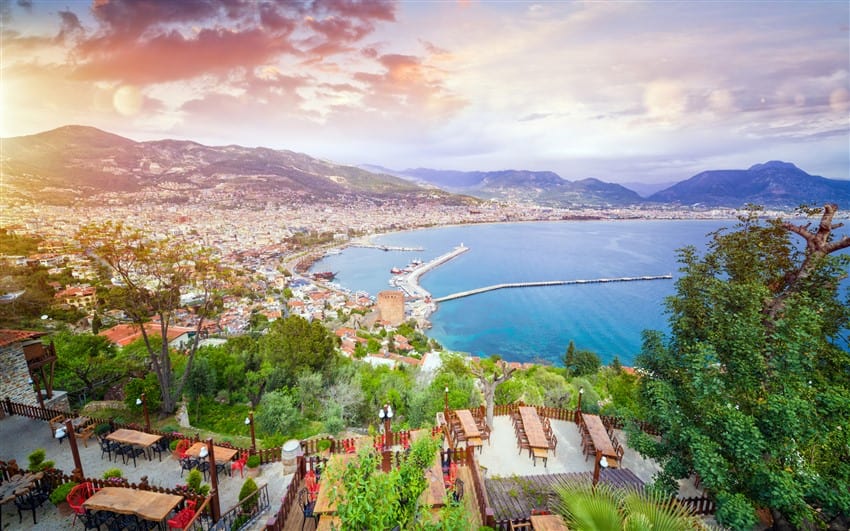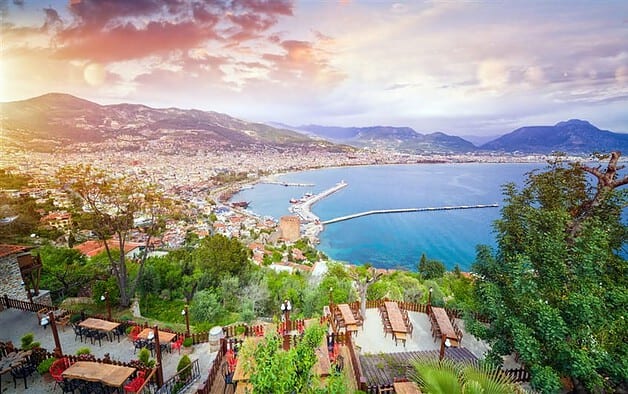 Climate
Mahmutlar is located on the Mediterranean coast. So, it makes the climate Mediterranean. In autumn and spring, it is not too cold here, so the locals can even go swimming. The weather during these seasons is usually sunny or rainy. There is no snow in winter, but the temperature can drop below 10 degrees in the evening. During the day, it is usually sunny or rainy. Summers are hot and humid.
Location
Mahmutlar lies between a long promenade and the Taurus Mountains, a great place for picnics and hikes. Since the district is located 10 km east of the city's central part, local residents do not experience noise and busy crowds. The quiet and peaceful atmosphere becomes even more magical with the help of many beautiful green landscapes.
Gazipasa Airport is located 25 km away from Mahmutlar. You can get to anywhere in the country from this airport. To get across the city, locals use personal or public transport. The area crosses three roads, D400, Barboros Street, and Ataturk Street.
Kargicak and Kestel, two less busy areas, are nearby. There are beaches with crystal clear waters and very few visitors.
Public transport
Since Mahmutlar extends for several kilometers, its own buses run in the area. This allows local residents to move freely around Alanya. They depart once every 10 minutes and return at the same frequency. In addition to buses, the public transport system can offer taxis that are available on almost every corner.
Shops
There is a huge number of small shops scattered throughout the area. The best butcher shops, bakeries, and hardware stores, and a Saturday market are located in the central part. There is also a market (open on Tuesdays) is in the eastern part of the district, between the two main roads,.
Public catering establishments
The area has a broad range of family-run catering establishments. Independent cafes serve mouthwatering selection of local and international dishes at affordable prices. Several well-known Turkish and international restaurant chains can also be found here.
Educational institutions
Mahmutlar has enough of state and international schools and nurseries for foreigners children. Schools are free of charge. Students' parents should only cover the cost of stationery and school uniforms, about 80 Turkish liras.
Public schools offer shuttle services. Special buses travel throughout the area to take children to school and return them back home. This service is used by many parents so they won't have to worry about their kids' safety. Each educational institution sets its own monthly transfer fee. On average, it is 110 Turkish liras.
Real estate value
In Mahmutlar, the selection of real estate consists of new buildings aimed specifically at foreign families. Many of them provide breathtaking sea views. The home prices of residential units are low. The recently built complexes meet European quality standards.
Apartments are in the greatest demand among real estate buyers. Many families who come here in the summer for their holidays rented local housing units at first. After that they purchased these houses, falling in love with this resort paradise at the same time.
The housing prices vary from 13,500 to 54,200 Turkish liras per square meter. Local residents pay about 6,300 Turkish liras for maintenance every year.
Apartments cost 900,000 Turkish liras on average. A two-bedroom property by the sea with a living room, two bathrooms, and a terrace, can be purchased for 1,600,000 Turkish liras. Penthouses cost at least 2,200,000 Turkish liras.
Assistance with buying property in Mahmutlar
Mahmutlar makes foreigners fall in love with this district with pine forests, banana groves, mountain ranges, and clean and cozy beaches. They come here to admire the ancient ruins and natural scenery, enjoy fresh Turkish seafood dishes, and fully relax surrounded by a wide range of amenities.
Highly competent Turk.Estate experts will help with the real estate transaction and assist the client in choosing the best residential option in any city in Turkey where he truly wants to purchase a property. Right now, the top offers on the Turkish real estate market can be found on the aggregator's official website.