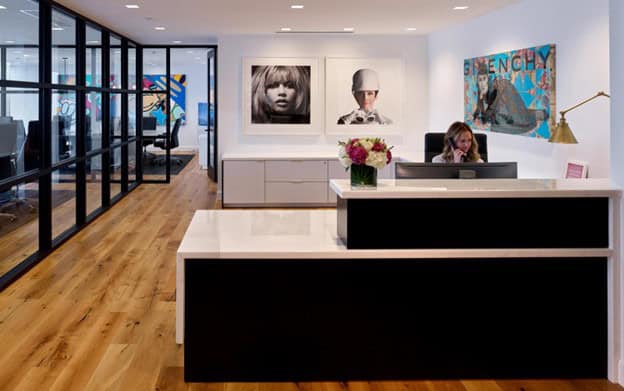 Hughes Marino has worked with tenants from Fortune 500 companies to local brands. The company's passion for detail allows its team members to understand office space unlike any other and the firm frequently features offices they feel are getting it right on its blog on Hughesmarino.com. The tenant representation enterprise's leaders are always on the lookout for the next inspiring office space.
From modern, open floor plans to tech-centric upgrades, here are five United States-based office spaces Hughes Marino feels are worth checking out.
Tangram Interiors
Specializing in creating innovative and collaborative workspaces, Tangram Interiors lists A-list brands such as Hulu, Kawasaki, and Ticketmaster on its client list. The company is constantly experimenting with fresh designs, and its Newport Beach, California, location caught the eye of a Hughes Marino team member.
"In their offices, there are personal areas where individual, focused work can happen," Hughes Marino Senior Vice President Will Tober explains.
"These can take the shape of roomy, private offices with a mix of solid and glass walls. There are also social spots to provide space to take a break and mingle."
Tober says the progressive company also offers private meeting spaces that provide tech accommodations to enhance the virtual meeting details for remote guests and employees.
The Hughes Marino team member finds that to be a wise move, as the post-pandemic shift continues to draw more workers back into offices.
Nine Dot Arts
Denver-based art consulting powerhouse Nine dot Arts offers a vibrant working environment that reflects its creative vibe, according to Hughes Marino Vice President Marc Feldman. The edgy entity reshaped an industrial warehouse from the 1950s with high, open ceilings, kitchen and lounge areas, pandemic-friendly indoor and outdoor work areas, soundproof rooms for Zoom meetings, and touchless water fountains. The office was also built to be pet-friendly, so fur friends can visit in-house.
The office, which remains true to its original warehouse roots with concrete floors and visible ductwork throughout the property, also offers a customer lounge area that doubles as a place for community meetups.
"We love to feature spaces that visually speak to the company's culture and purpose," Feldman says. "With Nine dot Arts in Denver, we've found the ideal subject."
Mindgruve
San Diego marketing agency Mindgruve caught the attention of Hughes Marino's team with its whimsical office structure.
"Mindgruve definitely has cultivated an environment where team members can develop amazing work for their clients and the perfect spot for creativity to thrive," says Hughes Marino director and Senior Vice President Star Hughes-Gorup. Representing clients from Procter & Gamble to Sony, Mindgruve sits in a historic space that was once the original Showley Brothers Confectionery factory and later home to the Pacific Parachute Co. Adding wood and leather accents to the brick-heavy digs, along with a contemporary kitchen and a living green wall, give it a home away from home vibe, according to the Hughes Marino executive.
Basic American Foods
Founded in 1933, Basic American Foods owns national staple brands such as Hungry Jack and Idaho Spuds.
"The space is one of a kind and team members are excited to operate in a vibrant, functional, effective, and collaborative ecosystem," says Matt Geist, associate vice president at Hughes Marino.
When the company's Walnut Creek, California, offices needed a face-lift in 2017, they added a test kitchen that also serves as a collaborative meeting and eating space.
Geist adds that the office is a balanced blend of showroom, conference rooms, and technology.
Substantial
Hughes Marino Vice President Derek Pedersen says he finds Substantial's Seattle offices to be an inspiring workspace. Built in 1925, the offices for the full-service digital product studio are dog-friendly and offer a rooftop deck. "It's arguably one of the most unique and creative spaces we've ever seen," Pedersen says of the dwelling that was once a Chrysler dealership. "They also offer space in their historic office for other teams to sublease." The offices feature industrial details with an open kitchen and plenty of wood and steel accents throughout. According to officesnapshots.com, the 14,000-square-foot building is a mix of exposed brick walls, warehouse-style window walls, and large steel and glass doors. Visitors are immediately greeted by a 20-foot customized reception desk upon entry.
Vistage
Hughes Marino Senior Vice President Scot Ginsburg and Senior Client Operations Manager Scott Iverson are impressed with Vistage's contemporary headquarters and vibrant yet soothing atmosphere. Described as "the world's largest CEO coaching and peer advisory organization for small and midsize businesses," Vistage's main corporate San Diego digs fuse cool green, blue and purple tones with motivational quotes scattered on walls throughout the space.
With ocean and valley views in the workspace, natural light is another perk of the property, according to Ginsburg and Iverson. "Vistage truly has created a space for their team that exudes their philosophy and approach to helping businesses thrive," they say.