Of all the priority rooms in your home, a laundry area makeover is usually an afterthought. Probably because no one likes doing laundry, or it's a tedious chore that takes up much of your free time. You tend to focus on the layout details of the kitchen, bathroom, and living space to enhance the aesthetics of the interior.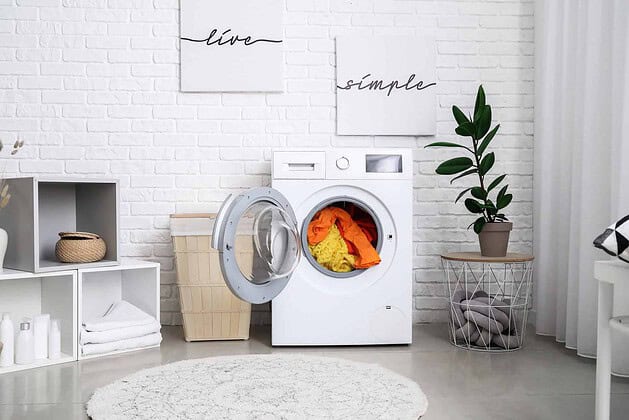 Allocating time and space for a laundry room in your house is equally crucial when considering home improvement. Such considerations need proper planning of your resources. If you already have a fully equipped laundry space, you might want to look at donating a washing machine to a local charity. This will allow you to redesign the room and install your ideal laundry machinery.
In this article, you'll learn eight mistakes to avoid when doing a laundry room makeover.
1. Overlooking Functionality Of The Laundry Room
Allocating the laundry room is not enough. You must think through the underlying task and plan to maximize the provided space. Washing is the primary goal, but you must categorize what happens when using the room. For instance, have a designated area to wash your dog if you own pets and another provision to clean muddy boots.
Besides, the laundry room is a multifunctional place that needs well-organized cleaning systems. You must invest your time in redesigning and providing space for several tasks performed in the laundry area.
2. Not Including A Utility Sink
The provision of a utility sink is crucial when doing the laundry makeover. It may seem useless since the washing machine and dryer do most of the work. But what happens when you must soak a cloth longer or your pet needs a good wash? Having a sink helps with such tasks.
Home improvement experts recommend placing a sink near the washing machine and not too close to the walls. This helps to move the soaked wash items faster and to avoid dirty water splashing on the walls while scrabbing items on the sink.
3. Using Multiple Appliance In A Small Space
If you don't have space in your laundry room, multiple washers and dryers will congest the space. You'll also have a limited working area and additional energy costs when doing laundry. Considering other household chores or functions performed in that area is crucial. Be creative and take advantage of the space available. Alternatively, consult a home improvement expert for guidance.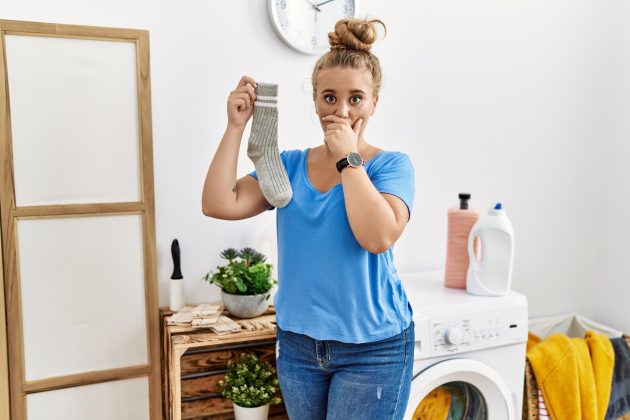 4. Ignoring The Lighting
Laundry rooms need proper lighting, whether natural or artificial. This enhances safety since you have machines running on power, and a water connection supports the washing function. Besides that, the room should provide some sense of intimacy while allowing you to wash. Therefore, consider the design layout and provide sufficient light to your laundry room.
5. Not Providing For Storage
Storage is perhaps one of the primary reasons for having a laundry room allocation in your home. Your cleaning products, vacuum cleaners, pet food, grooming items, iron, and sewing equipment must have their designated space. These features must be captured in the makeover plans from the onset. Research creative ways to use space in a laundry room to get valuable ideas.
6. Using Wrong Building Material
Going for cheap building materials is expensive in the long run unless you plan to renovate your laundry room perpetually. Imagine replacing the countertops or repainting the walls every quarter. DIY is also a cheap way to do it, but you'll be sacrificing the value of the room. It's crucial to consult home improvement experts and get contemporary ways to do a laundry room makeover.
7. Skimping On Layout
Because laundry rooms are out of sight can influence the size allocation. A small laundry room can take longer to complete the underlying tasks due to limited space. Commentators suggest that the eight-foot by eight-foot laundry room plan supports all the functions. Ideally, you should have gotten this checked when designing your home at the beginning.
Review the setup for the laundry room makeover to eliminate unused or outdated appliances, such as old washing machines. This will add to creating space in your new laundry area.
8. Unplanned Expenses On Laundry Room Equipment
Sales seasons are short, and they offer excellent opportunities to buy items. Your laundry room makeover can leverage such sales to purchase contemporary washing and drying equipment. You can buy both building materials and machinery needed at affordable prices. This approach can help you to plan your finances better and stop unnecessary expenses on laundry room items.
Conclusion
A laundry room needs as much consideration as other essential house areas. You must first create a robust plan by looking at the functions and the value it provides for your home. Establish a layout to guide every step of your makeover project. This will ensure that the storage, washing equipment, and laundry room are well organized.