The kitchen is one of the busiest rooms in the house and often serves as a gathering place for family and friends. While a well-functioning kitchen is a necessity, every kitchen should feel luxurious and unique to the home and the people that live there. If you're considering giving your kitchen a makeover for the holidays, here are some kitchen remodeling ideas to get you started.
Bring your dream kitchen to life!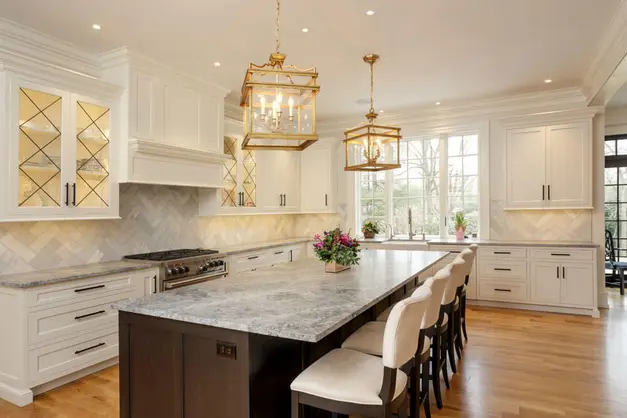 Kitchen Designs
Whether you prefer a classic, modern, or rustic style, there's a kitchen design to match. These styles allow for easy entertaining and conversation, as well as create a clean aesthetic while maximizing your space.
Selecting Finishings
Finishings are what make a kitchen truly yours. Your kitchen finishing will be based on your style preference but also take into account things like durability and ease of care, like that of stainless steel or glass. A glazed finish can also give your kitchen an elegant look that would appeal to any holiday guest.
Custom Kitchen Islands
A kitchen island is a great way to add extra storage and prep space to your kitchen. With so many different styles and materials, from wood to granite and everything in between, there's sure to be an island that catches your eye. A customized kitchen island offers versatility and convenience for any home chef.
Custom Backsplashes
Kitchen backsplashes can be made from a variety of materials, including glass, tile, metal, and stone. An adhesive backsplash is a great option if you want easy installation with minimal cleanup and a variety of design options. A color-coordinated backsplash can really make your kitchen pop, perfect for any holiday entertainment.
Cabinets
A neat and organized kitchen reflects a well-functioning home, and cabinets are key to achieving this look. Consider adding custom cabinets or under-cabinet lighting to add some extra flair to your kitchen. It's a great way to create a warm and inviting atmosphere, perfect for celebrating the holidays with family and friends.
Storage Space Solutions
Shelves and cabinets that extend to the ceiling are a great way to make use of otherwise wasted space. You can also opt for drawers instead of cabinets to make it easier to access your pots and pans, especially if you're cooking for a large group on any special occasion.
A kitchen remodel is the perfect way to show your loved ones how much you care this holiday season. If you're not sure where to start, contact us today, and our kitchen remodeling experts will be happy to help you create the perfect space for any holiday gathering.