If you plan on selling your home, one of the most important things to get right is the exterior. First impressions are everything to home buyers, so you want to make sure that your home gives off the right one.
These tips will show you how you can spruce up the exterior and boost your homes curb appeal without breaking the bank. For little to no cost, you can potentially add thousands to the resell value of your property. Just follow these steps!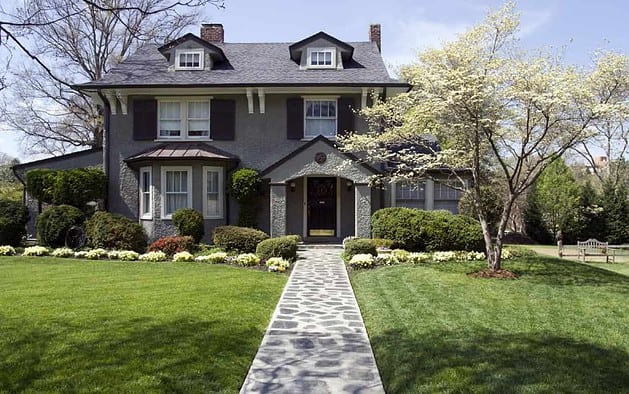 1. Rejuvenate your front door
Your door is the first thing your potential buyers will see when they enter your property. It ushers them into their new potential home, so it really needs to impress. That doesn't necessarily mean that you should splash out on installing a brand new, expensive door – but it does mean you should take some steps to improve the appearance of your existing one.
Even something as simple as a quick refinishing of the wood can make all the difference. You could also try polishing up the fixtures with a good metal polish to remove the rust and adding a fresh coat of paint to make it pop. These three steps will have your door looking as good as new.
2. Clear the path
Before your home buyer even gets to the door, they have to walk up the pathway first. That's why you should make sure you carry out a quick power wash to wash away any dirt and stains on the pathway before they arrive. You should also spruce up your front yard by clearing out any weeds and fixing any paving stones that might have cracked.
All these little things might seem unimportant to you, but they can make the biggest difference. It's all about creating that vision of a perfect home. A little effort now will pay off big in the end!
3. Consider crawl space encapsulation
There's one pressing concern that's always on every home buyer's mind when they're viewing a new home: mold. The slightest whiff or sign of mould can scare off a homebuyer before you can even say hello. Crawl spaces can be mold magnets, and homebuyers know it.
For that reason, if you live in a home with a crawl space, it's important to make sure it's properly repaired and encapsulated so that your buyers can be sure it won't cause any moisture problems later down the line. Crawl space encapsulation is available from companies like Bay Crawl Space.
4. Clean and repaint the windows
Windows are another hugely important factor when it comes to making your exterior look the part. Grubby windows are definitely off-putting, so make sure you've washed them so that your home looks brighter before you let buyers visit your property. You might even want to consider investing in a window repainting job to make them look a little nicer.
5. Move the bins
A final tip is to move the bins. It seems a little silly, I know, but it really does work. Out of sight, out of mind. If your potential home buyers can't see (or smell) your bins when they come to view your home, it'll give off a much nicer first impression.
There you have it – 5 tips to improve your home's exterior and boost your curb appeal. Good luck!