When thinking of home security, people usually imagine bulky camera systems and ugly screens or sensors. That used to be the case back in the day. But now many amazing security tools keep intruders at bay without clashing with your stylish décor.
There are now tools and devices that both offer excellent security features and look modern, sleek, and elegant. So you have a large selection of appealing devices to choose from.
Here is some fantastic gear that combines the best of both worlds – style and security.
1.Elegant Security Cameras
One of the smartest ways to keep your home safe is to install security cameras. Luckily, many manufacturers have decided to incorporate fashionable elements and different models. It allows users to achieve most security without compromising on style.
Nowadays, cameras are also much smaller than they used to be. So you can hide most models anywhere around the house. Most security camera brands offer different styles, colors, and shapes. You'll find a perfect match that will compliment your interior décor in no time.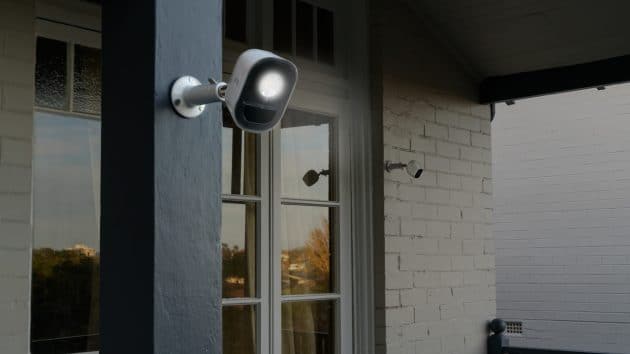 2.Smart Lights
If you want to create a secure home environment, then investing in some stylish smart lighting is a must.
Criminals like to operate when it's dark; they're at a lower risk of getting caught. You mess up their plans by installing smart lights in and around the house.
There are many different models out there, most of which are small in size and almost undetectable. So they won't look ugly and bulky. Plus, using motion-activated lights is great for your budget. They don't use up a lot of electricity because lights are only on when you're around.
3.Smart Blinds
Blinds are among the cheapest and easiest way to keep your privacy intact. Smart blinds have become popular because they look great and come with a lot of amazing features. Did you know that there are smart blinds that give out the impression that someone is home, even when the house is empty?
You can connect your smart lights and your smart blinds to your smartphone. Then you can remotely lower the blinds during nighttime, turn on the lights, or play random music. That will fool the robbers into thinking that someone's home. So they won't even bother trying to break in.
Another similar option is the smart privacy glass. It uses exclusive technology that allows the user to change the transparency of windows.
4.Modern Routers
Outsiders don't need to break-in an old-fashioned way to take advantage of your home and what you have there. In today's digital world, hacking is another significant security issue that everyone needs to be aware of.
Sure, hacks can happen anywhere. You can have your laptop or smartphone wherever you go. But when you think about home security, the router is a hacker's gateway to your computer and other smart devices. That is precisely why it is crucial to invest in a secure router.
Make sure it has features such as DDoS and malware protection, as well as VPN integration. Installing NordVPN on your router will encrypt all your network connections to the internet. So it will help to keep all your smart devices safe.
Routers were one of the ugliest devices you can have at home. But that's changing too. Now you can buy one of these stealth routers that are also stylish and will compliment your interior. Plus, there are plenty of tricks you can use to hide routers and their cables.
5.Smart Locks
Finally, smart locks are another marvelous solution that is both secure and stylish. You connect smart locks with your smartphone, and they allow you to control your home security systems when you're away.
For example, if someone activates a motion sensor, you receive a notification and an instant live feed of your home. If that's not enough, there are many other benefits to using smart locks, including these cool features:
Fingerprint scanner
Cameras
PIN codes
Security tokens
Sensors
Having a great security system in place doesn't mean that your home should look like a steel fortress. Although you must invest in tools that will boost the security of your home, you can always choose stylish alternatives. They don't have to clash with your interior design.
Nowadays, you can find security cameras and routers that look like sculptures. You can choose lights that are unnoticeable, and smart blinds that you can control remotely. What's also great is the fact that a lot of these devices are affordable and easy to find. Being safe has never been easier or more stylish.