So, you've got yourself an attic space and want to bring new life into it. You might be looking to do a complete renovation, or maybe just a smaller-scale redesign. Whatever the case, attic space projects can be tricky and your work will be much more enjoyable if you've got the right software and tools to help you out.
In order to help you make all your attic space dreams come true, we've assembled five of our favorite interior design tools in this article. They'd all be useful for any interior design project, but have specific features that make them ideal for designing small spaces. Best of all, they all have free plans or are affordable for personal use.
Keep reading and discover how these tools can assist in the creation of your perfect attic space!
1. Foyr Neo: All-in-one interior design software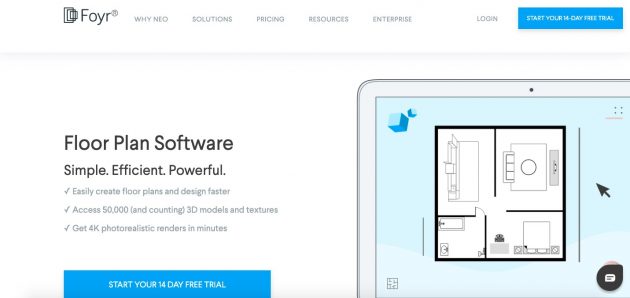 First up, Foyr Neo is a great software that can without a doubt help you transform your attic space. It's a simple, efficient, and powerful tool that helps users quickly create 2D and 3D floor plans without any CAD experience necessary. All you have to do is follow these steps:
Start with a 2D floor plan. You can draw each wall manually or use their room tool.
With a few clicks, transform your 2D plan into a 3D model.
Now you have a 3D model to play around with by adding furniture, colours, fixtures, textures… the works!
You can even create a 4D render of your floor plan if you like. That means you'll be able to get a 360 degree perspective of your work!
Foyr is the perfect solution to help you renovate your attic space for a couple of reasons. First, it's one of the best 3D home design software for personal use because it's so intuitive. It's also 50% faster to design with Neo than with any other professional interior design software.
Second of all, it can be tricky and time-consuming to design attics because small spaces are so hard to work with. It's difficult to find the right furniture to fit into tight areas without the whole room looking cluttered and overcrowded. Software like Foyr help avoid these kinds of problems by allowing you to quickly consider different floor plans and layouts before you invest too much time, energy, and resources into your space.
If you're interested in trying Foyr Neo out, they have a great 14-day trial available. After that, their paid plans start at $49 USD per month.
2. SketchUp: 3D modeling for everyone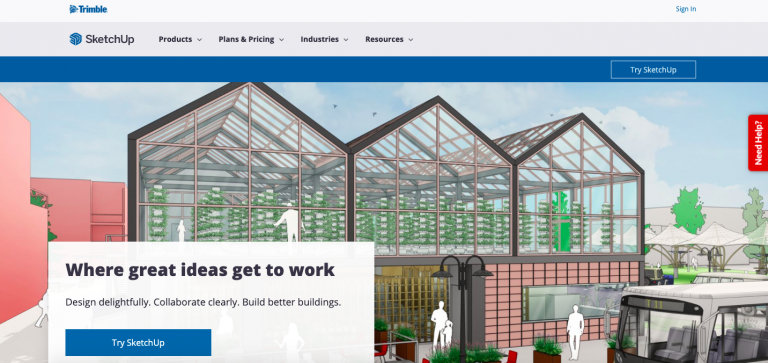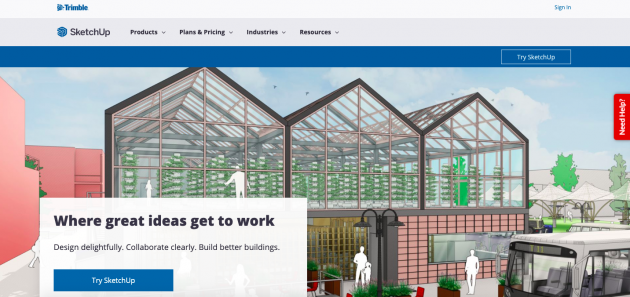 Another great interior design software you can use to design your attic space is SketchUp. SketchUp is best to use for 3D modeling and can help you bring your ideas to life in no time. It's a reliable software that frequently tops interior design software rankings all around the world.
One of our favorite SketchUp tools is their 3D warehouse. When brainstorming how you want your space to look, you won't have to design everything from the ground up. Their 3D warehouse is full of thousands of 3D products (that all represent real furniture) that you can download for free. That means you'll be able to perfectly visualize how your attic space will look before committing to any specific furniture or finishings.
Speaking of visualization, SketchUp produces beautiful renderings. They're very realistic so you won't have to stretch your imagination to picture how your finished space will look.
SketchUp is also web-based, which is a great feature if you're just dipping your toes into interior design and don't want to download software straight onto your operating system. It can be accessed from any device at any time, with all your ideas safely hanging out in cloud storage.
SketchUp has a wide range of plans available, making it accessible to just about anyone. Their plans intended for personal use are also very affordable. There's a free plan that gives you access to their basic features, and their introductory paid plan starts at 109 EUR yearly.
3. Floorplanner: Fast & easy floorplans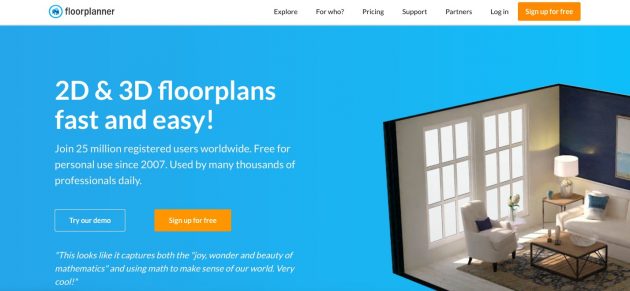 If you don't have a lot of experience with interior design software and are looking for the most straightforward solution possible, consider giving Floorplanner a go. In fact, Floorplanner was designed by industry professionals who wanted to make 2D & 3D modeling software accessible and easy to use for everyone.
In order to get started with Floorplanner, you'll begin by making a 2D model. You can draw your room, enter in specific dimensions or drag walls into the correct size. Everything will automatically be at scale, so you can start adding in doors, windows, and other elements into your model to see what will look best.
After that, simply click on one button to view a 3D overview of your design. Then, you can explore your design from various angles or even a first-person perspective. This makes imagining your finished design an absolutely seamless experience. It's also easy to share your designs with links or by saving them as JPEGs or PDFs.
In even better news, Floorplanner is free forever for personal use. It has been since 2007 and there are currently 25 million people using it worldwide. If you want to take advantage of their more advanced features, their paid plans start from 4 EUR per month.
4. Homestyler: Design your dream space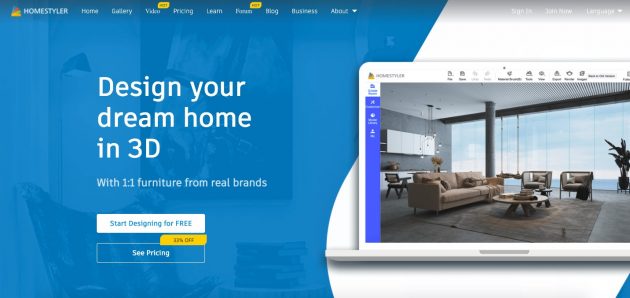 If you specifically want help with furniture and layout when designing your attic space, Homestyler is definitely worth checking out.
Homestyler has great functionalities for making 2D and 3D floor plans like the other software we've mentioned in this article. However, it's furniture library is what really makes it stand out.
You can scroll through their extensive 3D library that includes thousands of real furniture pieces, paint colors, material options, and more (all from world-famous brands). Then, you can add your favorites directly into your room design to see how they look.
Homestyler also has a feature where you can take a picture of a room, upload it into the Homestyler app, and then decorate using items from their 3D library. Interior design has never been easier.
We also love Homestyler's view function, because it allows for a truly immersive experience. You won't have any doubts about how your final design will come together because this function allows you to take an immersive, panoramic walkthrough through your design.
Best of all, Homestyler has a plan that's completely free. Then, if you want to take things up a notch, you can upgrade to a paid plan that starts at $19.90 USD per month.
5. Pinterest: Get design inspo for small spaces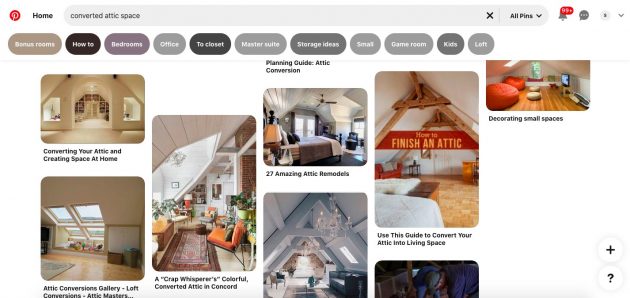 You've probably heard of Pinterest before, but you might not have thought to use it for interior design purposes. Websites like Pinterest come in especially handy if you're working with a small space like an attic. This is because they're full of inspiration and creative ways to use even the tightest of corners.
With a quick Pinterest search, we've found some interesting ideas for an attic space, including:
Optimizing strange roof angles by turning them into useful custom shelves, closet spaces or skylights
Choosing a piece of furniture that can be used as a comfy couch and then be converted into a bed
Embracing colours, texture, mirrors, and other fun decorations to make your small space lively
Using Pinterest is easy. All you have to do is make a free account and enter what you're looking for into the search bar. For your attic project, try "converted attic space," "attic space design," or "attic space inspo." The results will provide great visual inspiration and be great for you to use hand-in-hand with the software we mentioned above.
Now, get designing your own beautiful attic space!
All in all, renovating and designing a gorgeous attic space can be a challenge even for the most seasoned of professionals.
In many cases, you have to work with less than optimal lighting, old or damaged finishings, and limited space. Nevertheless, if you put in a little bit of effort and creativity when working on your attic space, you can add a really special corner to your home that you'll treasure for years to come.
We're lucky to live in the modern age because there's a wealth of tools, software, and web apps out there that can help us out with our design projects. Instead of having to haul furniture up to your attic (only to find out that it doesn't fit), you can test out and visualize your ideas ahead of time by using one of the software we listed above.
Not only will a little planning on an interior design software save you time and energy, but it will also make your attic design project much more enjoyable, and dare I say it… fun?
All in all, we can't wait to see your finished attic space. Happy designing!