The home is where the heart is; that is why most people want it looking perfect, homebuyers included. To get your home sold fast, you need to leverage on this and design your home stylishly enough to make buyers want it. There are many ways to up a house's design and transform it. Read on for the top five design tips to help sell a house fast.
1.Wallpaper
Trying to get your house sold fast? Incorporate wallpapers into your living room and bedroom styling. Most people think wallpapers are outdated decorations, but that is not exactly true.
Prior to this time, wallpaper was considered an in-vogue home decoration. That changed because people were not able to incorporate wallpapers into their designs rightly.
You can use wallpapers to transform and remodel a house from a plain-looking house to an ultra-modern-themed or sleek-looking home. What matters is choosing the right wallpaper that matches the house's overall theme and projects the desired ambiance.
The right wallpapers will light up your house and make it highly appealing to potential buyers. Most buyers prefer a home that can breathe, a home that has emotions; wallpapers can give your house that. This will help sell a house fast.
As a great plus, wallpapers, even customized ones, do not cost much. However, don't forget that the use of wallpapers is a double-edged sword when choosing one. So, ensure that the wallpapers you use are stylish, yet neutral. Go for soft non-gender specific colors and color mixtures to prevent putting-off potential home buyers.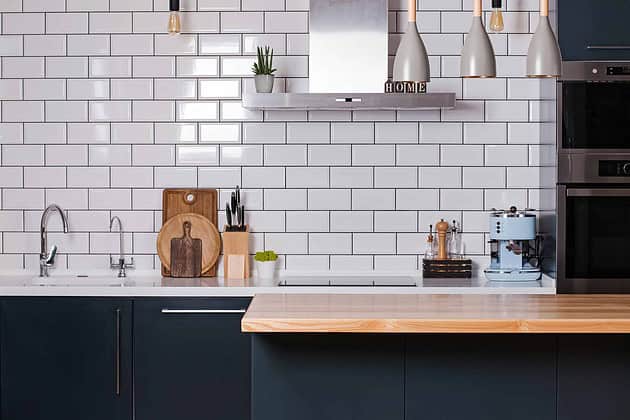 2.Use Tiles
Tiles present an appealing look that no one can resist, not even your potential home buyers. It is not all houses that can make use of tiles for floors. This depends on how it was built and what was used in building it. If your house's floor is tile-modified, yay!
You can use those pretty things called tiles to entice your potential buyers and leave them enthralled. Tiles come in various colors, shapes, designs, sizes, and textures. This means that you can decide from a wide variety to transform your walls and floors.
Incorporating tiles into your house's design, mainly in the kitchen or bathroom, can help transform your home into a picture-perfect scene from a Hollywood movie. Yup, the buyers will have a hard time resisting a house whose exotic design screams 'buy me, buy me.' Whether you are going for a relaxed and inviting theme, an energetic and bright one, tiles might be your key to getting that house sold.
You can get creative with the tile design; tiles are all-accommodating. Notwithstanding, you need to go for neutral themes that don't go overboard on designs and creativity. This is to make it appealing to almost, if not, all potential house buyers.
When choosing tiles for home designing, look out for characteristics such as durability, appearance, as well as slip-proof features (for floor tiles).
3.Lighting
Nothing like good ole lighting when it comes to house designing. Why? Proper lighting is the difference between a welcoming/appealing house and a scary/dull one.
Give your house buyers a reason to buy the house by adding chic and lit lightings to the home. If you have some old-fashioned lights in the house, you can consider replacing some or all of them.
Replace them with soft and dynamic lights that will illuminate the home and make it look captivating. Besides, proper lighting can also help highlight the designs of the house.
For the living room, go ultra-modern by using chandeliers, auxiliary lights, or pendant lamps to broker a picture-perfect look. This adds exotic drama to the living room; who wouldn't want that?
Wall lamps for the hallway, bedroom, bathroom, corridor, and even porch are great ideas. You can also use a bedside lamp to make the bedroom more tantalizing and inviting. Don't forget your outdoor space when touching up the house with lightings.
Use colorful lights to emphasize curb appeal and make your home look breathtaking. Try energy-efficient lightings to conserve energy and reduce utility bills. You can inform buyers of this special energy-efficiency feature; it could influence their buying choice.

4.Windows
Windows can be the deal breakers for some home buyers; this is why your house should have the right window design and style.
If your house has outdated windows, you can consider replacing or upgrading them. This might cost you a little more than you had planned, but it will get you favored with the buyers. Why? Buyers tend to pay attention to their potential house's window.
Windows are more than just for aesthetic reasons. Your windows have an impact on how the house retains heat and conserve energy. Since window replacement is a bit expensive, you need to ensure than the new windows you choose are insulated and in vogue.
They should also be set to fit your house's design. Why? No one wants to buy a home with a window that looks like it was made for a treehouse.
To up your game, you can even install window sidings outside the house. Window sidings add an aesthetic appeal to a house's exterior. What more? Window sidings protect the window from natural elements while also helping to conserve heat and energy.
Want to beautify the house even more? Introduce beautiful blinds and curtains to the windows. The combination of modern windows, sidings, and blinds/curtains will increase your house's appeal to buyers and also increase the value.
5.Painting
If everything else fails, get your painting game on. The good jolly repainting rarely ever fails. If your house is not painted or the painting is old, you can consider (re)painting it. A nicely painted house appeals to most people, homebuyers included.
Fresh painting of the right color will make your home look almost newly built and this can increase its curb appeal and value. Thankfully, you don't need to break the bank before getting your painting done.
Try to avoid overly bright colors; this tends to put off people. A potential buyer who can afford to repaint it might consider buying the house, but those who can't will most likely skip over the house.
Go for neutral colors that will draw the buyers in and keep them hooked. In addition, using neutral color allow your potential buyers to incorporate new designs and painting styles into the house if they want to. Get your potential buyers hooked on the painting and watch them scamper to make the house theirs.
Conclusion
Everyone loves a good story; make your house tell a story through its designs, and it can influence buyers. By making a good impression through your painting, windows, tiles, lighting, and wallpaper, you can get your potential buyers to make a decision as soon as possible.
Aside from the tips above, you need to take some other steps to make the house sell fast. Clean it thoroughly, repair damaged areas, and declutter. These would further help the house gain more points with the buyers.