When it comes to home design, few rooms get more focus than the kitchen and living room. However, when you consider where homeowners spend a large percentage of their time, it doesn't make sense to ignore the master bedroom.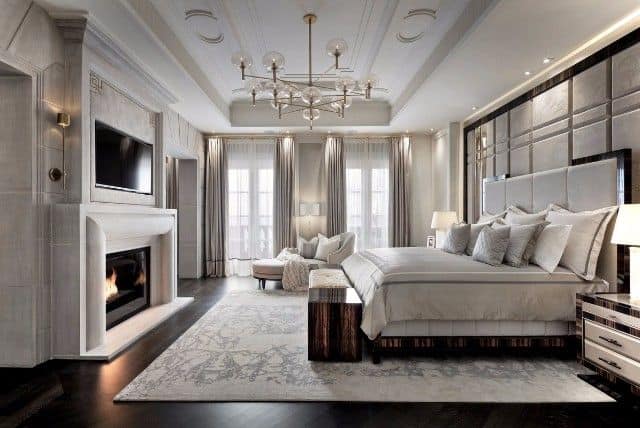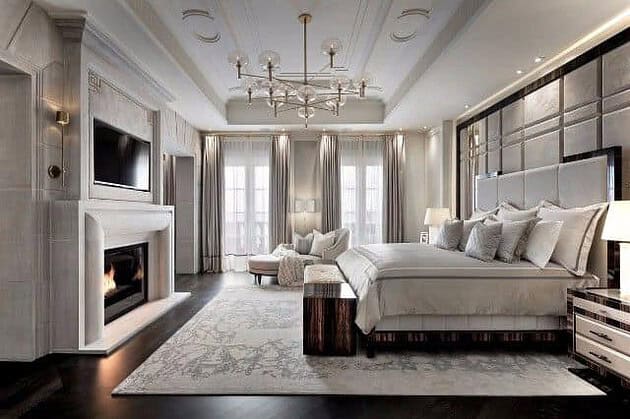 Designing a Luxury Bedroom Oasis
The average American sleeps 6.8 hours per night. And when you consider that the average American lives in the same home for nine years, this means roughly 22,000 hours are spent in the bedroom – more than two and a half years of your life!
While a kitchen renovation or living room makeover may yield tremendous resale value, homeowners should really be shifting their attention to their master bedrooms. Strategic design in this room could yield numerous physical and mental health benefits.
If you're tired of sleeping in a disheveled, dated bedroom, it's time to rethink your design and remodel with luxury in mind. Regardless of your budget, there are simple steps you can take to create a bedroom fit for a magazine. Take a look:
1. Choose the Right Layout
The first thing to consider is the layout of the bedroom. In other words, what furniture placement do you want? You should think about both practical needs – like your ability to walk through the room unencumbered – as well as aesthetic preferences and visual balance.
"The best way to balance out your bedroom is by placing a substantial piece of furniture opposite the bed," Overstock advises. "This could be a long dresser, vanity, or even a chaise lounge. In a smaller bedroom, try saving your open space and leave the wall opposite the bed free of any furniture."
2. Emphasize Bed and Bedding
Nothing takes up more visual space in the master bedroom than your bed and mattress. It's also the biggest contributing factor in your ability to consistently get a good night's sleep.
In terms of achieving a luxury design, you want your bed to be high off the ground, firm, and elegant. Look for a solid wood or iron frame and top it with a quality mattress that will hold its shape and add thickness to the bed.
3. Get Lighting Right
Lighting can make or break a bedroom's design. If the lighting is too harsh or bright, you'll have trouble unwinding and falling asleep. If it's too dim, you'll find that it has too much of a dulling effect on your mood. The key is to layer your bedroom lighting so that you have overhead, accent, and ambient lighting that can be manipulated to provide the perfect amount of brightness for any moment of any day. You also need to think about the types of bulbs you're using.
"I'm all about the LEDs now," interior designer Paloma Contreras says. "Our home is illuminated by warm-colored LED bulbs, and they look like traditional incandescents. Plus, they're made for all fixtures, including recessed cans, table lamps and sconces."
Many luxury bedrooms also incorporate blackout curtains and automated blinds so that the flow of natural light can be carefully optimized according to the homeowner's preference.
4. Choose Soothing Paint Colors
If soothing and luxurious is the aim for your bedroom design, avoid using bold primary colors for the walls. Instead, opt for subtle shades and monochromatic tones. Generally speaking, lavender, gentle hues of blue, whites, and greys are ideal for calming the mind. They also tend to go with almost any other colors that are present in the room – including bedding, furniture, and flooring. If you'd prefer the room to have a warmer appearance, toasty browns, topaz, or even mauve or pumpkin could give you the desired look.
5. Keep Things Simple
Finally, don't overdo the bedroom design. The last thing you want is a busy, cluttered look. The most luxurious bedrooms also tend to be the most minimalistic ones. Find what you like and don't go overboard. Less always seems to be more in this environment.
Embracing Your Own Design
At the end of the day, this is your bedroom. Feel free to gather inspiration from Pinterest or get professional opinions from interior designers, but you're the one who has to spend 22,000 hours in your bedroom. Make sure you embrace your own design preferences and choose a look that helps you maximize your enjoyment and relaxation.