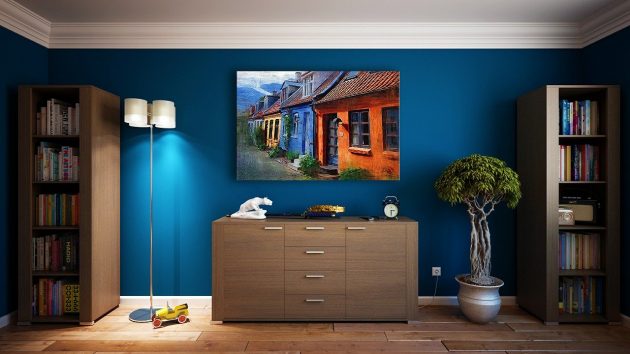 Image by Ferenc Keresi from Pixabay
Having your home look tastefully decorated is a goal that many homeowners have. You may opt to hire a professional decorator or prefer to create your home's look yourself. Either way, you undoubtedly understand the need for art in your home to make a room feel more complete. As you look through the many fine art offerings available it can be difficult to choose.
Discerning not only which fine art pieces you want to decorate your home with, but also how to best display them in ways you're excited about can be frustrating. When you've found the perfect artwork to complement your personal style, you don't want your living room to look exactly like everyone else's.
You've made the investment into fine art ownership. Now, you will want to find ways to display your art collection so that you can enjoy your favorite pieces. But simply hanging art on the wall may not be enough for you. Your favorite painting demands something more opulent, so you may need to look for ways to display art that is more clever.
Opting for the unexpected can allow your home to stand out from others while making your home more unique. Finding creative options doesn't have to be complicated or over the top. There are many ways to add fine art to your home in ways that will allow your home to be stylish and welcoming. Here are a few ways for you to consider.
Help Your Art Draw Attention
If you're hoping to have a specific painting or etching stand out in a room there are many decorating tips that can be done to help the cause along. The first and most obvious option is to have your art custom framed. Taking your art to a professional framer for their advice can help any canvas seem more complete.
Not only will you have the choice to choose a frame that coordinates well with both your home's decor and the artwork, but you will have many options. It's likely that you can find a frame you love, whether it's simple or ornate. This can help your painting catch the eye of your guests, and even yourself as you spend time in your home.
Apart from the framing options, you will also need to decide whether you want to mat your painting. This is an area of personal preference, and the style you wish to have in your home. Consider the artwork you have currently near where you anticipate hanging the new work. If everything around it is matted, you may wish to pass to help it stand out.
Coordinating the mat color with the frame, the painting, and the color scheme of your home may seem daunting. A professional can guide you through the choices available to make a grand statement. (Or to help it blend in should that be your goal.) Take your time when choosing mat options to be truly happy with your selection before it makes its way into your home.
When you're opting to frame art you will need to make the decision of whether or not to add glass. While many canvases don't require glass to be framed, some owners of fine art prefer it to protect their collections. Discuss with your framing professional if framed glass is the correct option for you.
If your painting is likely to be exposed to sunlight, there is UV protective glass that can help prevent art from fading in sunlight. Sometimes the cost of framing seems exorbitant. However, compared to the cost of art restoration in the event that your art becomes damaged, it seems quite reasonable.
Framing is a great solution to both protect your artwork and help each piece stand out on your wall. It will make a statement of its importance to you. There are still other ways to help art stand out on your walls including painting a border or frame on your wall directly. This will catch the eyes of visitors and give your art the chance to shine.
Painting a border or decorating your wall with a faux frame can be an excellent choice for oversized works of art. It can also help keep the cost of displaying your new artwork down. A border can help define the space as well as add architectural interest to help draw your eye towards the artwork itself.
Even painting a wall a complementary or contrasting color can completely change how a work of art looks in a particular space. If you find art that you love without any idea of where it could go, consider revamping a room to allow a work of art to really shine unexpectedly.
There's little that compares to beautifully lit art. This is why galleries spend a lot of time to hang and light each piece so carefully. If you don't seem to think a painting has the same exuberance it had in the gallery when you fell in love with it your home's lighting may be the reason. There's no one size fits all lighting solution but there are plenty of options to help art at home look great.
Whether you want to light artwork directly, or simply hang your art in a well-lit space is up to you. However, if you opt to directly light your new artwork try ceiling mounted lights to make the art, and not the lights the main focus. However you light your art, be sure the light covers the whole work of art and not just parts of it.
Great lighting can help your art get the attention it deserves and make your home feel more polished at the same time. The proper framing and lighting work together to make any art stand out from your decor and create a setting that feels unexpectedly professional in a household setting.
Frames can also be a chance to express a great deal of fun or a casual demeanor. If you want to frame artwork in an unexpected way with color, shape, or size, feel free to do so. A frame is meant to help display art in a great way, but only you can decide what that looks like in your home.
Hang Art In Unique Ways and Atypical Places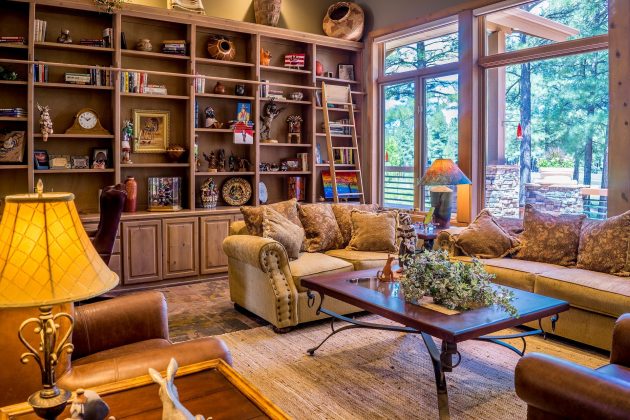 While you may expect art to show up in a bedroom or living room there are many places to hang art that can make a big impact in ways that you may not have considered before. When you want your home to look unique and polished you need to have art in places that seem slightly off the beaten path.
One unexpected place to hang smaller works of art is on the front of a bookcase. This gives the idea that the bookcase itself is the frame and also allows the art to pop and be closer to the viewers. If you opt for this idea, choose a piece that you want to be the star of the show since it will certainly catch people's eye.
Hanging art on shelving, especially those narrow built-ins that seem to have no purpose, can be an unexpected surprise. Remember if you have art hanging out in front, that it will be more complicated to reach behind. So that shelf should be used for items you won't need to move frequently.
You can also set smaller works of art on bookshelves directly or set them on small easels. This boosts the art to a slightly higher position than books or other objects sitting on the shelf and allows them to get the focus each piece of art deserves. Bookshelves are also great spots to put smaller fine art sculptures where they can be seen with little chance of being bumped.
Hanging pieces on the back of bookshelves can also be a fun way to add a peak of color and visual interest. This works no matter if you have enough books and belonging to fill a space or not. Art can be a great way to complete a more empty shelving space, but even having art behind a row of books can be an exciting decorating strategy.
This display technique also works well for open shelving in kitchens behind stacks of bowls. Placing interesting abstract art behind your stemware can be an unpredictable display method. The glassware will change the perspective of the art. A shelf that would otherwise lack color or style can stand out and become an artistic statement
There are many other options for placing artwork in your home that many people pass over for whatever reason. But if you're looking for ways to display your art in unexpected ways it's important to not ignore these. One such place is to put art right on your kitchen counters. This seems straightforward, but countertops are typically overlooked for works of art in the kitchen.
For a real surprise consider hanging art inside closets and cabinets. Imagine, going to hang up your coat and there's a beautiful work of art as a fun surprise. Walk-in closets seem like obvious places to decorate with fine art and yet are skipped over for more clothing and accessories. Don't be afraid to add art to places that aren't typical display places.
Bathrooms are notoriously overlooked for art placement. You do need to take care in the art you choose. You want your fine art to be safe from the excess moisture and exposure to the germs bathrooms feature prominently. This doesn't mean your water closet needs to be without art at all.
Sculpture can be a wonderful option for bathrooms as it's generally low maintenance. It's not hiding behind glass which can trap moisture and cause damage to the art. Sculptures can also make a bathroom more interesting than a wall piece and can often be cleaned easily to keep germs at bay. Consider adding sculpture to your art collection for more depth in your home's art.
Another interesting trend is to put smaller works of art directly in front of larger abstract art. Both pieces of art together create a unique and stylish focal point in any space or room. Using multiple pieces of art together can be a fun way to incorporate different artists and styles into a single room. That way, if you and a family member disagree on which art to display, you can both be right!
Art in Low Places (Or Aim High)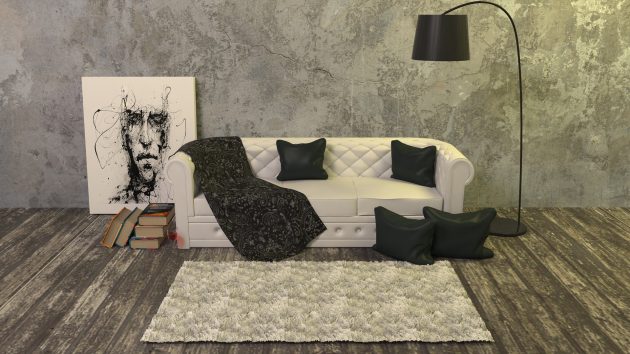 There is a general rule of thumb to hang works of art at eye level. This traditionally means you want to hang your art 57-60 inches off the ground. You can hire professionals to come in and hang your art for you. However, if you are more of a do-it-yourselfer there is an easy-to-follow formula to know exactly where your art can go.
First, measure the height of your framed art or canvas, then divide the height by 2. Using that number, subtract the distance from the top of your art to the hanging hardware if it has any. Add that resulting number to 57, 58, 59, or 60 depending on your height and the height of those who are most likely to look at the art. (If you're tall, go with a larger number.)
Take the final sum and measure from the floor up the wall in inches for the exact place to mount your hardware. Once you've hung your artwork up it should be at a great height that is essentially eye level. This is an easy and straightforward option to make sure your fine art looks lovely in your home, but it won't necessarily be unexpected.
If you are seeking ways to add the artwork to your home in an untraditional manner, consider hanging your art much lower. It may seem strange at first, to see a work of art at knee height but it can change the look of a room and make your art stand out in a positive way. Just as art plays by its own rules, you can feel free to display artwork according to your own rules as well.
If you lean into the less perfect design and focus more on creative expression your home will become an artistic haven. Your space will inspire and also help people feel more welcome. Imperfections are everywhere so don't feel limited by lack of space when decorating. Hanging art under a window may seem odd, but only if you allow it to.
Some art lovers have even commissioned artwork to go on the rise of individual stairs. Whether all the stairs are painted for a big statement mural or a single step is chosen, finding places to include art in places that are forgotten and typically boring can be a fun way to have your home burst with interesting art and color.
There is no longer such a thing as perfect placement. If hanging art low doesn't seem right, you could create a border of art hung high. This looks amazing, especially in large great rooms with cathedral ceilings. Hanging artwork above doorways can also be an interesting option. As well. Try experimenting with art hung off-center a bit. Artistic symmetry is appealing but not a requirement.
If you don't want to buy a large work for a huge space, buy a smaller painting and let it draw focus for seeming out of place. At least your guests will be looking at the art! Here's a rule to keep in mind as you're decorating: if you are happy with how the art looks in any given room, then you have hung the art in the exact right place.
A Casual Approach to Displaying Art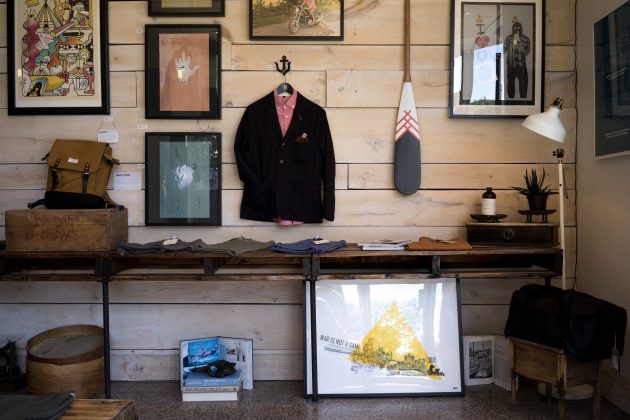 Image by Free-Photos from Pixabay
There is typically a lot of focus on the formal presentation of artwork in homes. But what if you could display your art in a more casual way? While it may not be the correct style option for everyone, there's a new option that is taking the decorating world by storm. The best part? This option won't damage any surfaces of your homes or require any hardware.
That may sound too easy, and it is because this more casual display option is to simply lean your art against a wall. Whether it's leaning on a desk or table or you simply leave art resting on the floor, this casual choice is perfect. You can change out works of art frequently, perhaps if you're looking to rent art for a time, or you like to express yourself in an unexpected way.
Leaning art on mantles, shelves can add a great dimension to your art and allow a room to feel more visually interesting. You can even have a chair serve as an easel of sorts, leaning art against the backrest. The chair will then become a portion of the art and it can serve as a way to fill in the gaps and create more opportunities for art to be featured.
While you may find that leaning smaller works of art to be easiest, leaning larger prints can create a look that is more flexible. Leaning also allows you to switch out your art more frequently, while not skimping on the artwork you really love. Casually leaning art in unexpected places can bring a pop of color in places you might overlook otherwise.
Combining the leaning look with hung artwork can further elevate a room and give a space more artistic depth. Mixing art displays together can create new looks full of different textures and sizes. Leaning art is also perfect for decorating for the holidays. No need to permanently hang seasonal artwork up when the casual lean will do.
A Final Thought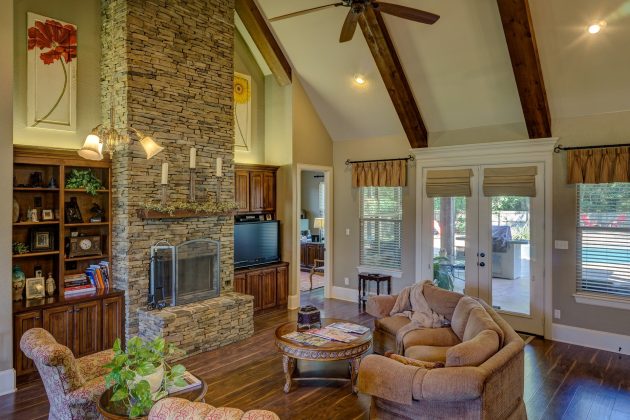 Image by Solomon Rodgers from Pixabay
Displaying fine art in your home should be fun! You can set up your art in unexpected ways by not simply hanging them according to what your friends might do. You have purchased a piece of artwork because it speaks to you in some way. Let the art speak in your home as well. There are a time and a place for art to be stiffly hung and a decor style that trends more casually.
Finding your own decorating preferences doesn't need to be complicated. Spend some time looking at other people's homes and decorating techniques. When something catches your eye you can try it out. It's okay to make changes with your fine art and how it is displayed.
Undoubtedly, the commitment to your love of fine art has led you to want your home to display the artwork in the best possible way, but there are ways to make your art more eye-catching. Whether you opt to frame your art, light it well, place your art in standard or unexpected places and heights, your only limit to adding fine art to your home is your personal expectations.