Love the luxury of staying in a four-star hotel but can't afford it every weekend? Well, you can bring that luxury into your home with a little creativity and some excellent design. By studying popular hotels in tourist destinations, you can get some great ideas for designing your own home.
Gleaning Inspiration From Leading Luxury Hotels
The key to infusing luxury hotel design into your own home is finding the right sources of inspiration. While you can definitely take notes and pictures when you visit various hotels, you'll find it much easier to browse images online.
For example, let's say that you really like the style and feel of South Beach. You can go online and browse photo galleries from some of Miami's top hotels. This will give you lots of ideas to pull from. The same is true for just about any other major city.
But enough with the process, let's get down to some specifics. Here are a few of the features you'll find in luxury hotels and how you can integrate them into your own home design.
Get the Bed Right
Without question, the bed is the centerpiece of any hotel room. It can make or break both the look and feel of a room and is typically one of the first aspects that differentiates four- and five-star hotels from lower-quality hotels.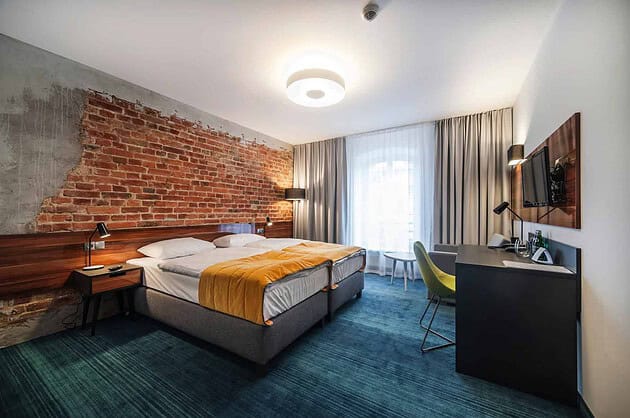 The key to a luxury hotel bed is found in layering. In fact, you should include a bed skirt, supportive mattress, feather or foam topper, mattress pad, fitted and flat sheets (highest thread count you can afford), down blanket, another flat sheet, plush duvet, and a sea of pillows.
Declutter the Bedroom
The next step is to declutter the bedroom. Luxury hotels don't mess around with unnecessary elements. They typically have the bed, two bedside tables with lamps, a couple of accent chairs, a dress or armoire, and a nice television. You could even have a coffeemaker right in the room…meaning you don't have to go to the kitchen to have your first cup!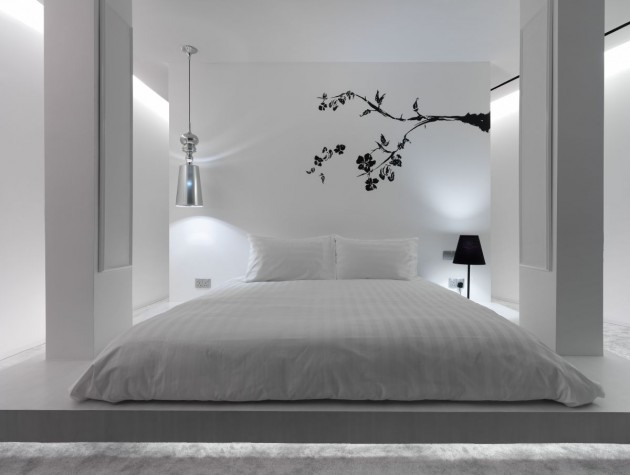 Make the Bathroom Peaceful
The bathroom is the next most important element. You'll need a double vanity with a long mirror, walk-in shower and/or hot tub, and soft lighting. The latter aspect is very important and can make a huge difference without spending a ton of money.
"The best hotels will also have heated towel racks and heated marble or tile flooring," designer Shelley Little notes. "Some of these items may be above your price point, but attaining a lavish hotel-like bathroom can be as simple as a pretty shower curtain, a few plush towels and some scented candles."
Fresh is Best
Next time you visit a luxury hotel, look past the design elements and architecture and notice how fresh and alive everything is. Fresh flowers are easy enough to keep around or you could try a high-end scent diffuser. You're not going to stick a huge fountain in your living room, but there are numerous, small water features you can purchase to infuse the sound of running water in your home. Get creative and engage the senses…it's worth every moment of work!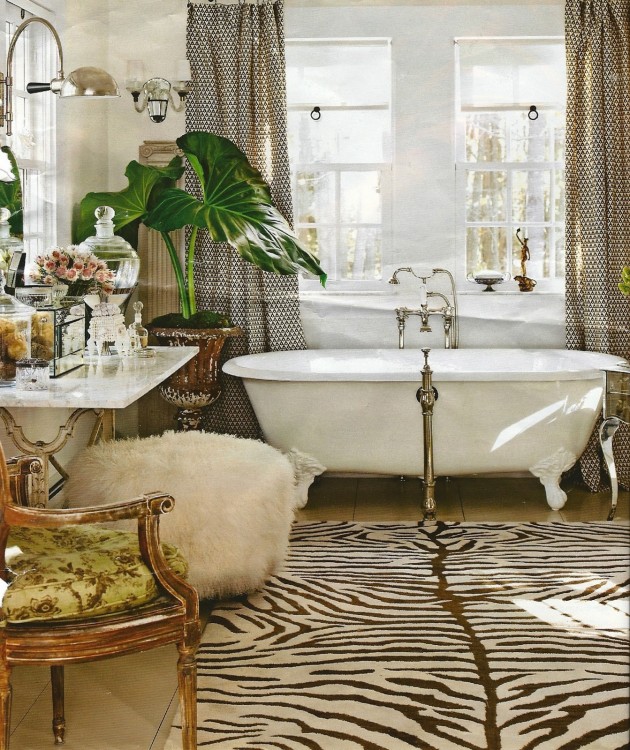 Fit the Design to Your Personality
While it's fine to pull ideas from luxury hotels, remember that this is your home and you want it to align with your personality. Hotels are great, but avoid incorporating features at the expense of creating a homey feel. Find designs that fit your style while making you feel comfortable and luxurious.