When it comes for decorating one house, kitchen is the most chalenging room for decorating. Kitchen backsplash is another way to express your personal style. There are lot creative ideas of kitchen backsplashes, but in this post we present you a bunch of inspirational DIY ideas & how to do on your own amazing kitchen backsplash that every one will love it.
At the following examples you can find a lot creative ideas that will fit many tastes and styles. All of the projects are easy to do and they didn't cost much. After the photos, there are tutorials for all projects hopefully to help you to make your perfect kitchen. Have fun and enjoy. You can also check some customized glass backsplash designs if you are not looking for DIY efforts.
1. Create a mosaic backsplash by breaking regular tiles into smaller pieces before applying them
2. Combine a variety of differently colored and shaped tiles for a colorful backsplash
3. Instead of tiles, try using stainless steel for your kitchen's backsplash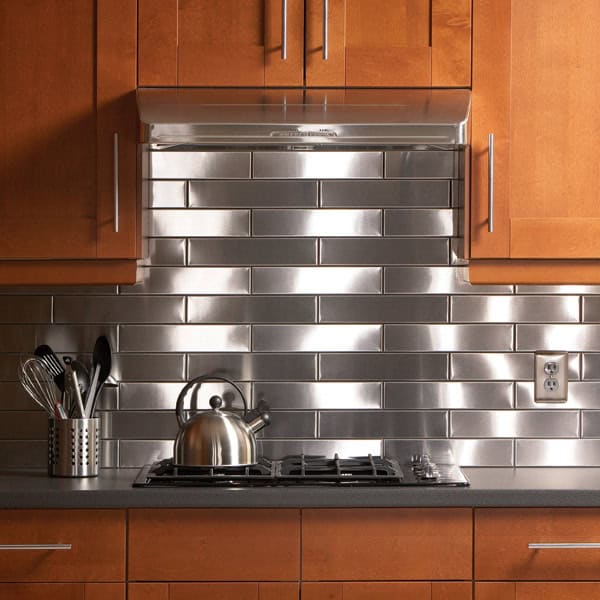 4. Gather a bunch of stones from your garden and use them to create yourself a backsplash
5. Using maps of the world is an inexpensive and creative way to create a kitchen backsplash
6. Easily craft a herringbone beadboard backsplash
7. Don't throw away wine corks, instead use them on your kitchen's backsplash
8. A stenciled backsplash with some motivational quotes can really make your day
9. Paint subway tiles for a very easy upgrade to your backsplash

10. Using smaller tiles can offer more ways to arrange a backsplash
11. Recycle old pallets to craft this budget-friendly kitchen backsplash
12. Break old mason jars and create a mason jar mosaic backsplash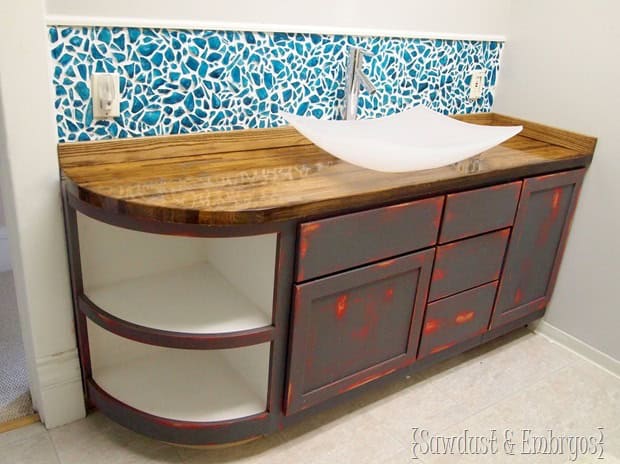 13. Use stone for a more rustic look on your backsplash
14 .Did you know that regular wallpaper also makes a great backsplash?
15. Save some money by painting your backsplash instead of tiling it
16. Use place mats as kitchen backsplash
17. Natural, unfinished wood can create a very contrasting backsplash
18. Achieve a 3D effect by placing tiles on top of each other
19. Instead of throwing away your old skateboards, use them to create a recycled mosaic SK8 tile backsplash
20. Create an awesome tile backsplash with small tiles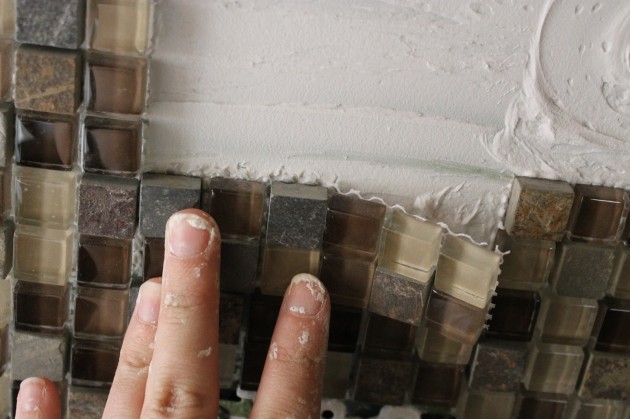 21. Change things up with a bright backsplash
22. Buy decals and apply them on your kitchen backsplash
23. Easily build a mosaic backsplash with your own pattern by using multiple tones of small tiles
24. Reuse your broken and old dishes by arranging a backsplash mosaic from broken dishes
25. You can use removable fabric if you want to be able to change the way your backsplash looks frequently
26. If you use a chevron pattern for your backsplash, you can get a nice streamlined look
27. Remind everyone of your love with this cute decal backsplash
28. Create your own interesting backsplash pattern with nothing more but paint
29. A minimalist modern backsplash can really make all the difference