Beautiful kitchens are great for the avid cook, an open concept living plan is perfect for entertaining, and spacious master bedrooms add a little more romance to your life. But your home is not complete unless you have an utterly relaxing master bathroom.
There are many things to consider when undertaking such a large project. As you remodel your master bathroom, include some of the following sumptuous ideas.
1. Separate Tub and Shower
This is a staple for any master bathroom. It's what separates it from the other washrooms in the house. Install a luxurious, large bathtub – large enough for two, if you wish. Then, add a walk-in shower with seamless glass shower doors and waterfall shower heads as a separate entity. The look and function of each of these items will add the elegance you've been searching for.
2. His and Her Sinks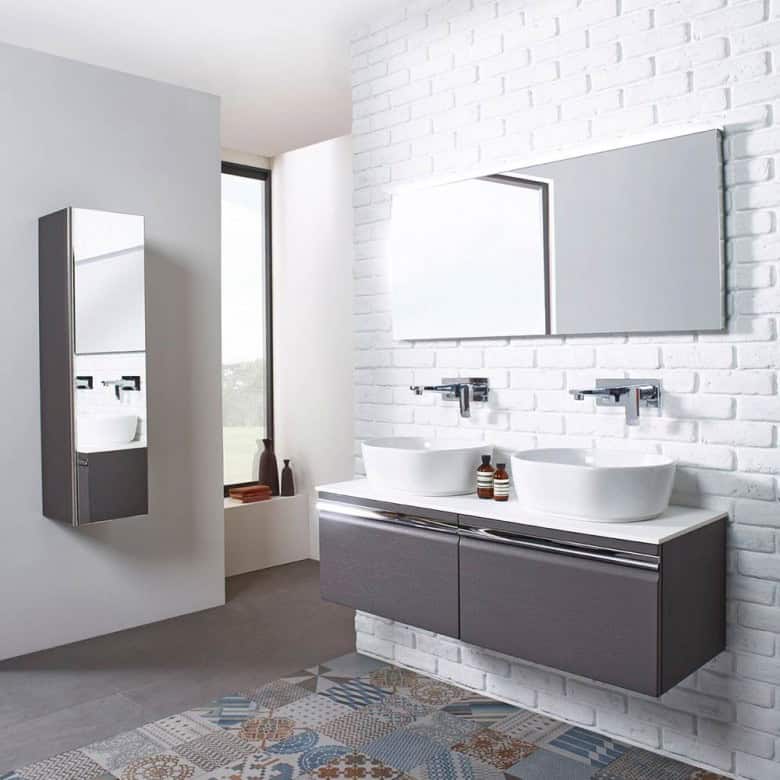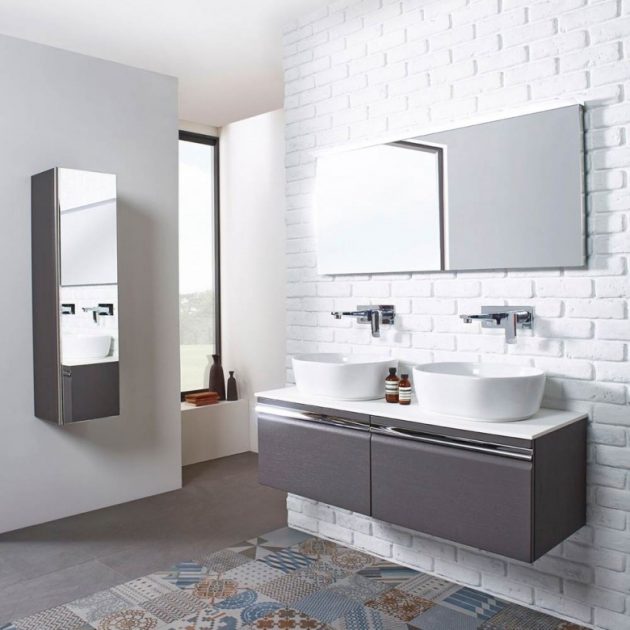 Two sinks in your spacious vanity means convenience and class. There will be no fighting with your partner over vanity space when getting ready for the day. For a signature look, consider bowl sinks rather than the typical sunk-in models.
3. Open-Concept Bed and Bath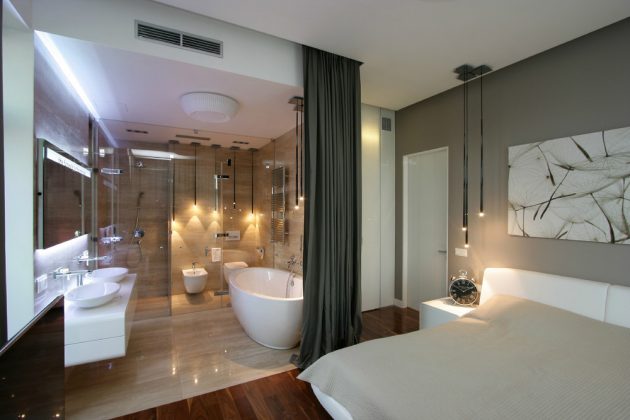 Who says you must separate your bedroom from the bathroom? Put the toilet in an enclosed space, but let the vanity, shower, and tub be in the same room as your bed. This particular design is patterned after honeymoon suites, but many homeowners are beginning to incorporate them into their master suites. It's certainly a unique spin on the traditional suite, and it can create more intimacy in this part of the house.
4. Heated Floors
Is there anything worse than walking on cold tile floors first thing in the morning? Then there's the jolt of stepping on the cold tile after a luxurious warm shower or bath. Get rid of that shocking, uncomfortable feeling with heated floors.
5. Fireplace
When you're planning the location of a fireplace in your home, the bathroom probably isn't your first thought, but it's a growing trend. It adds warmth and comfort to this notoriously cold space. Taking a bath next to a balmy, crackling fire will add to your relaxation. Consider adding nearby seating for those days when you need a peaceful escape.
6. Therapeutic Tub
Warm water is therapeutic on its own, but you can take it up a notch if you have the right equipment. Therapeutic bathtubs are equipped with jets and lights that diffuse the water and heighten the comfort level. Both of these elements have been found to increase relaxation and decrease stress.
7. Entertainment Center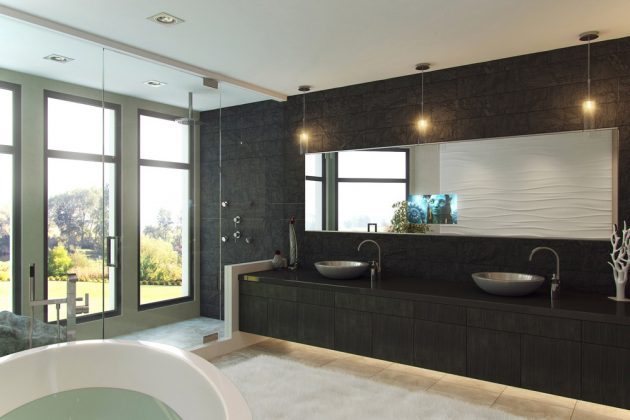 Some people like to take luxurious bubble baths with no distractions, but others like to be entertained. If that's you, a flat screen mounted on the wall will give "Netflix and chill" a new definition. You can also listen to music while you get ready in the morning, turn on the news, or participate in other entertainment forms.
Look into voice-activated smart features so that you can control your entertainment without the risk of dropping a remote in the bath or having to dry your hands before touching the controls.
8. Heated Towel Rack
Install a towel rack with a heating coil concealed inside. These can also be purchased as freestanding racks to fit into tight spaces. They keep your towels warm and fluffy, as if they just came out of the dryer. It's the perfect way to maintain relaxation after your hot bath or shower.
9. Comfortable Seating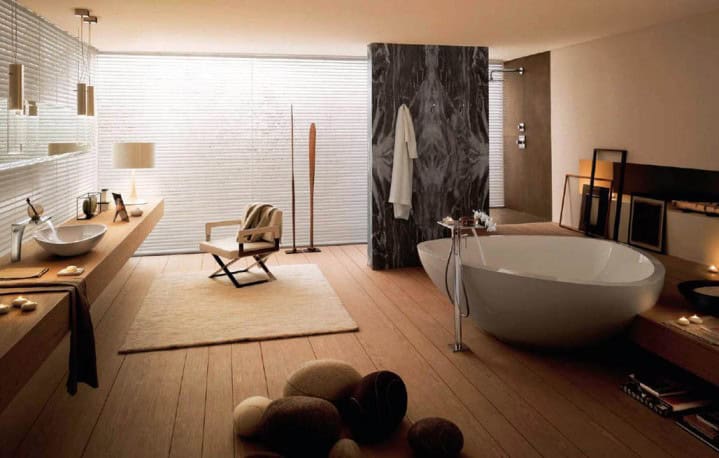 Since you're designing your bathroom as a space where you'll want to spend more time, you might as well add some seating. Comfortable chairs provide a place to rest while you're doing your hair or putting on your shoes. A seat in your walk-in shower also exudes luxury. Seating that acts as a frame for your bathtub is perfect for the bathroom that lacks space.
10. Creative Storage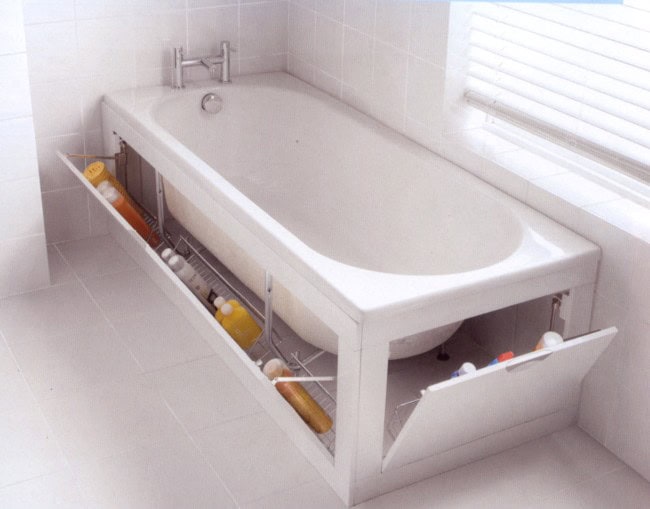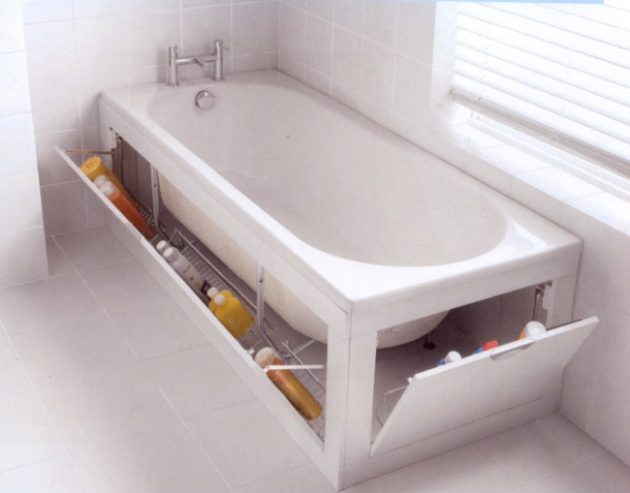 If your current bathroom is always a mess of cords, bottles, and supplies, install storage spaces. For example, a drawer could be dedicated to your hair appliances with electrical outlets and cutouts to organize each device. Various drawers and shelving with organizational cubicles will also keep the mess to the minimum. Install enough drawers and cupboards for both you and your partner.