Wall art doesn't have to be the last piece of the puzzle when decorating a room. In fact, we argue that it should be one of the first things you consider. Wall art is a chance to tell parts of your story, highlight things you believe and showcase the things you care about. From color to texture and everything in between, a carefully considered laying of wall art is the key to turning any room's decor from average to amazing.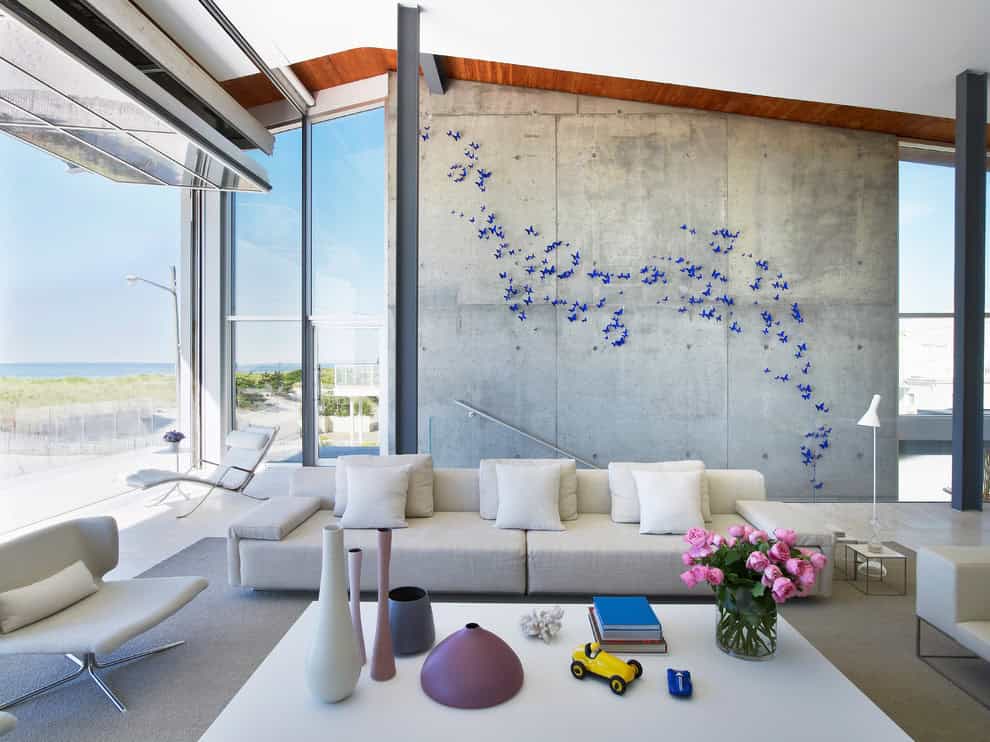 Wall Art Can Add a Sense of Texture To Any Space
Not all wall art is the same. Think of how you decorate your walls like a series of built-up layers. The first layer being the treatment of the wall itself. The most common treatment is of course to paint your walls, but your creativity doesn't need to stop there. Use your walls like a blank canvas and consider a full-size wall mural like these or a mixed-media installation.
Once you have your wall treatment in place, the next layer to consider the artwork you'd like to hang on your walls. Wall art can come in many forms and range from two-dimensional paintings to canvas prints to floating shelves with three-dimensional collections of your favorite found objects. Any artwork you choose to install on your walls will bring its own amount of shadow to the space which brings in yet another textural element.
Keep in mind the type of audience you're looking for when considering your possible textures to include. Heavier textures can make a space feel more intimate and bring visual weight while smooth textures can bring a tone of chicness and tranquility.
Provides An Instant Color Palette
While picking up the latest color wheel from your local department store can present you with an endless set of paint possibilities, don't fret. Narrowing down paint choices might feel impossible at first, but when it comes to adding a fresh coat of paint to a space, the key is to go with your gut.
Start with a piece of wall art that you really love and play with some of the base and accent colors you find within that piece. Choose shades of paint to match those colors and hang the paint chips on your wall for a week or so. See how they look in different light throughout the day in various rooms like your living room or bedroom. This approach makes your wall art the focus of your design aesthetic, as opposed to letting paint color dictate your design choices. And if all else fails and you're really stuck when it comes to choosing a paint color for your walls, choose a neutral off-white. Then you are free to choose any combination of eclectic wall art pieces and focus on building a collection of art that speaks to your unique sense of style. White walls don't need to be boring, especially if you fill them with rough textures and your favorite artwork.
Another option is to choose a large canvas or piece of artwork with multiple colors that you love and use it as the basis for your entire color scheme, pulling colors from the piece for your walls, accessories, and textiles.
Wall Art Creates a Focal Point
Any interior designer will tell you that the key to a successful home improvement is that every room needs a focal point or a single design element that stands out and draws the viewer in. A focal point should be an indicator as to what to expect from the rest of the decor. While a focal point can be anything from a light fixture to a sofa, the most flexible element of your design to act as a focal point is your wall art. It's easy to change out your wall art as your mood and style change over the years.
Pick a feature wall in a space that viewers are most likely to experience first when entering a room. Then choose wall art or a wall mural that is a bit larger than you'd typically choose. There is nothing worse than art installations that are too small and don't fit the space. If adding art above a mantlepiece in a living room, consider a canvas or a framed print that fits the entire width of the mantle. Similarly, try to find a tryptic that spans the width of a headboard if decorating a bedroom. An oversized mirror and full-sized mural could be just the finishing touches that a traditional dining room needs. This technique both acts as a much-needed focal point for a space, but also reduces the need to source many smaller pieces to fill the space well.
It Makes The Room Appear Finished
Unless you're in college and decorating a dorm room, gone are the days of blank walls being acceptable. Layered wall decor with a variety of texture, in appropriate sizes, are a wonderful way to make a room appear finished and intentionally taken care of. Carefully chosen wall art is that extra special touch that can take any room from basic to breathtaking. It's also an opportunity to showcase your unique style and personality. Take your time when choosing your wall art. It's often immediately clear when wall art was chosen from a catalog or box store all in one weekend. Hunt around vintage shops, estate sales, and local markets for pieces that grab your attention and pull you in.
They don't all need to match or have a similar aesthetic. As your collection grows over time, you can work to compile your wall art into different coordinating collections for each room. This will not only make your rooms feel finished but will create an interesting story as you move through the home. It's the extra touch and attention to detail that will transform your room into a space that brings you joy and could grace the pages of a design magazine.
Choosing a piece of art to fill a wall space is an amazing design opportunity. Whether you choose to create a creative gallery wall or experimenting with metal wall art, this is a chance to make this design process your own. There is only one rule when conducting your own interior design: make sure each piece of artwork evokes a feeling; your artwork should make you feel happy and inspired.