The neutral gray shade has turned out to be a top choice of customers while choosing kitchen cabinets. Manufacturers think that the trend is not temporary and that the market for gray kitchen cabinets would expand in the future, at least for the next 10-15 years.
Homeowners are increasingly switching over to gray painted kitchen cabinets as it looks different and cool. You can see for yourself if you walk into a gray-themed kitchen in a house or a sample kitchen at a store. Alternately, visit the innumerable online sites where you can view images of modular kitchens in gray or a variety of gray cabinet designs.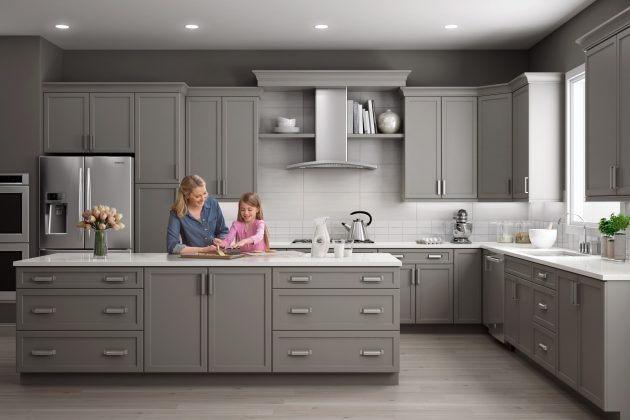 Gray is associated with peace, quiet, and calmness. If you are planning to go for remodeling your kitchen, you can try the gray look. Gray kitchen cabinets or gray kitchens have an air of sophistication and modesty about them.
Be careful to do proper research and get in touch with some good designers so that your investment does not go to waste. One important thing is that you should ask for cabinet door samples from sellers or designers and check their appearance under different lightings like natural light and the lightings in your kitchen. The shade that would look good under different lights should be the appropriate one.
Some features of gray cabinets available in the market
Available in shades of gray stains, translucent gray paints, etc.
There are options to choose from two or more tones of gray for your cabinets.
You can go for a combination of gray and white cabinets, which would look great in the kitchen.
Made up of high-quality material.
Consists of wood grains.
Silky smooth finish that looks perfect.
The option of both custom-made and Ready-To-Assemble (RTA) cabinets.
The RTA cabinets would save you the installation cost as they are not difficult to assemble. Some suppliers provide superior assembly process.
Soft-close doors and drawers without any screeching noise
Affordable prices
There can be endless options if you use your imagination to get a stunning looking kitchen. You can experiment with a lot of designs and match or contrast the floor color.
To maintain a relaxing look, go for gray countertops or go for an array of colors against the gray background to make an interesting contrast. Throw in a colorful rug to create a cozy feel.
A combination of gray and white cabinets is popular due to the subtle contrast that it creates.
You can also choose gray cabinets with a white countertop.
A row of gray shaded cabinets at the bottom and white cabinets on the wall would also look nice.
A light gray wood tiled floor and dark gray cabinets would make an interesting combination.
A kitchen done up fully in gray or having gray kitchen cabinets looks high-end and classy. Add to that some metallic appliances and sitting arrangements of the same shade, and it would feel like a condominium of the premium category. That is the appeal of gray, and you will fall for it.