Usually, we strive to organize our bedroom for it to have a special aura of comfort and calmness. It is recommended to make your bedroom a place for physical and spiritual recovery. It makes sense because going to sleep with nice thoughts can really set a good mood for the entire day. However, it mostly refers to a room in your own house or flat where you can make whatever changes you find necessary.
Many students would agree that decorating a university room is not an easy task. This is usually the room where you sleep, study and eat, so usually, the main idea is to make it functional rather than calm and comforting. However, when thinking about how to decorate the university room, we still should remember that the way this room makes you feel actually affects your productivity and mood.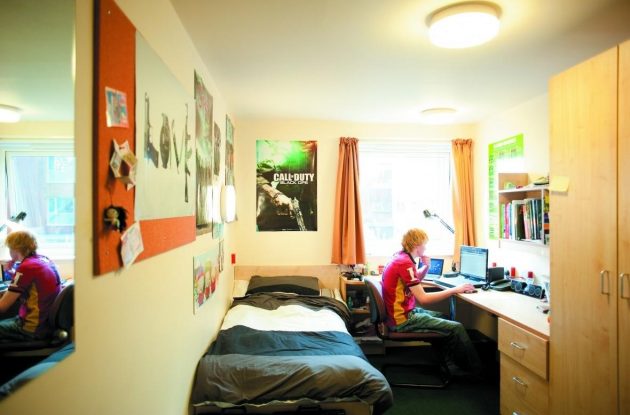 Just like students sometimes seek "pay to do my assignment Australia," they are sometimes in need of professional advice concerning other stuff, e.g., bedroom design. Thus, if you are interested in organizing and decorating your room to feel at home in it, here are some student bedroom ideas and tips you may find useful:
Bring Your Own Wallpaper
Luckily, wallpapers have advanced, and now you can literally travel with them. You can bring your favorite colors to the room and then remove them when the time comes. Such a simple thing can really make you feel more comfortable in the room and provide you with a feeling that this is your place for a couple of years.
Personalize Bookshelves and Lamps
If you want to maximize your comfort in your room to finally feel at home even when you are miles away from your house, you need to make sure you have some stuff personalized. You can design your bookshelf in the way that it will remind you of your home or design your own lampshades to enlarge your room visually. Whatever you choose to do will make you feel that you designed the place on your own.
Organize Your Small Spaces
Before actually proceeding with one of the student room ideas, it would be great to organize your wardrobe and other small spaces. Some of the things you store you may not even need. However, there are dividers that can help you organize stuff in your drawers that saves you lots of space.
Bring a Carpet
Nothing makes your room comfier than a fluffy carpet from home. Rugs and tapestries bring extra comfort and positively affect the atmosphere in your room. Do not think that this is old-fashioned. You will live in your room for a couple of years, so you need to make it a safe place for yourself.
Design Your Bed
Yes, we know that beds in student bedrooms are all standard. However, it does not mean you cannot change them. You need to arrange for a good and healthy sleep by changing your mattress. If you still feel unsatisfied, you can decorate your headboard with things that show your personality. In the end, you can even add lights to make your night reading more comfortable.
Bring Your Furniture
Many students complain that they lack furniture to place all their stuff. Not a problem: you can bring your things. You can help yourself by adding your touch to hangers, drawers, bookshelves, wardrobes, etc. The main idea is to make yourself feel at home. Your furniture can also help in zoning your space, turning it into a small flat.
Separate Your Studying from Your Sleeping
It is a good idea to separate your workplace from your place to rest visually. Sometimes, students admit that if their bed becomes their study place, they no longer associate it with comfortable sleep. You need to make sure that you do your homework on one side of the room, while the other side serves for your daily recovery.
Create Your Board
If you find it hard to manage all deadlines or feel that you lack time management to know your schedule, you can create a board that will keep you organized and serves as a perfect decoration. You can place above the table that will signal visually that this is the study place in your room.
Final Words
When you become a student, your life changes. Although some people stay with their parents, the student bedroom turns into a safe place where details matter. It is true. especially if we talk about student university bedroom. Thus, in order to make sure that you feel great in the room where you will spend several years in and out, you need to personalize it. Fortunately, it is now possible thanks to furniture brands that allow easy assembly or quick re-decoration.