Another season, another trend. For those who pride their interior decor on being modern and chic, these top tips for Spring/Summer 2019 will be sure to wow your guests or even potential buyers and will freshen your home, whatever the purpose.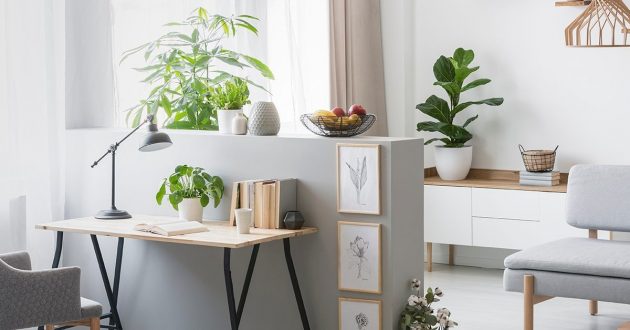 Think Natural
It's easy to associate the word "chic" with images of a plush leather, velvet and plastic. But 2019 is all about embracing the au naturale. Sustainable and natural textures are rife this season, with an emphasis on raw materials such as bamboo and ethical cottons (meaning it's not only on trend, but environmentally friendly too!). Jute rugs are also a great addition to this look, as well as the use of eco-friendly and naturally sourced paints. To really embrace this trend, house plants really freshen up a room, and can be air purifying, leaving your home a healthy and calming environment. It's a home Sir David Attenborough would be proud of!
The simplicity of this look also makes it a great base for new buyers. For example, if you're looking to make a quick house sale on websites such as Ready Steady Sell, it provides them with a blank canvas and makes it more sellable to a wider audience.
Mix It Up
Forget strict colour schemes and the rigid rulebook of what colours "match". Adding patterns to a minimalist or natural look is a great way to add interest if it's too plain for you – particularly if you go for a mish mash of patterns. It is important to keep your room tonally the same, but apart from this you have free reign to do whatever you like! Statement prints are perfect for this look, as are the subtle tones of ochre and pink. Whatever you choose whether you want to start small with a statement rug, or you want to go all out on a patterned wall, it's the perfect way to bring a room to life.
Floating Shelves
And no, we're not talking about some Harry Potter sort of magic here. Floating shelves, or simply just shelves with their wall fixings hidden in the shelf board with no obvious supporting brackets, really play to the open shelving trend that's flooding the market right now. Once upon a time it was the done thing to hide away all of your nick nacks, but not anymore. Putting accessories, particularly books, plants, ceramic plates and glasses really makes the minimalist look homely.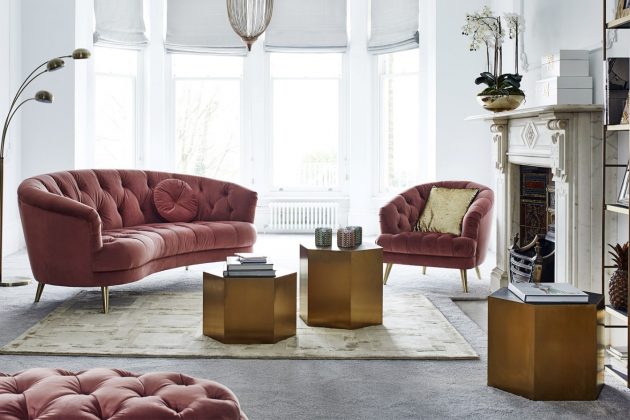 Scandi
Back from the seventies, Scandi is often described as a culmination of an earthy colour palette, natural materials and geometric print. Similarly to the natural look, it's very minimal often accentuated by statement lighting and a bold colour. Remember that when it comes to Scandi, less is more.
Raw and Unfinished
Yet another look that compliments both minimalism and naturalism (are we sensing a theme here?). It's so tempting to look at wood furniture and this it needs staining, or painting, or something to make it look complete… but what if we just went the opposite way? Classic designs in wood, whether it be tables, chairs, cabinets or shutters can be really effective when left in their natural colour, again bringing the essence of nature in your home.
Live Boldly
Don't forget amongst all of the natural earthy tones that a bold colour can rejuvenate a room, as well as it being bang on trend. The top tipped statement colours for 2019 so far are coral and mustard. Likewise to the Scandi trend, geometric colours compliment the brighter colours fantastically well, but remember to use sparingly. We're aiming for a harmonious and peaceful room, and too many bold colours at once will remove the zen from your space.
Statement Ceilings
If you're well and truly up for some DIY, and want something a little out of the ordinary…why not make the statement piece in your room, your ceiling? Whether it be floral, botanical, or simply one of the season's hottest bold colours such as coral or mustard, moving the statement to your ceiling really gives the home a luxurious, and fancy feel. It's not something many people tend to think of either, so it will give your home a unique edge. It'll be sure to stand out.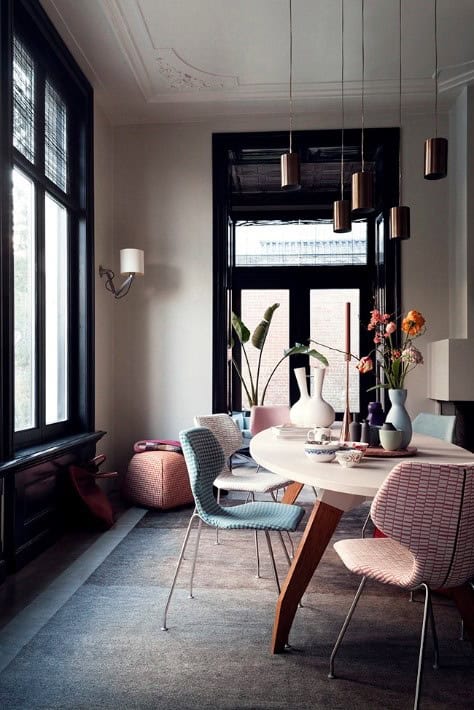 Unique Lighting
Last but by all means not least, remember that making a statement with your lighting is also an option. Industrial, geometric and contemporary lighting all give the cool, "art gallery" vibe, and contrast amazingly well with prior mentioned trends. Whether you're looking to literally brighten the room, or to are just looking to finish it off authentically, the right statement lighting is out there for everyone – you just have to find it.