Inside every household, there's a specific room where people wake up to and go home to every day. People wake up on their beds as well as take a quick rest or a good night's sleep after a long day of activities, both inside their bedroom. As you spend almost one-third of your life sleeping, your bedroom plays a vital role in your sleep and comfort. For this reason, you should give priority to your bedroom by improving not only its comfort level but also its entire visual aspect.
After having your bedroom architectured and constructed, you'll always seek to make it more beautiful and anchor your preferences in design and decoration, as the bedroom is a personal and intimate space.

If you want to add more design to your room, here are some tips to help you in designing a bedroom where you can feel well rested:
Highlight Key Points With Glass
The transparent and translucent nature of glass makes it unique from other architectural materials. Not to mention, glass is flexible to various types of architecture. From walls to window panes, glass can also fulfill a purpose inside your bedroom. Moreover, you can use glass to highlight the space and let light inside your personal space.
Here are ways on how you can incorporate glass into your bedroom:
Make Your Room Seem Bigger: If your bedroom has limited space, you can add glass to create a visual illusion of vastness. After a long day at work or school, you can help your eyes exercise before giving it a good rest by adding glass and mirrors around the room.
Highlight The View: If your home's key feature is an overlooking nature landscape, you can consider replacing your walls with glass windows to have a mesmerizing view every time you wake up in the morning. In this way, you can also let in natural sunlight, minimize artificial lighting inside your room, and emphasize the beautiful bedroom architecture. If you want more privacy, you can hang large curtains on the glass walls, or simply have large glass window panes instead of huge glass walls.
Add A Private Nook For Yourself
Since bedrooms are a homeowner's personal and intimate space, you can add a more personal touch to your room by creating a 'self' space where you can have some quiet time. Today's bedrooms aren't merely built for sleep and rest. Some homeowners even add an entertainment or technology set, a book corner, art space, or even a workspace.
Doing your tasks on your bed, no matter how you feel comfortable while doing it, is not advisable for productivity and active learning. Studying or working in bed can be unhealthy for students and professionals. The human body associates foams and mattresses with sleep, so whenever the body senses the presence of these materials, you're more likely to lose focus and feel lethargic.
Thus, having your private nook can make your bedroom feel more special and personal without decreasing your productivity. You can set up and organize your desk, arrange a TV or gaming console for entertainment, add some bookshelves, or craft your art corner for stress relief.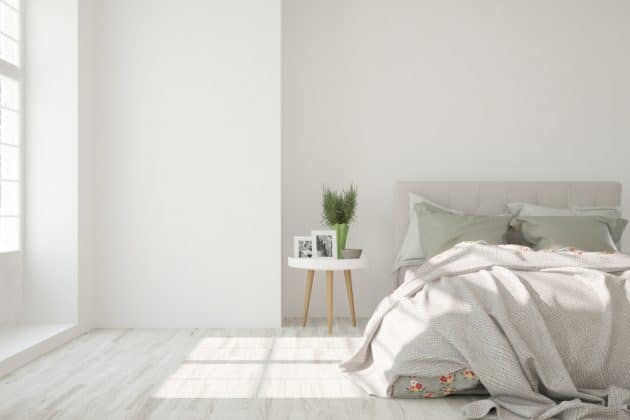 Place Rugs Under Furniture
A timeless and classic look you can add to your bedroom is placing the right rug under your furniture. Rugs can complement perfectly with your architecturally beautiful bedroom, as long as you know how and where to place these rugs properly.
As a basic rule, make sure that your rug is large enough for your furniture. Or better yet, the rugs should be extended under the legs or base of the furniture. The size ratio of the rug to furniture always matters.
Rugs have their own personality, too, and they can either make or break the architectural design of your bedroom. Here are some rug tips that you can apply to your bedroom:
Take Note Of Contrast: If your room is already full of flashy and complicated designs, go for a solid-colored rug. On the other hand, solid-toned colors in your room will match intricate rugs, like Southwestern rugs.
Place A Large Rug On Your Bed: A large rug on your bed can be the focal point of your bedroom. In this way, you're not just adding personality to your bed, but also giving a feeling of warmth and coziness to your sleeping space.
Place A Rug Under A Group Of Furniture For Unity: If you have some furniture in your room that are near each other, consider placing the edge of the rug against the feet of the furniture to create a sense of unity and warmth.
Go Minimalist With Small Elements
If you prefer not to fill your bedroom with different design elements, you could go for a minimalist look. Minimalism will give you room to breathe and clear your mind. You can add a few details so your room won't look dull. Consider placing a few indoor plants near your windows, bedside table, or headboard shelves. Also, you can add a network of artificial lighting to highlight the cleanliness of your room. What's more, you can have simple white light or add playfulness with other colors.
Conclusion
Whichever tip you apply to your bedroom, take note that bedrooms that are already architectured beautifully might only need a few upgrades. You can add and replace as many elements as you wish, but you should be mindful of not overdoing it. Too much design in a bedroom that is already architectured beautifully can result in chaos, making your bedroom uncomfortable or unappealing.