When we think of expressions of personal style, we often think of the clothes we wear. However, our homes are another wonderful – and often overlooked – opportunity to show off our personal style. Many homeowners fail to take into account the importance of personal style when decorating their homes. The result? Cookie-cutter decor that's nice, but nothing special. The best part of decorating your home with furniture and other items that speak directly to your personal aesthetic? You'll create a one-of-a-kind space you'll love to spend time in.
Read on for everything you need to know about furnishing your home with taste and style.
Know Your Taste
It's a relatively simple concept: In order to fill your home with furnishings you love, you have to first know what you like. There are many different design styles out there – each with their own appeals and allures. While no single style is better than another, one may be a better fit for your unique taste and style of living. For example, if you're all about kicking back and relaxing in your home, then the shabby chic decorating style may make sense. Whereas if clean, crisp lines and simplicity soothe your soul, then a minimalist approach may be more in order.
Also, keep in mind that today's best interior designs aren't matchy-matchy. It's acceptable to integrate elements of different design styles. One tip? Stick with a similar color palette or consistent finishes to ensure a cohesive and harmonious outcome. Again, just lead with what you love.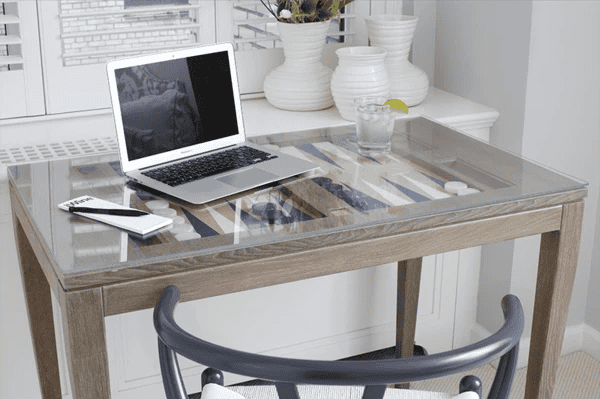 Assess Your Wants and Needs
Gone are the days when the homes featured in interior design magazines look like museums. Today's interiors are all about livability.
In order to decorate a home that you and your loved ones will use and enjoy, think about how you want to live in your home. Do your kids do homework at the kitchen island? If so, chic, comfortable counter stools provide a perch for them to work while you cook. Do you host lots of gatherings and events? If so, custom gaming tables may be a smart addition to your family room design. Do you spend a lot of time outdoors? If so, investing in a modern outdoor table for al fresco dining can help you expand your outdoor living space.
Balancing how you live with your personal taste preferences can help you achieve the perfect blend of form and function.
Delight in the Details
We've all heard the expression, "It's the little things in life." While this saying may be about life in general, it's keenly applicable to interior design. The small details really do add up. Something as simple as a pop of color (who doesn't love a gorgeous designer table in a brilliant and unexpected hue?), ceiling molding, or a stunning piece of art hanging over the mantle can become focal points, while accessories add charm and visual interest.
This concept applies to all of the rooms of your home. For example, while bathrooms can be an afterthought, a mindfully designed and decorated bathroom can have the transformative feel of a spa. Your choice of bathroom vanities, bathroom mirrors, towels, and other elements matter – even though they may not seem like a top priority in the design process.
Speaking of the bathroom, while it may seem like a place to cut corners, we don't recommend doing so here or in any other area of your home. Why? Because the furniture in your home is ultimately an investment in your quality of life. High-end bathroom furniture and other high-end designer furniture is designed to withstand the test of time taste.
On a similar note, designer coffee tables, elegant dining room tables, and other high-quality pieces of furniture will enrich your living space for years to come. The takeaway? While the most expensive furniture isn't necessarily always the best furniture, quality is a critical consideration. To get the best bang for your buck, pay attention to materials and craftsmanship.
At a time when people are spending more time in their homes than ever before, it's never been more important to make sure your environment is as beautiful and welcoming as it can be. This guide can help you hone in on your vision and execute on it. A more stylish home – and life! – is waiting.