Those who follow social networks such as Pinterest and Tik Tok must have already come across the fourth neon. This is one of the most popular styles of the moment and can be used both in children's rooms, as well as in adults, whether male or female.
And the good thing about all this is that you can bring this trend into your bedroom too. Want to know how? So, keep following the post and see all the tips and inspirations we've separated.
Neon Room Decor: Tips to Have Yours
Beware of excesses
The neon room is beautiful, eccentric, and full of character. So it's important to be careful not to overdo it and end up in a tiring room where you can't relax. The tip, in this case, is to choose strategic points of the decoration to apply lights and neon elements. Avoid scattering too many objects around the room. Instead, center your neon decor on a shelf or bookshelf so you get an eye rest whenever you want.
Another option is to use LED strips that can be turned on and off whenever you want. This is because the neon signs must be kept on at all times and this light can end up disturbing you at night, especially if you are the type who cannot sleep if any light is on in the room.
Neon color combination
Neon colors are vivid and striking, usually in shades of red, orange, blue, green, and pink. Therefore, it is important to know how to combine them with the rest of the room to create harmony and visual comfort.
See more about custom neon signs color matching and see what's possible.
If you want a more clean and sober room, invest in a base of neutral and light tones, such as white, gray, and even light wood. If you are the type who likes bolder environments, bet on equally striking colors to contrast with neon, such as black and the dark tone of the visible bricks.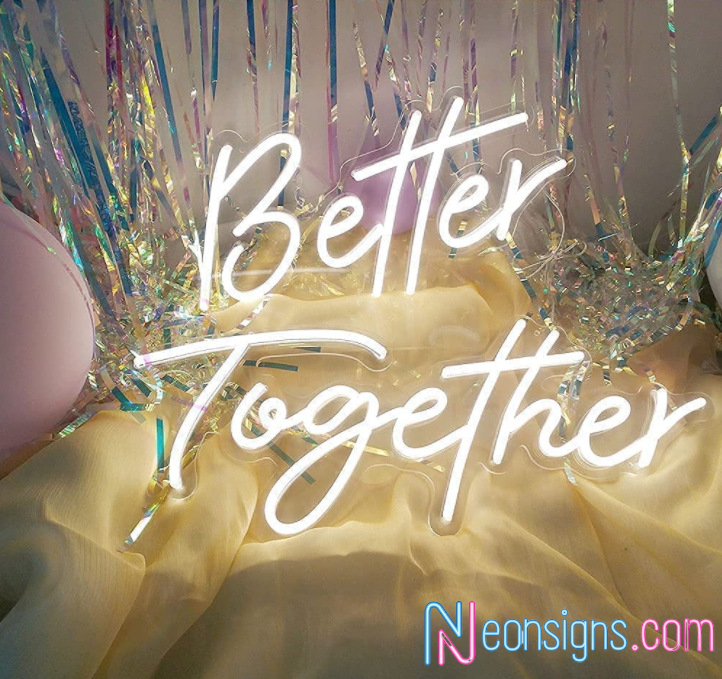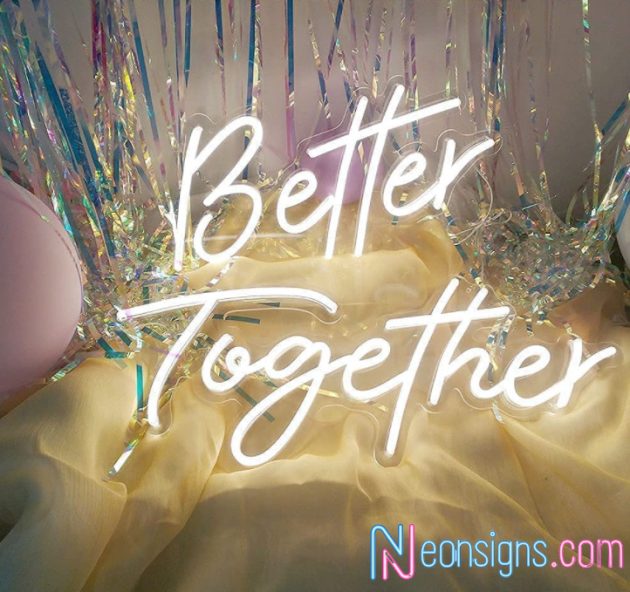 Sign: the main element
Talking about neon room decor and not talking about a sign is almost impossible. The two things go hand in hand.
But, as we said earlier, neon signs cannot be turned off and therefore can become tiresome. Before investing in one, assess whether this feature bothers you or not. If that's not a problem, then immerse yourself in the idea of ​​the neon sign. As a rule, this element is almost always used on the headboard wall, replacing conventional paintings. But you can still choose to use it in other spaces in the room, such as the desk wall, for example.
Neon signs can still vary in size, shape, and color. Some have drawings, while others are made up of words and phrases. Choose the one that best suits your style and your room. A modern room, but with an elegant and sophisticated style, can bet on a neon sign in neutral colors, such as white, yellow or blue, for example. A room with a more laid-back and relaxed style, on the other hand, looks beautiful with contrasting colors. You can even bet on the use of a neon sign over patterned wallpaper.
Neon wall
Another option for neon room decoration is to paint the walls with neon paint, usually in bright and striking colors. But the tip to not overload the environment is to choose only one wall to apply the color.
You can also choose glow-in-the-dark paint for drawing on the wall. However, consider that this type of effect is even more striking than the sign and, for that very reason, should be well evaluated.
Neon bedding
Neon bedding is the best choice for those who want to create a discreet effect but still continue in the neon trend. Nowadays you can find bedding with patterns that glow in the dark. Imagine the look?
Neon ornaments
Neon ornaments couldn't be left out of the neon room decor list. Here, the possibilities are enormous, ranging from lighting fixtures to collectible figures. If your room has space for a computer and other electronic equipment, you can also equip them with neon lights.
Check out the following neon bedroom decor ideas below and get inspired:
1.
2.
3.
4.
5.
6.
7.
8.
9.