Everyone wants to feel relaxed and stress-free in their bathroom. To achieve this, you want a bathroom design that's tailored to your own ideal aesthetic, organisation goals and usage needs.
When you get down to the specifics of small bathroom design there is a lot to consider. The colour scheme, tile design, tapware, accessories… it all adds up. Tackling bathroom renovations or design doesn't have to be daunting though. Preparation and planning will be your best friend.
As aesthetically pleasing as a well-designed bathroom can be tough, a quiet bathroom that is free of unwanted noises is equally as important. No one can really enjoy a relaxing bath with noisy plumbing pipes clanging away behind the walls, no matter how visually appealing your surroundings are. Therefore, it's worth ensuring the bathroom is fault-free and fully functional to really get the most out of it.
Here is a list of the most important things to consider for small bathroom design.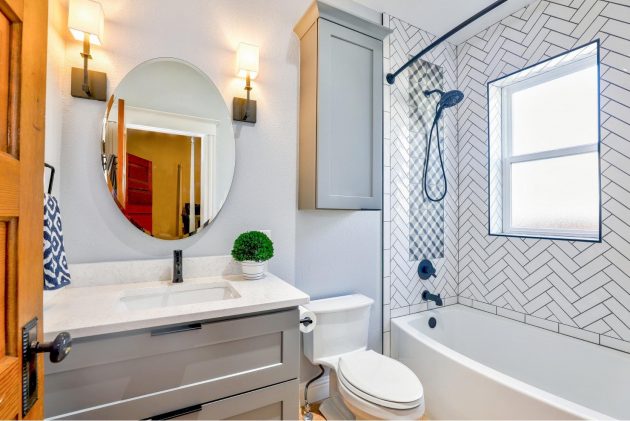 Stay Organised With a Bathroom Design Planner
Before you pick up any tool, grab a pen & paper or computer, and start planning. You want to visualise all the elements and clearly see your end goal.
One way to achieve this is with an online bathroom planner resource, where you can create the perfect bathroom design in 3D. It's an all-in-one tool for design. Play around with the layout and various orientations to consider options you had never considered before.
Additionally, keep track of all your inspiration from magazines, social media, and online sources. Collect materials from showrooms, have a pin-up design board, even test out paint colours or tiles before you start. A bathroom design planner certainly should not be limited to one form: it can be exactly what you work with best.
These are the key elements for any bathroom design plans.
Bathroom Tile Design for Small Bathrooms
Tile design in a small bathroom is arguably more important than a large bathroom. With a smaller room you want to maintain a sense of spaciousness and accessibility. You also want to consider whether the tiles are a major focal point, or an element that blends in and allows another feature to shine.
While choosing tiles for a small bathroom, you'll want to consider:
Floor and wall tile colours
Tile shape (e.g. rectangular, square, hexagonal)
Tile size
Grout colour
Tile pattern (e.g. diagonal, subway, horizontal, vertical)
Neutral colours work best in smaller bathrooms, allowing for other elements to shine. Lighter tones also reflect more light to enhance space.
If you do want colour, consider a feature wall, wallpaper, or laying tiles in a unique pattern. Diagonal floor tiles make a space feel larger, while horizontal or subway tiles can draw the eye and capture attention. Large tiles reduce the amount of grout needed, and as a result there's more flow in the bathroom.
Also consider texture and how you can play off elements such as stone tiles contrasted with a smooth marble benchtop. Bathroom tile design truly has the potential to make or break your bathroom's vibe.
Balancing Natural Light with Internal Lighting
The best way to bring a small bathroom to life is with natural lighting. The space will feel warm, vibrant and welcoming, even in winter (well, when sunlight is available). Most importantly, a small bathroom will feel larger thanks to interior design elements such as large windows.
If you're updating an existing bathroom you may or may not have the opportunity to alter the windows. But if you do, look at ways to incorporate sunlight through high windows or even skylights.
Meanwhile, how can you balance external lighting with internal lighting? Most likely you will opt for an exhaust fan heat lamp, but you don't have to be limited by one choice. LED lighting is a subtle way to set the mood with lights around a mirror, for example.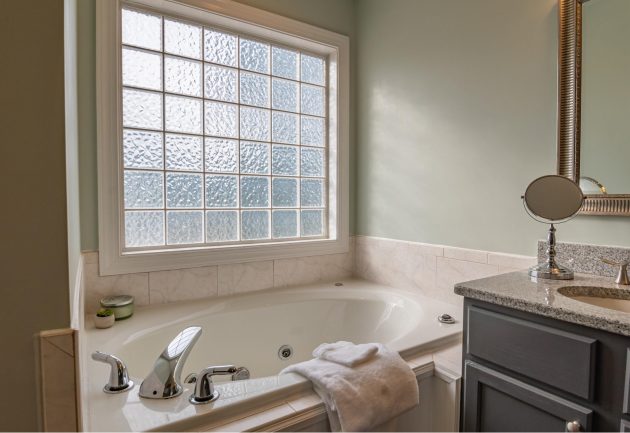 Coordinating Bathtub and Shower Design
One of the most common frustrations with older bathrooms is the bath and shower layout. Often the design does not maximise potential. Or, you may be lumped with a combined shower/tub that poses a slipping risk and is just not convenient.
Take the time to play around with the location of both features. There's no need to be restricted by convention.
Returning to the combo idea, let's shrug off the negativity. Modern rectangular tubs are far more suitable as a shower with more space and no curves to slip on. A simple glass barrier also looks far better than a mouldy shower curtain which sticks to your legs in the cold.
Toilet Suite Comfort
There are a couple of easy options for saving space with your toilet suite. A concealed cistern behind the wall is a quick way to remove roughly 30cm of the toilet. All you're left with is the actual toilet bowl and seat, and no intrusive cistern.
Alternatively, a close coupled toilet has the cistern directly on top of the toilet pan. Not only is it easier to clean, but it saves space compared to a traditional S-trap or P-trap toilet. In a small bathroom, the toilet design could truly make a difference.
Bathroom Vanity Goals and Additional Features
Finally, albeit not necessarily the last step, it's time to think about the vanity. Consider the storage options you need, as well as the look and feel of how it fits with the overall design and colour scheme.
Think about how you want to incorporate draws and cupboards, as well as powerpoints for charging phones or powering handheld appliances. Meanwhile, look at all the possibilities of single or double basin options, shelves and more.
There are even other finishing touches for overall small bathroom design planning, including:
Plants
Towel racks
Shelves
Kid friendly accessories like stools or potties
Pet friendly options for showering/washing
Make sure to consider all the options for your small bathroom. And always consult an expert plumber for logistics and the nitty gritty of how the plumbing will all come together.