If earning the hostess-with-the-mostess title at your next outdoor dinner party sits proudly at the top of your to-do list, prepare to juggle platters, top-off beverages, and serve horderves at rapid speed. For those party-throwers looking to wow their backyard barbeque attendees, sprucing up your backyard living area is an easy solution to barren outdoor patios—guaranteed to send your houseguests running for the hills. While many homeowners can't help but daydream of wicker chairs and bulbous light strings, ensuring your space is stylish, comfortable, and well-suited to your needs requires more than dog-eared home & garden magazines.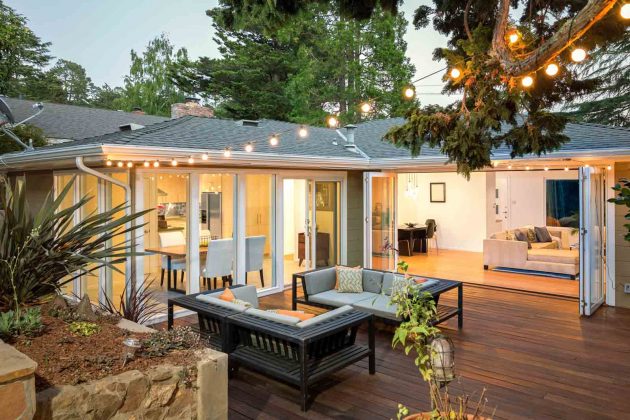 Still, the benefits of enjoying time with friends and family outdoors, elevating the value of your home, and gaining access to a relaxation oasis just steps outside your back door are well worth the hard work.
When decorating a room in your home, you'll likely consider color palette, material compatibility, function, furniture layout, and more. The process of putting together your backyard hangout spot should be no different. After all, thoughtful design influences whether or not your space will feel comfortable, inviting, and polished.
Nothing beats a fire pit gathering or an intimate outdoor meal, but there's work to be done before you get to relax and enjoy. As with any home improvement projects, planning is critical. Start by carefully laying out your budget before bringing in the professionals, researching your regional climate, and planning landscaping and gardening before selecting furniture and decorations.
When you're ready to break ground on your new project, be sure to avoid these seven design disasters and throw a wrench in the creation of your dream outdoor living area.
Mistake #1: Settling for low-quality grass seed
The grass is not always greener on the other side—especially if the other side uses a low-quality seed. Utilizing high-quality grass in any landscaping project is critical to ensure the product isn't full of harmful fillers that ultimately won't sprout. A low-quality seed can leave your yard looking uneven and yellow as you hack away at weeds and struggle to keep up with watering fluctuations. A flourishing and patch-free lawn grown by a high-quality seed like this one will boost curb appeal and give you something to be proud of when showing off your home.
Mistake #2: Not equipping your space to brave the elements
There's nothing worse than sitting down in your cozy backyard oasis and finding it riddled with unwanted insects or stricken by heavy rainfall. Stock up on umbrellas to protect the area from rain or sun, and put out plenty of citronella candles, so your dinner guests don't become the entree for a swarm of mosquitos.
Mistake #3: Bringing your indoor furniture or kitchenware outside
There's a time and a place for grandma's fine china, and your outdoor table in the middle of summer is not that time or place. The same goes for cutlery, furniture, and beloved blankets or pillows. Home goods designed to live inside are ill-equipped for water exposure, extreme temperatures, or rodent friends. Get your hands on durable items meant for yards or patios so you can enjoy them without having to repair constant wear and tear.
Mistake #4: Squandering storage options
You can avoid yard and patio clutter by taking advantage of smart storage options. Coffee tables, decorative shelving, and planter pots can come equipped with storage for outdoor tools and items so you can have everything you need nearby while still leaving surfaces crystal clear.
Mistake #5: Under-prioritizing comfortability and function
While your entertaining area's aesthetic appeal is—of course—a priority, completely sacrificing comfort for fashion is a big mistake. After all, you want guests to sit around and stay awhile. Avoid purchasing stiff, rigid, or otherwise uncomfortable furniture, and be sure to arrange seats in a manner that is conducive to conversation and interaction.
Mistake #6: Forgetting an outdoor rug
Sure, the great outdoors comes equipped with all-natural flooring. Still, failing to spice up your outdoor space with a stylish rug can cause furniture to become dirty, rusted, or scratched. An outdoor carpet encompasses the coziness of indoor spaces by tying together accessories and furniture pieces. What's more, most of them can be easily washed off with a hose, making cleanup a sinch.
Mistake #7: Leaving your space in the dark
While a daytime gathering in the backyard requires little light assistance, you'll regret skipping out on overhead light when you struggle to see the shadowy faces of your friends and family members during a nighttime event. Invest in captivating lighting fixtures like oversized lamps, fairy lights, or lanterns to adorn your space with a glow that elevates its mood and style.
To wrap up
Spruce up your outdoor patio with charming hanging light fixtures and weather-proof furniture for a warm, cozy hang out space. By avoiding common den decor faux-pas and keep guests talking about your get-together for years to come.