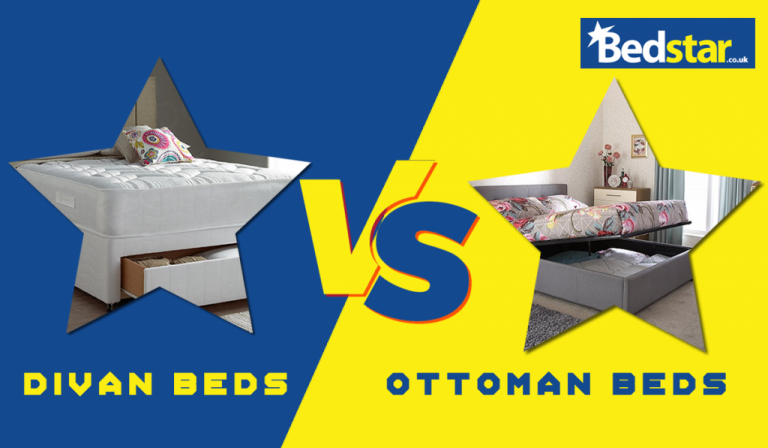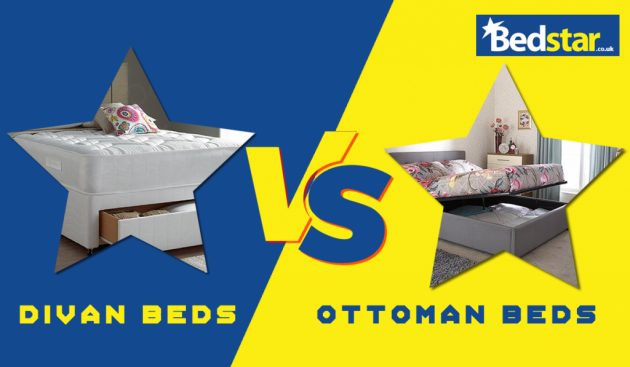 Ottomans and divans offer practical benefits over standard bed frames, but which should you choose?
In this article, we mull over the qualities of both and the differences to help you decide which type of bed is right for you.
Let's jump in!
What is a divan bed?
A divan bed has a base rather than a frame, with the base made from MDF, engineered wood, or hardwood covered in upholstery.
The base is always the exact dimensions as the mattress it's designed for, so divan beds take up less space than standard bed frames.
The base is available with in-built drawers built into the side of the bed, ideal for bedding, seasonal clothes, and bits and bats.
Divan bases come in two parts, fixing together widthways with a fixing clip. The benefit of this is the base is easier to ship and manoeuvre through doorways.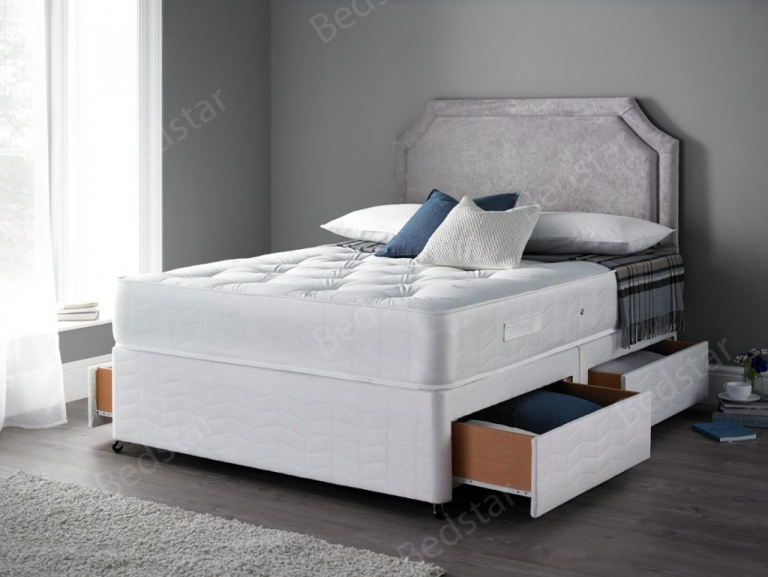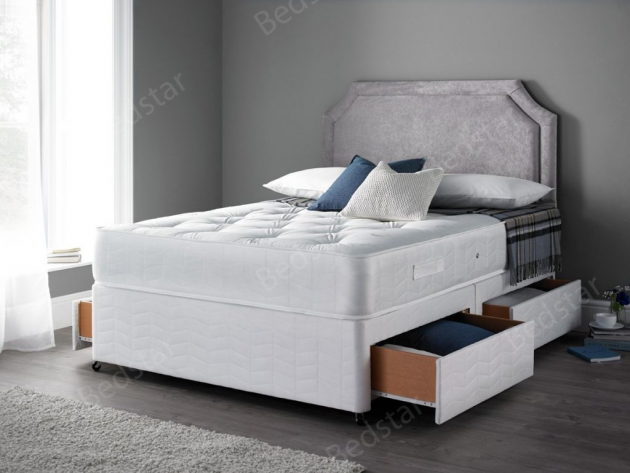 Pictured: Giltedge Beds Chatsworth 4FT 6 Double Divan Bed, available from Bedstar – £359
The base on a divan is upholstered in fabrics like tweed, linen, cotton, faux leather, or crushed velvet, creating a softer style. Many people prefer a fabric base over a standard bed frame because it feels more homely.
Divans are also available with 'zip & link' bases. Zip and link bases fix together lengthways, and both bases can operate independently as singles or small doubles. They are popular in B&Bs and hotels that need to change sleeping arrangements.
Buy it if
Buy it if you want a space-saving bed with built-in drawers for bedding. Divans are also available in hundreds of finishes, so they are better than standard bed frames if you want something unique. Personally, we love linen bases.
What is an ottoman bed?
An ottoman bed also has a base the same size as the mattress it's designed for, but unlike divans, the base on an ottoman lifts up.
Ottomans have a liftable base that takes the mattress with it, making full use of the abundant space between the mattress platform and floor. In this sense, ottomans are a much more practical option than divans.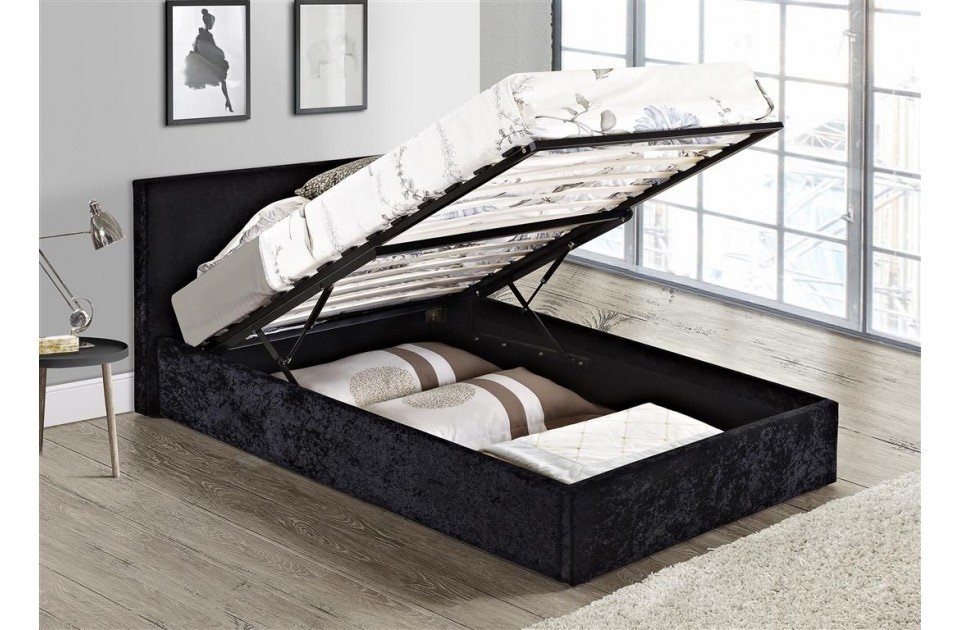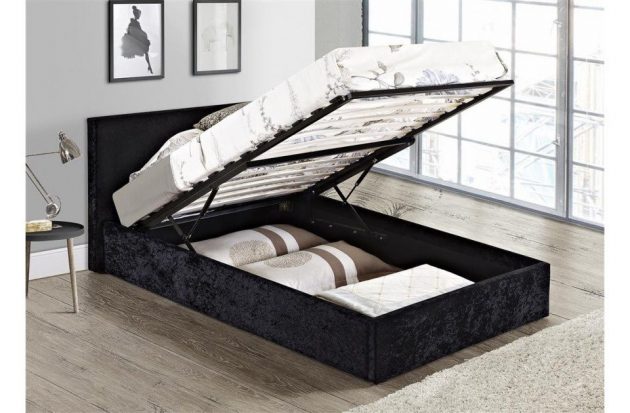 Pictured: Birlea Berlin Single Ottoman Bed – Crushed Velvet Black – Available from Bedstar £289
With some bases, you can specify a side-opening platform or end-opening platform. Which is best for you depends on your bedroom layout.
Like divans, ottomans are delivered in two parts, in this case, fixed together lengthways with a clip.
This creates a partition in the storage area.
The base on an ottoman is upholstered in the same fabrics as a divan, so there is no external difference between the two bases.
Buy it if
Buy it if you need even more storage than a divan offers. The lift-up platform uses the whole space under the mattress as storage. The only drawback is ottomans cost more than divans, with a price increase of a few hundred pounds.
Headboards
Both divans and ottomans are available with or without a headboard.
Headboards are helpful because they give you something soft to sit up against. Additionally, headboards complete the look of the base. Divans and ottomans look unfinished without a headboard, making them a worthwhile addition.
Headboards come in three flavours:
Strutted – this fixes to the base securely.
Floor-standing – this fixes the base and stands on the floor, creating a bedstead look.
Wall-mounted – this attaches freely to the wall behind the base.
Most people should go for a strutted or floor-standing headboard, providing the base has fixing points. Otherwise, go wall-mounted instead.
Solid vs. strutted bases
Ottomans and divans can have a solid or slatted mattress platform. Providing a good quality mattress, there is no real perceptible difference in the feel of either type of bed base when you are in bed.
With ottomans, bases are usually solid because slats that move can affect the position of the mattress when the platform is lifted. However, fixing clips fix this problem for slats, so don't read too much into this.
Overall
Divans and ottoman beds have several shared qualities, including space-saving designs, upholstered bases, and in-built storage.
All things being equal, ottomans are superior because the lift-up platform unlocks way more space than the drawers of a divan.
However, ottomans are more expensive, adding £100 to £200 to the cost on average, so you should weigh up if the extra cost is worth it.