Everybody is already used to the fact that well-known corporations invest large sums of money in the interior design of the office. There are legends about offices of Google, Facebook, Dropbox, Airbnb, Yandex: these giants, in addition to unusual interior solutions, create also game zones, recreation areas, build offices in the open-air… But in addition to the image component, there are certain commercial goals behind it.
If we are talking about the image of the company, then here the first impression of the client or business partner is formed by visual information, the image of the interior in the office, visual signs. The environment affects everything that happens in the offices.
The design of the office space serves as an additional non-verbal channel of communication, it can convey that innovative spirit, creative atmosphere, and any other messages that you want to convey to your guest. There is even a separate direction, "psychological interior design" – when designers and architects create an interior that could mentally meet the individual characteristics and needs of a person or company, as well as used for specific purposes.
Any company wants to show superiority, to stand out among competitors, to indicate its financial stability. Experienced designers know how to psychologically influence the person you need with light, colors, additional elements in the interior.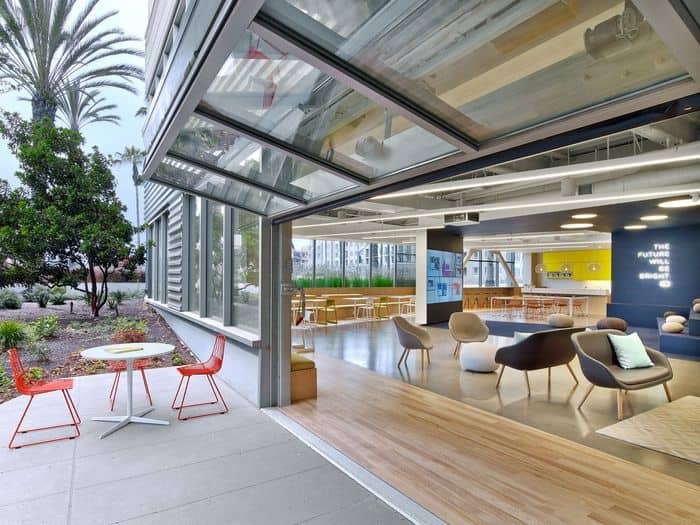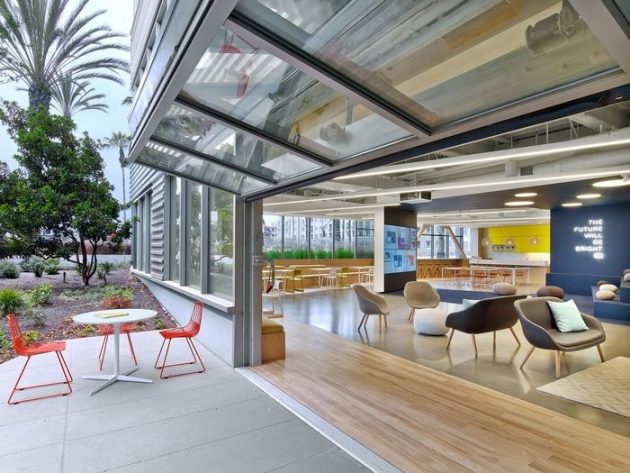 Working area placement
In most companies, offices are decorated according to the standard type – gray and white walls, boring furniture, and a minimum of interior solutions. However, the choice of color scheme for the room is an important and difficult decision, because each color has its own function.
For example, the effect of calming green and blue contributes to increased productivity in the creative team, exciting red elements in design helps those who are engaged in monotonous work.
It is important not to go overboard with the number of colors and bright elements so that the room is not motley and does not affect the employees depressingly. It is really better to make the walls themselves light or white to visually expand the space and fill it with light.
Now it is also fashionable to design rooms in the style of "Loft" and finish the walls under the brick, but here too, do not get carried away and do all the walls in the brick: better to dilute them with light walls and inserts.
For the floor, it is best to choose the shades of natural materials, to use gray shades that resemble stone, or beige and sand. In some cases, you can focus on a single wall and highlight it with a bright color, as Facebook did by painting one of the walls in yellow. The main thing is to understand that at the stage of choosing the floor, wall and ceiling color, we create a canvas for further creativity and experimentation.
Furniture and decoration
The furniture is well suited for creating the same color accents, which have already been mentioned above. They can be bright chairs, sofas, chairs of unusual shapes and sizes. To save money, used office furniture fort Lauderdale will be a great solution. It is more comfortable for the employees to choose how to work – sitting at a desk or on a soft and comfortable pouf.
Usually, one color palette of 3-4 colors is chosen for decoration; a corporate palette is often used, according to which all elements of interior in the office are selected.
Zoning
Game zones, recreation areas, non-standard meeting rooms will seem to someone as a joke or unnecessary luxury. However, if your employees often recycle, sacrifice their personal time in favor of the company, they see numbers all day long – they just need a place where they can emotionally discharge, relax and start working with new strength.
This has long been used by the same Google, Dropbox and Facebook – their offices have separate areas where employees can fight and table soccer, play ball or read a book.