Minimalism isn't exactly a new concept in home improvement. For one, it was once a school of thought in the world of interior design and architecture, made popular by the Bauhaus mogement in the 1930s. Since then, minimalist concepts have made a big impact on modern art and design. So, it's no question that a lot of homeowners are adopting a more minimalist outlook when it comes to improving their homes.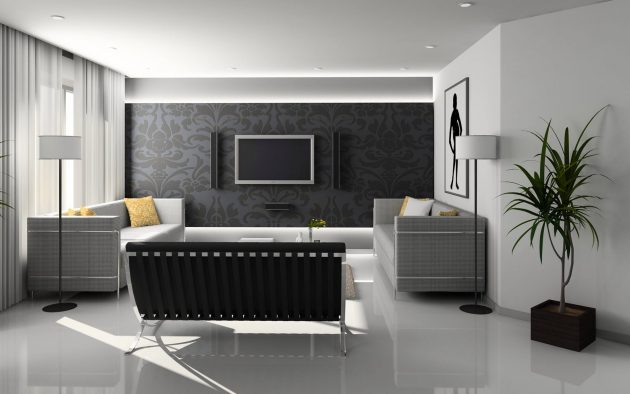 Recently, as technology continues to evolve and people want things to be simpler and faster, many home builders and homeowners are looking towards a less cluttered atmosphere. Using minimalist concepts, you can create relaxed interiors that are still impressive to look at!
1. Plain is the name of the game
Central to minimalism is the idea that less is more. And that's not because you have dull or lifeless tastes! The aim is for you to create a sense of infinite space that encourages open-mindedness and exploration. So, opt for plain furniture and curtains. As much as possible, try to avoid intricate and ornate patterns, except for geometric and art deco inspired prints.
2. Let the walls breathe
Another important concept in minimalism is the need for monochrome walls. Whether you're using paint or wallpaper, you should limit your palette to as few as three shades of a single color. To really drive a cleaner and looser atmosphere, you can look along the lines of chrome, silver, white, and grey. These colors are known to make your room cooler, just enough to keep you relaxed.
3. The floor is Zen
You can also improve your floor to achieve a minimalistic look for the living room. One thing's for sure, the choice of flooring is critical to design concepts that are functional. You only need to select the right material that coincides with the type of property you have. Apartments are very particular when it comes to choosing the right types of flooring, from carpets to hardwood. For your home, you can look along the lines of white vinyl tiles or grey carpeting. However, you will need to vacuum the floor regularly to keep it as spic and span as possible.
4. Let there be light
One thing's for sure, you will need to change your lighting fixtures to really bring out the best of your home's interior. The best way to go about this is to install warm accent lights in a single area of the room. You may also place white lamps near couches. You should hang sheer curtains that will brighten up the room and make its minimalist high points stand out during the daytime.
5. Give it a little green
Who says minimalist living rooms should be monochromatic? You can offset the dominance of your greys and whites by adding plants such as succulents and cacti to break up the monotony. You can also consider placing potted plants and bonsai trees in the corners. For sure, the leaves and blooms will look gorgeous in such a bright and clear atmosphere.