Are you looking to add some boho bedroom decor flair to your bedroom? No further. Our bohemian bedroom decor guide can help transform your boring bedroom into a space full of color, culture, and radiation energy that is sure to impress.
Before we get stuck into boho bedroom decor ideas, you might be wondering what bohemian decor actually is. Boho stems from the word bohemian, which is usually associated to a person who lives care-free, someone who doesn't do what is expected, and someone who might sometimes break the rules.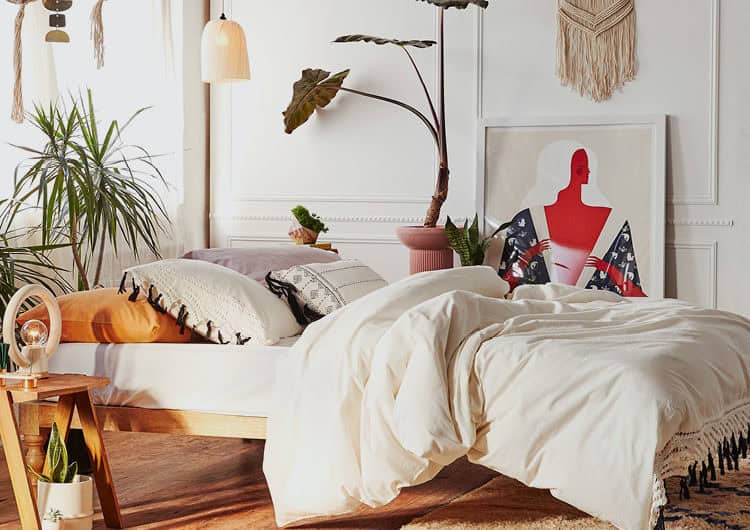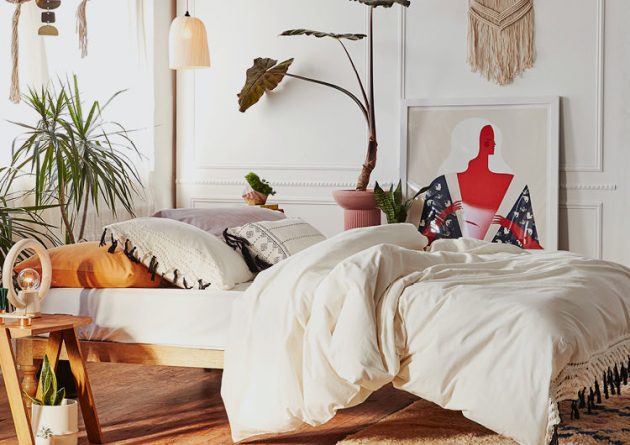 Boho decor is quite similar. Unlike modern decor, minimalist decor, or even country-style decor, a bohemian style is guided more by intuition than rules.
When you want to reset your bedroom decor and give it a bohemian revamp, a few simple steps can really make the process fun and creative.
Step 1: Since the bed is the most significant piece of furniture in the bedroom, when you are exploring options for your boho bedroom design, pick out a nice bed frame first. Master bedrooms would benefit most from a queen bed frame or king-sized bed frame. However, smaller rooms might be better suited for a full bed frame.
You must keep the bed frame quite minimal so that you can add culture and color to the rest of your bedroom without worrying about having the style of your bedframe clash with the form of the rest of your room.
The best bed frame colors that work well with bohemian decor are white and grey. These bed frame colors will ensure you can dress the bed with big bright pillows and throws and have a statement piece rug that will all stand out.
When selecting your bed frame, it's important to think about more than just how it looks. It is essential that your bed frame also helps you sleep really well.
To add a little luxury to your boho layout, think about buying an adjustable bed frame. These bed frames come with wireless remote controls with the ability to adjust the back and leg height of the frame for extra pressure relief and even have massage functions for the ultimate comfort experience.
If you are looking for a complete set, pair your bed frame with the best-rated mattress!
Step 2: Once you have the best bed frame that can guarantee fantastic sleep, the fun can start! A common theme in most boho styled rooms is pops of colors and varying patterns that are both warming and inspiring. Some of the best ways to integrate colors and patterns into boho design are with the use of rugs, oversized pillows, and macramé decoratives that seem to be a massive hit for boho style. When it comes to bedding, balance style, and substance with efficiency as you must be able to get quality sleep on the bedding you choose.
A cooling blanket is an excellent choice because it looks good and helps with amazing sleep too. Staying cool at night is essential for quality sleep. One of the best ways to regulate your body's temperature and to enter deep sleep is to cool down the body with cooling bedding. If you are looking for a new blanket for every season, you can't look past the unbelievable comfort of faux fur. A faux fur blanket or faux fur throw blanket can help wrap you in cozy comfort all year long and serve a dual purpose as a decorative for your bedroom or living area.
Step 3: most bohemian designs feature a statement piece of furniture. Because boho style is so diverse and woven with culture, there are endless options for beautiful bohemian furniture that can add final touches of style to the bedroom. A macramé hammock can create a dreamy area for chilling, ideally near a window. Or a beautiful wooden shelf can also make a big statement and create a home for boho styled bowls, images, books, and small ornaments that you have collected along the way.
Step 4: the last step in boho decor design is arguably the most fun! Plants! Boho design requires greenery and freshness to bring it all together. Indoor plants are trending all around the world right now. And there are a few different reasons why. Firstly, plants help keep the air fresh and cool. Secondly, plants look really nice. Real natural greens add a feeling of substance to design. Thirdly, the act of caring for a plant can be therapeutic and fulfilling. The responsibility of taking care of a plant and the emotional bond some people have with their plants is a great thing!
So there you have it. 4 easy steps to create the boho bedroom of your dreams. Start with the best bed frame, get a comfy faux fur blanket, and let your creativity run wild!