Are you ready to build your dream kitchen? It all starts with a good plan. By taking time to meticulously plan your dream kitchen, you will get the best possible outcome from your investment. Here are some tips for how to plan your dream kitchen, courtesy of O'Hanlon Kitchens, Inc.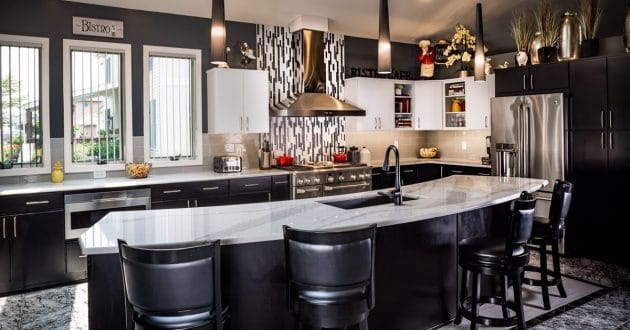 Choose a Trusted Company to Help You Build Your Dream Kitchen
You may think of doing this last, but don't! Choosing a kitchen remodeling company at the start will greatly help you in the design process. You can work with a designer to plan your dream kitchen, keeping in mind your budget, your current and future goals, and much more. Use their experience to pinpoint the exact features you want in your dream kitchen and learn how quickly that dream can become a reality.
Designers are talented at sourcing high-end products at affordable prices and many companies offer free design with the hope you will use them for the construction project. Choose a company that doesn't use high-pressure sales. A good kitchen designer will give you time to access your options, adjust your vision based on your budget and get the dream kitchen you want.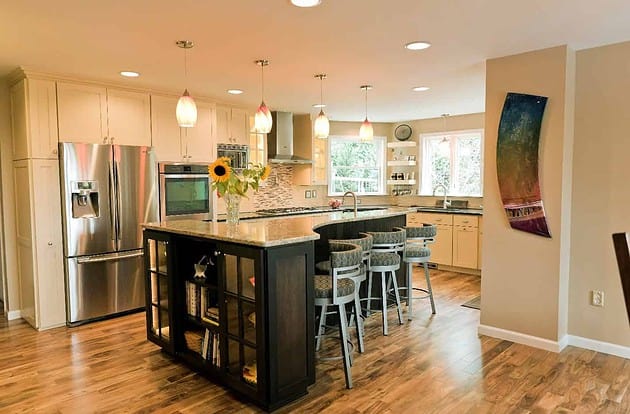 Make a List of Must-Have Features
This is your dream kitchen, not just a slightly better version of your current kitchen. What features would you love to have in it? Maybe you want double ovens because you host the holidays. Perhaps you've always wanted a pot filler over the stove to quickly add water while you cook. Maybe your biggest dream is to have soft-shut drawers, hidden cabinet pulls or a farmhouse sink. Whatever your dreams may be, write them down. Then you can talk to your designer about which features you can incorporate in your dream kitchen.
Think of Any Issues You Have with Your Current Kitchen
Does the sink feel like it's in the wrong place? Do you need more drawers than your current kitchen has? These are problems that you can solve while designing your dream kitchen. As you think about all the features you want, make sure to list the features you don't want in your new kitchen. This will narrow down the ideas even further. Often, a fresh perspective from a designer will open possibilities you haven't considered – like removing a wall to transform your space.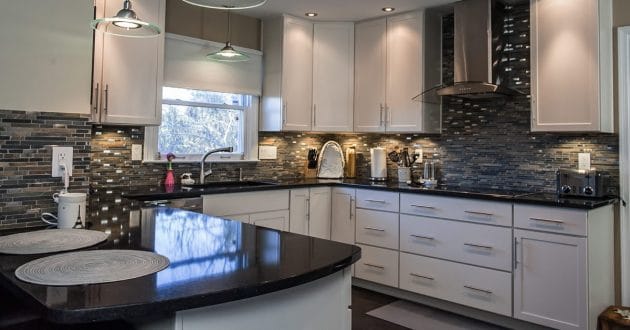 Find a Layout That Accommodates Your Needs
There are many kitchen layouts to choose from, depending on the shape of your kitchen and your overall needs. Once you have an idea which features you want in your kitchen, you can create a layout that fits the space available and your goals. For example, let's say you wanted a double-stack oven instead of a stove/oven combination. The layout of your current kitchen would need to be adjusted to make space for that. Again, your project manager can help you work out the logistics, so you get the kitchen of your dreams.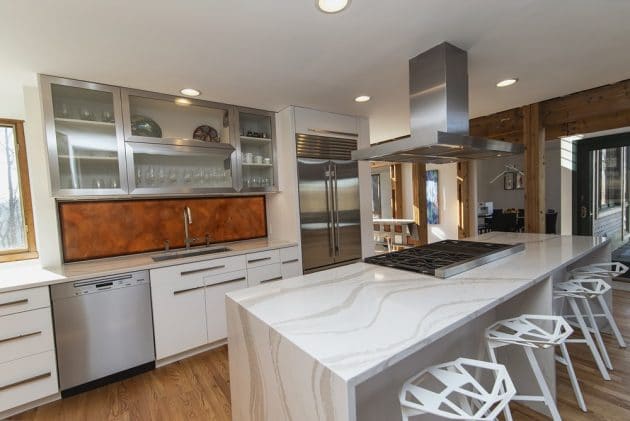 Choose Design Elements That Match Your Home and Personal Taste
This is the fun part, where you get to choose all the colors, finishes and design elements. The easiest way to go about this is to identify a design theme – rustic, traditional, transitional, eloquent, modern, etc. We recommend choosing a style that flows well with the rest of your home or matches the renovations you plan for the future. If you have a traditional home and you build a sleek, contemporary kitchen, you probably won't like the dissonance.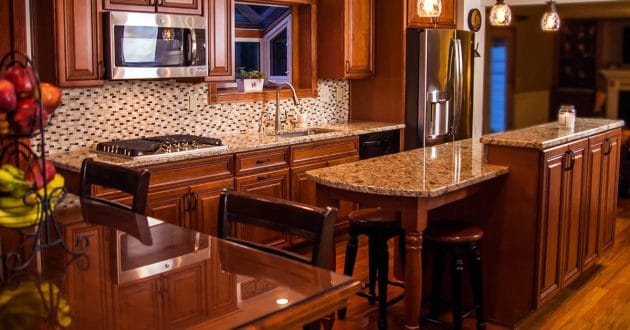 When it comes to color, stick to colors that stand the test of time. Your walls can be a trendy blue, but if your cabinetry or counter tops sport a trendy color you may end up regretting the decision.
If you're unsure which style you like best, look online for inspiration. We can also show you samples of kitchens we've worked on before. When you see something you like, save it, print it off, or point it out to your designer. Then you can start piecing together your dream kitchen. With the right amount of effort from the start, you can have a kitchen that you absolutely love working in year after year.
If you live in the Maryland or Pennsylvania area, the multi-talented team of professionals here at O'Hanlon Kitchens would be happy to guide you through the planning process. Contact us to schedule a kitchen remodeling consultation.