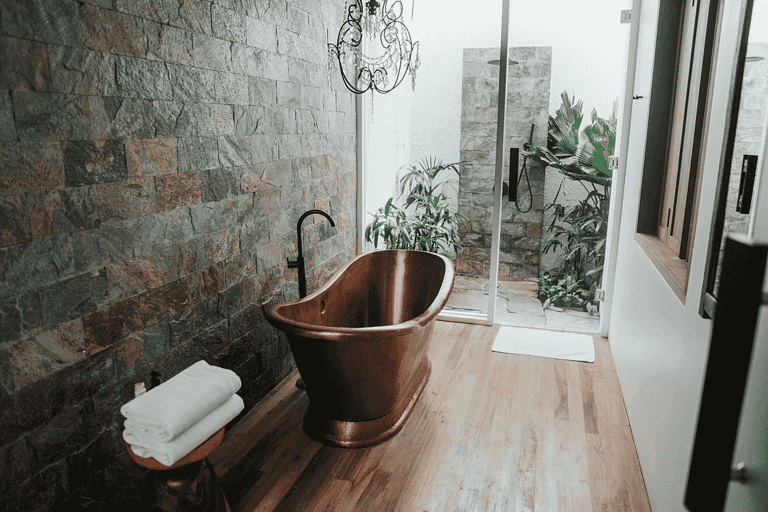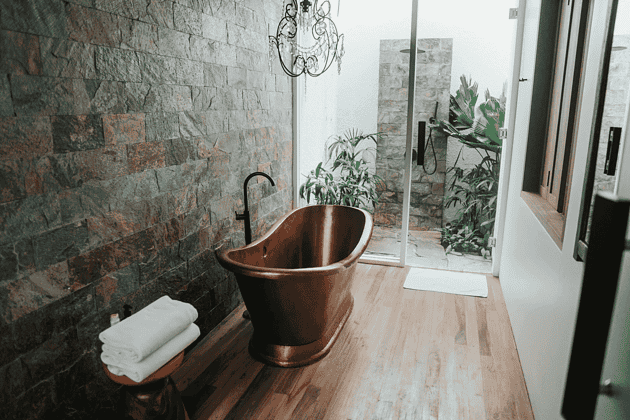 Your bathroom is a place where you spend far more of your time than you probably realize. It's where you wash and take care of yourself, but also where you unwind in a hot shower after a long day.
Given how much of our lives occur in the bathroom, it can be worth our time and effort to make the space pretty and decadent. The following will explore a few things you might want to consider when redecorating your bathroom.
Lighting Is Everything
You have had this experience: you spend a nice chunk of time getting ready to go out and feel fantastic. You arrive at wherever it is you're going, still feeling fantastic. You pop into the bathroom at the venue and discover that you look like a 1000-year-old cakey monster and wonder how you ever could have left the house looking as you did. What's the key element here? It's lighting.
Lighting is why crummy motels in movies still look kind of poetic; it's what makes the difference between soap-opera good looks and regular folks on the street. It can also make your bathroom look tacky or sublime.
The first rule of lighting is that natural lighting is always better (it's more diffused and is the right balance of bright and warm. It also is great for your health. This poses a particular problem for bathrooms seeing as you don't want neighbors being able to see into your space. If your bathroom wall looks out on a private area, you can, of course, opt for larger windows (but even then, guests might not like using the bathroom when people in the yard might be able to see them).
You need something that prevents people outside from seeing the detail of what's going on without blocking the sunlight. Consider frosted glass or glass with angled panes that obscure what's going on inside. You can maximize the natural light provided by even small windows by placing a mirror opposite them.
The second rule of lighting is that not all lightbulbs are created equal. Warmer lights create glowy, cozy feelings but are too warm, and visibility is altered. Colder lights create fresh, clean feelings but too many results in a clinical feel. Finding that sweet spot can take a few tries, but it is well worth it.
Beyond this, you want to think about light placement. Having light directly atop your head creates unflattering shadows (and makes makeup application a bit of a joke). If you're going to be doing things like plucking your eyebrows, shaving your face, or applying makeup, you want lights that come from the wall where the mirror you're using is placed. This will give you enough light to see properly what you're doing.
Find Your Focus: The Bathtub
When it comes to high-end interior design, one of the tried and true approaches is to select a statement piece and make the rest of your decor choices around that initial piece. Almost always in a bathroom, the bathtub takes center stage. A luxurious afternoon spent soaking in a monster-sized tub maybe isn't the key to happiness, but it sure can help. When selecting your tub, you want to first focus on size. How much space do you have? How many people do you want to be able to fit in the tub at once? How deep does the tub have to be so you can fully submerge your body?
Once the size has been selected, start looking at different makes and materials. A claw-foot bathtub is a classic for a reason, but there are also some really stunning modern stone constructions that might be worth your attention. Consider a company like Catchpole & Rye, who specialise in designing and manufacturing luxury copper baths. Browse their copper bath collection or request a brochure via their website. They deliver globally too. Whatever you choose, be sure to take into consideration the weight of the product and the safety precautions you or your team need to take during installation.
Tiles And Stone
Bathroom flooring and backsplashes can't be selected based on look alone. This is because bathrooms tend to get damp, and so materials used need to be able to withstand water in a way that most other areas of your home don't. When it comes to luxury bathrooms, tile or stone tend to be people's favorite options. These choices come in all sorts of designs, colors, and patterns; they last a long time and have the wonderful benefit of being able to work with heated flooring. Heated flooring can leave you feeling like a member of royalty on cold mornings.
Dehumidifier
While a built-in dehumidifier or a plug-in one isn't necessarily what you'd think of when you imagine a luxury bathroom, you'll certainly notice the impacts of not having one. Bathrooms get filled with moisture on a regular basis, and this can result in damp towels, drywall, or trim. Mould and mildew love damp things and will begin to grow, giving even the most luxurious bathroom a nasty smell and appearance; they'll also pose a serious risk to your health as mold releases spores which, when breathed in, contribute to respiratory conditions. Beyond this, moisture streaks on the walls result in two-tone painting, and a buildup of dampness can shorten the life expectancy of most of your bathroom's features.
To prevent water from shortening the life of the fixtures you've chosen and making your bathroom seem sweaty and grimy, you want to get a high-quality dehumidifier. You can have a system built-in (typically, you can include a switch to turn it on alongside the light switch). If you don't want to be cutting into the roof and walls to make changes, you can also purchase a standing dehumidifier that plugs into the wall. Either choice will help keep your bathroom looking and feeling pristine.
The above tips should help you take your bathroom redecoration to the next level. Again, your bathroom is a place you use often, and because of this, it needs to be both durable and comfortable. It's okay to take your time and make decisions slowly as you come to them; you can peruse ideas online or in design magazines to gather inspiration.