When you look at some of the more popular trends in interior design, it's clear that simplicity is in. But in a busy space like the kitchen – which is arguably the most heavily trafficked room in the home – the goal of minimalism doesn't always feel possible or practical.
Clever Design Tips for a Minimalist Kitchen
What is minimalism? If you ask 100 people to define the word, you'll probably get 100 different answers. It's a misunderstood term that rarely gets applied correctly.
According to Joshua Fields Millburn and Ryan Nicodemus, who are considered thought leaders in this space, "Minimalism is a tool that can assist you in finding freedom. Freedom from fear. Freedom from worry. Freedom from overwhelm. Freedom from guilt. Freedom from depression. Freedom from the trappings of the consumer culture we've built our lives around. Real freedom."
Minimalism can be expressed in every area of our lives, including home design. And while every situation is unique, minimalist home design is generally used to describe living spaces that are clean, organized, aesthetically-pleasing, and free of excess.
Because the kitchen is one of the most popular rooms in the home, it's one of the first places people turn when they decide to pursue minimalist design. If you find yourself in this boat, here are some clever tips and strategies you can use in your pursuit of transformation.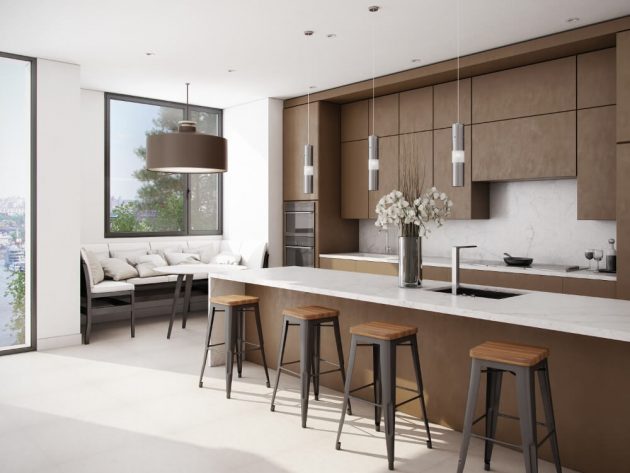 1. Get Rid of Duplicate Items
The kitchen is a resting spot for clutter. It's the clearinghouse for what comes into the home and is one of those areas that seems to breed duplicate items.
Whether you realize it or not, you probably have hundreds of pieces of flatware, dozens of spatulas, over a hundred pieces of dishware and glasses, an array of cooking spices dish towels, and thousands – yes thousands – of other individual items hiding out in cabinets and drawers, resting on countertops, and sitting in the pantry.
The question is, how often do you actually use all of these duplicates? If you're honest, you really only use a few items – the rest are JIC items: just in case. By tossing out the duplicates, you can free up space without missing a beat.
2. Clear Off the Countertops
Naturally, countertops tend to accumulate stuff. Dirty plates, mail, books and magazines, boxes of food, or coffee makers…before you know it, these things take up all of your counter space and make it look like a mess.
Only keep what's absolutely necessary on your kitchen counters. They should be virtually clear of all clutter, save a few items. This will give you the sleek, streamlined look you're going for.
3. Think Strategically About Appliances
Appliances take up a lot of space in the kitchen and, if you aren't careful, can make it look crowded and disheveled.
"While most people see kitchen appliances as a functional element, they're also extremely important from an aesthetic design perspective," Universal Appliance and Kitchen Center explains. "The closer you work with kitchen appliance professionals, the more likely you are to choose solutions that compliment the minimalist look you're going for."
Concealed kitchen appliances that blend in with floor to ceiling cabinets are quite popular right now, as are appliances mounted underneath cabinets and hidden out of view (such as drawer microwaves.)
4. Use a Clean Neutral Color Scheme
It's up to your own personal tastes, but a neutral color scheme will help you in the pursuit of minimalist design. White is especially popular, though not every shade is created equal.
"Yellow undertones give a white paint a warmer and creamier appearance, while blue undertones give a crisper look," interior designer Will Taylor says. "A space with lots of natural light is likely to look warmer, so you can use a cooler shade of white to balance the room. Rooms that are artificially lit with LED or fluorescent lighting can look cool, so go warmer."
Less is More
The modern kitchen is a utilitarian space that's used for far more than just cooking and eating. It's a gathering place, a late-night conversation spot, a homework hub – the center of your house. And even if you don't think you're cut out for minimalism on a grand scale, there's value in pursuing it on a micro scale such as this. Give it a try and see how it impacts your life.