Buying your first home is an exciting step. And it is important to understand and ensure you have the right insurance as you tread the path to homeownership.
Getting insurance for your home is not a 'nice to have', but a must have. In many countries or states, you are required by law to have a homeowners insurance policy. You will also be asked by the bank or mortgage lending company you go to financing for to show proof of insurance in order to get your loan approved. And of course, homeowners insurance secures and safeguards your home and precious possessions from any damage, making it absolutely non-negotiable.
Because it's something everyone must have, there are a lot of insurance providers out there, making the choice overwhelming. Never go with the first company you talk to or which sends you a quote – take the time to research and get quotations from a few different companies. And, if you get any kind of insurance already, definitely check in with your current insurer – as an existing client you could get some good offers or discount.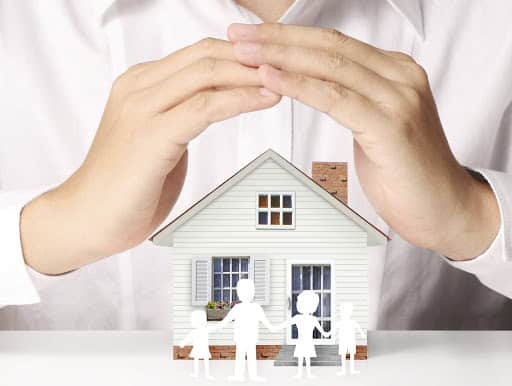 What is and isn't covered by a homeowners insurance policy?
Your homeowners insurance, like most policies you get, is customizable to meet your specific requirements. But there are certain basics and standard coverage that all homeowners insurance will have. Any damage or destruction to the home, both the interior and exterior of it, will usually be covered. This could be due to a natural phenomenon like storms, hurricane, fire, or human-caused like vandalism.
Certain natural disasters like earthquakes, flooding or a wildfire are not standard part of homeowners insurance and if you live in an area prone to such calamities you should invest in additional coverage. Acts of God and Acts of War are not generally covered.
Damage to property or injury to anyone due to a badly maintained home will not be covered by your policy. But usually injury to others incurring while they are in your home will have coverage through the personal liability in your policy. Freestanding structures like sheds, gazebos, and garages will need additional or separate riders to be covered under your homeowners insurance policy.
Any loss or theft of your property and possessions may also be covered. Check your policy carefully, as some are inclusive, while some require separate contents insurance. This includes clothing, toys, jewelry, furniture, equipment, appliances, and anything else in the home. However, there is usually on cap on the amount your insurer will reimburse for your possessions, with the general rule of thumb being between 50% and 70% of the insured amount for the structure of your home.
If you have a lot of expensive things like objets d'art, paintings, antiques of value, jewelry, designer accessories, high end electronics, or expensive musical instruments like a baby grand piano for example, you will be well served to take out a separate policy for such valuables.
Understanding the various type of coverage available
The most common types of coverage levels are actual cash value, replacement cost, extended replacement cost.
Actual cash value coverage is for the cost of your home and the value of your possessions, minus depreciation.
Replacement value coverage is for the actual cash value of the house and things without factoring in depreciation, which is needed for you to repair or rebuild the house as it was originally.
Extended replacement cost/ value coverage is comprehensive and covers the cost to repair or rebuild the house even if it exceeded the limits of your chosen policy.
There is also extended replacement, for more coverage than you bought, with usually comes with a cut off of 20-25 percent more than the limit of your coverage.
Liability coverage covers you in case you are sued by anyone else, and there is a lawsuit. It even covers anything done by your pets – whether the injury occurs in or outside of your home, your insurer is liable to pay for the person's medical treatment. Or if your dog or child, or even you, accidently destroy or damage a valuable object in someone's home. This kind of coverage is known as off premises liability coverage.
Getting an umbrella policy, which, as the name suggests, covers a plethora of possible evils that could require reimbursement is a good idea.
The additional living expenses coverage is for when you may need to vacate your premises to due to damage, repairs or an infestation. This will cover rental costs for a house or hotel room, food and any other incidentals. Such coverage will have daily limits that have to be adhered to, so if you are someone who enjoys the finer things in life, you should consider paying more and upping the daily limit you get.
Figuring out how much your policy will actually cost
The rate of your policy depends on factors like the neighborhood you own in, crime rates, the condition of your home, the availability of building materials, the past claim history carried with the address/home, and of course how you secure your home – all of which help the insurer determine the amount of risk, or likelihood of your filing a claim. In addition, the extra riders for jewelry or other high value items, the deductible you choose and how much coverage you want overall, all play in part in determining your annual premium.
Always remember to notify your insurer of any large repairs or changes to the structure, any damages, and of course any significant additions or subtractions to possessions, the latest family member (a baby, a pet), and any other such factors that could affect your coverage needs.
And finally, before you make your final decision, do some additional homework. Compare companies and the policies they offer. Get multiple quotes, ask to speak to agents and don't just decide based on online reading. Investigate the health of the company you have zeroed in on to make sure it is a legit and financially sound company. You can get this information from credit agencies online. Also check reviews and customer satisfaction levels with the company to gauge its response time and willingness to settle claims, its overall customer service and responsiveness – which will go a long way in making your dealings with the insurance company go smoothly.