Each and every avid traveler is definitely trying their best to make as much time as possible for trips. If you're constantly on the road, your home might serve only as a pit stop where you rest for a while before your next travel. Even if that's the case, there's no reason why your pit stop can't have an exceptional interior design. We present you with a few original ideas on how to decorate your room so that it reflects your passions well. Regardless of where you are at the moment, sit down comfortably and see what we have to offer.
The world of interior design is filled with ideas on how to decorate rooms. Depending on how much time you wish to spend on transforming your home, you can choose more or less demanding solutions. For a complete metamorphosis, a geographic map mural is a great option. This large-sized variant will definitely amaze any globetrotter and inspire them to plan their next voyage. If, however, you only wish to add a few decorative accents, go for typographic posters or photographs which can be arranged in compelling compositions on your walls. The sky is the limit, so let your imagination run wild and transform your regular room into a real traveler's paradise!
Traveling in the good old style
Traveling is a well-established tradition. Even the most ancient of tribes used to leave their homelands behind to search for a better place to live, and the 15th century witnessed a real revolution in traveling. Due to the rampant development of technologies used to create water vessels and measuring instruments, long voyages became more and more common. Among them was the quest of Vasco da Gama who became the first European to reach India by sea. If you find yourself fascinated by the good old days and you love everything retro, express it by decorating your interior in that particular style. Our first suggestion is a historical world map mural.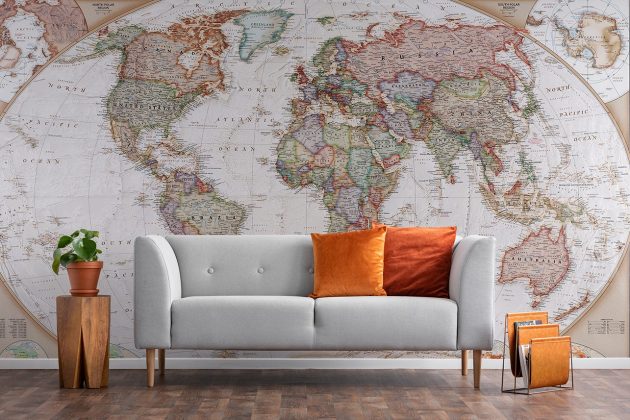 What's so special about it? It is not only a black-and-white or sepia design but also a depiction of an authentic map dating back several hundred years. It shows the continents as imagined in the Middle Ages as well as marvelous drawings of sailing ships and underwater creatures that people used to believe in. And if you're interested in old technologies and historical measuring instruments, you'll surely enjoy a map mural which also includes illustrations of a compass, a barometer, or a telescope.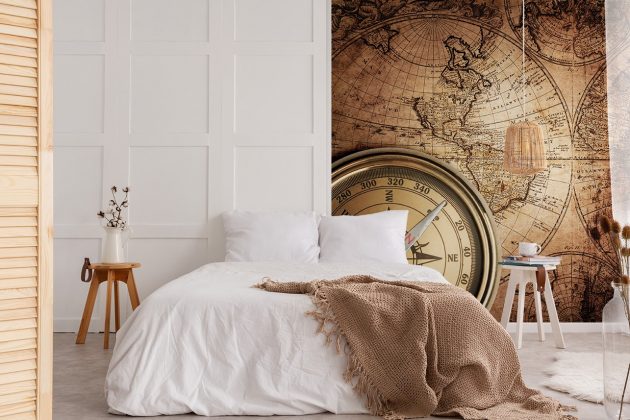 Go to https://myloview.com/murals/by-category/maps/ to see more travel-inspired motifs
Your personal travel gallery
The so-called gallery wall is a very popular concept in the world of interior design. It's a composition made of various paintings, posters, postcards, or graphics in diverse sizes which, despite depicting different things, create a coherent design. It's an excellent way to present the memories from your journeys. Choose several photographs of yourself, sights, monuments, and landscapes from your personal archive. Then select a few canvas-printed paintings or posters showing places which you've visited during your travels. They can depict the Eiffel Tower, the Big Ben, the Grand Canyon or an African savanna. It all depends on which parts of the world stuck in our memory the most.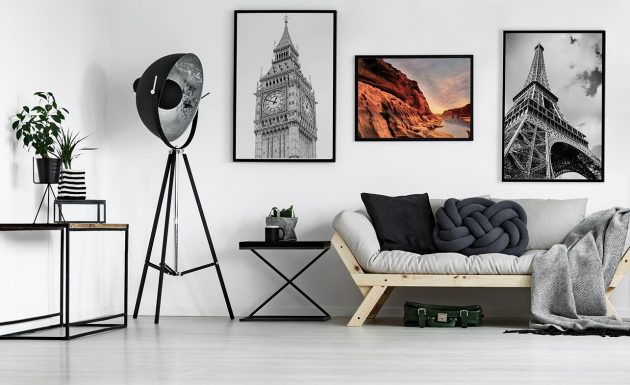 You don't have to limit yourself to just images. One very interesting idea is utilizing entry tickets in your design. If they include an appealing graphics, you can frame them in a beautiful collage and hang on our gallery wall.
Double function map
We haven't forgotten about those of you who like modern arrangements. Let's leave the historical inspirations behind and focus on the contemporary designs. Together with Myloview, we picked out a few minimalist designs with obvious cartographic inspirations behind them. The selection was motivated by more than just aesthetic value, but more about that later. A good design is able to depict well-known themes in a completely new, yet still recognizable way. This is exactly the type of world map murals that we have to offer. Instead of a precise depiction of continents, mountain ranges, rivers, and lowlands, it uses extremely simplified shapes. A perfect example of this style are designs in which geographical shapes are represented by small dots reminiscent of computer pixels. Another option is a mural with geometric crystal-like shapes. And if you prefer colorful arrangements, consider a mural which looks like a work of art. In this design, continents are colorful splatters of paint. You won't be able to take your eyes off this decoration.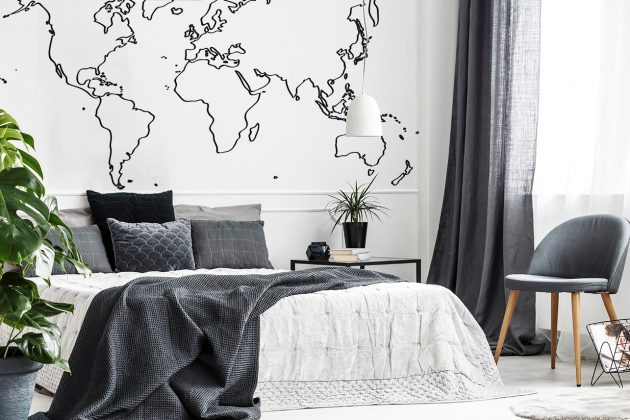 You may also wish to make your interior design more interactive. Just choose a map mural showing only black outlines of lands on white background. Does it seem too dull of a design? Not if it's used in a creative way. How? You can mark the places you've visited directly on the mural with small stickers or washable markers.
Small accents that make a change
What else might be compelling for traveling enthusiasts? For example a magnificent globe lamp. It does not, however, have to look like an educational children's toy. For a more elegant decoration choose a shining retro-style globe instead of the classic physical or political maps. The soft colors will look perfect in traditionally decorated rooms with wooden furniture. To supplement a modern arrangement, a much better option would be an industrial-style ceiling lamp. A metal lampshade showing the shapes of continents illuminated from inside will make for a spectacular effect. Another practical type of decoration are ornamental, self-adhesive stickers. You can put them on your walls, but we have a different idea. To express your passion for traveling not only in the living room or the bedroom, invite these decorations into your kitchen as well. A fridge sticker illustrating the continent of your choice is ideal for that purpose. It's also an excellent way to rejuvenate an older home appliance which has gotten a bit boring over the years.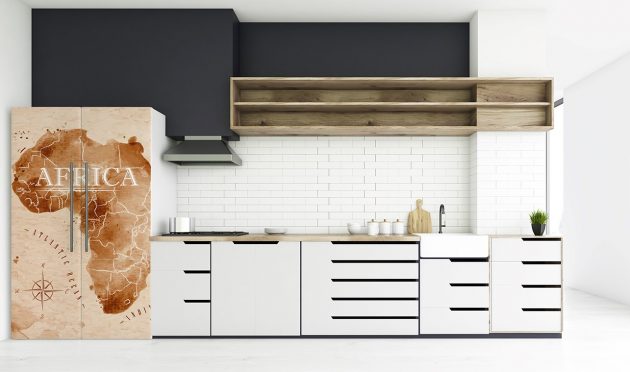 Finally, you can use amazing and fashionable typographic posters. An eye-catching quote is a great way to express your passion for traveling. Consider the designs saying: "Collect moments not things", "Say yes to new adventures", "The journey of a thousand miles begins with one step." All of the aforementioned arrangement ideas will infuse our home with a unique character. The traveling accents will fill up the space and provide motivation for further adventures!