Boilers are not precisely known for being good-looking and stylish appliances. For most people, it is okay if they do their job —and do it well, of course. But for you, this is not enough. You have always cared about your house looking elegant, which is why beautifully designed appliances are a must for your home.
What if you could have both a highly efficient and dashing boiler? Then the Greenstar 8000 Style boiler series by Worcester Bosch is what you have been looking for.
With so many models, manufacturers and prices available on the market, boiler replacement in the UK already implies lots of work. It could be an even more time-consuming task if you also consider design in addition to costs, reliability, and unique features.
To help you in your quest, we have reviewed the Greenstar 8000 series. It is, in our opinion, the best boiler series out there, combining both high performance and beautiful design.
Design
As you may already know by their name, Greenstar 8000 Style boilers are design-led boilers. They are designed and manufactured by Worcester Bosch, one of the boiler market-leading companies in the UK. As the company stresses, Style boilers were developed following many years of installer feedback and customer insight.
These boilers are available in high gloss black and white. They also offer a unique and, at the same time, handy design. For instance, they come with clearly labelled and enhanced touchpoints. Removing just a single screw is all it takes to remove the front case.
The top and side panels are independent units, so you can conveniently place and access the boiler even in restricted locations. Considering their ease of access, servicing it should take less time.
Moreover, the control fascia can be quickly dropped down for comfortable service access. When it is down, it includes a convenient in-built screwdriver holder and screw tray.
On top of it, one of the most iconic design features of Greenstar 8000 Style boilers is their full-colour touchscreen display. Besides being stylish, this modern display allows intuitive and effortless navigation through the menu and control options.
This pioneering display panel enables rapid diagnosis, fault-finding and commissioning. Thus, you would not need to spend time reading manuals and fault codes.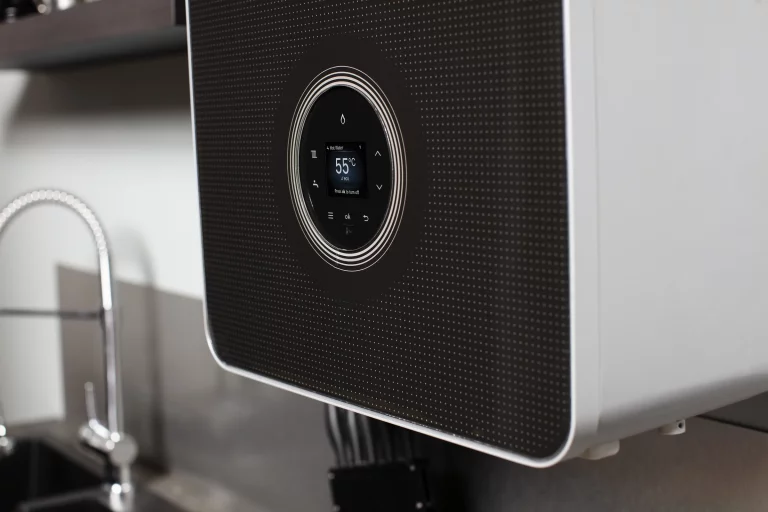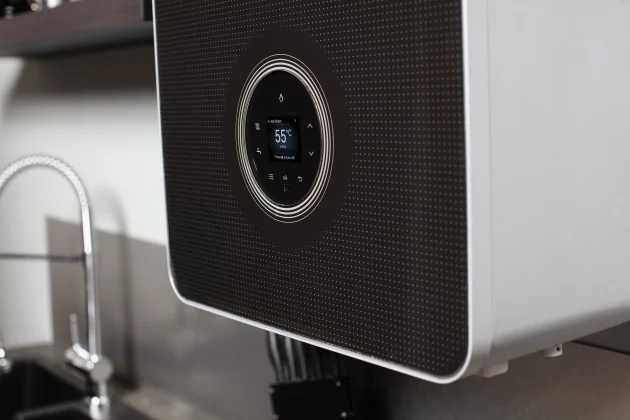 Smart Controls
If you get a Greenstar 8000 Style boiler, you can easily combine it with a wireless Bosch EasyControl unit. This smart internet-connected control can be installed on the wall or placed on a table stand.
Using it, you will have complete control over your boiler's Domestic Hot Water (DHW) and Central Heating (CH) outputs via the Bosch EasyControl app. In other words, you can walk away knowing you have set the boiler to achieve maximum comfort and efficiency.
Special Features
Style series includes combi and system boilers, with outputs of up to 50kW for the former and up to 35kW for the latter. This means that the Greenstar Style range is perfect for homes of any size, with the power to heat large homes with two or more bathrooms. You can check here to find more information about boiler types.
These boilers are also able to run on a 20% hydrogen blend – so you can be confident they will run on gas for their lifetime.
To finish this review, we have included a summary of Style boilers' most relevant features. We hope it helps you make your decision if you haven't made up your mind yet:
Available with an up-to-12-year guarantee when installed by a Worcester Accredited Installer. Terms and conditions may apply, though.
Optional unique Intelligent Filling System
This system uses the latest innovative software to help ensure the boiler maintains optimum pressure. If the system pressure becomes low, the software allows the internal filling valve to fill the heating system.
Wireless connectivity with a smart thermostat, the Bosch EasyControl
You can control your boiler even when you are far away from home. Smart thermostats also help you reduce energy waste as you can set your boiler to fire up only when needed.
Ideal for larger homes with more than one bathroom
Style range combi boilers can deliver up to 50kW with the highest hot water flow rates of any wall-hung combi boiler on the market.
One of our quietest boilers to date
Style has been designed to sit comfortably in any room of your home. You may not even know it's there.