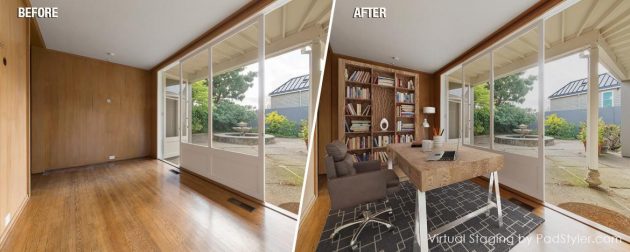 The first impression always lasts. This is a common saying which everyone should take heed, especially when it comes to selling property. Let's say you've been wanting to put your condominium unit up for sale. Since the first impressions are always important, you wouldn't want to post a picture of your property in its bare form right?
With that said, you need to make it more presentable for clients and let them see how this space can look gorgeous with their own furniture or even their preferences in color and everything else. So what do you do? Would you want to put in more furniture for a better picture? Repaint or reapply custom wallpaper to the walls for your clients to see? If your answer is a yes, then that would be a foolhardy endeavor. What you need to do instead is to utilize virtual staging.
This article will just be a quick rundown on what virtual staging is and which software you're going to want to seek out when getting amazing outputs. There are plenty of benefits that come with virtual staging as opposed to the traditional method of staging. There aren't many drawbacks to this method either, so it's always a win-win situation!
What Is Virtual Staging?
Virtual staging is pretty much like the traditional method when it comes to home staging, all done within a graphic editor. All of your costs then go into the work put into the graphic editing, which will be way cheaper! It's the whole home interior visualizations without the costs of actually buying the furniture to fulfill that imagery!
You might be thinking that since it's all done digitally, the quality of the outputs won't come out as realistic. Still, some websites can give you an output way better than what you would expect. The folks over at Padstyler are your best bet for getting excellent results if you want a desirable home using virtual staging!
Virtual vs. Traditional Staging
Especially with how many things are started with an online search, high-quality photographs are what they're looking for when they're browsing through their choices! Appealing visual presentations are always the ones to guarantee your entry plenty of views – which mean higher chances for potential buyers!
One benefit of virtual staging, as we mentioned earlier, is that it is way more cost-effective compared to the traditional method of home staging. Making your home look very presentable on the market is important. However, not everyone has the kind of money to purchase great furnishings. So spending way less on virtual staging is to be more desired.
Since everything is done digitally, the design choices for you are almost limitless! You have a larger catalog of furnishings you want to put into your "home" since they're all online. As opposed to the traditional method where you have to seek out the perfect furniture, which may take more time than one would like, right?
While still in your home, you can use virtual staging, so you don't have to spend extra when staying in apartments or condos. With the power of digital editing, they can remove personal items in the room or other furnishings that may have a negative impact on your listing! When the editing is all done, you can put your furniture back in place! It's convenient for you!
The Different Services You Can Search For
You'd be surprised at the different types of virtual staging you can find online, and for the most part, they are just of the different rooms of the house! You can get virtual staging for your house's exterior to show what it would look like in the best weather conditions and even in its best possible state!
It's quite inexpensive to get virtual staging for different rooms, especially if you're looking for some drastic renovations – which can also be accomplished! The color of your walls, the look of your doors all the way to the design of the floors, you can pretty much try to get everything changed so that your home can reach its true potential!
The three rooms you're going to want to pay the most attention to when putting up your rooms for virtual staging are the living room, the master's bedroom, and the kitchen since those were the rooms with the highest statistics for being the "most important" to stage. Those three rooms are probably the center of attention whenever they are scouting!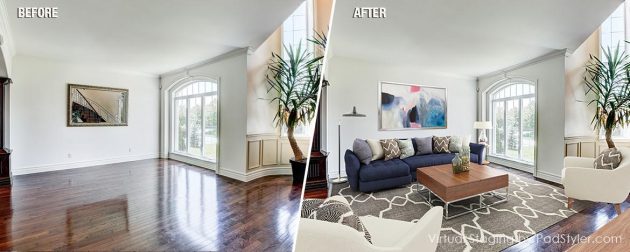 There Are Still Cons To Virtual Staging
Though it was stated earlier that there are barely any drawbacks when using virtual staging, it still isn't zero. Sure, virtual staging can be the tool you use to get potential buyers to your house and through your front door, but are they going to be pleased when they're welcomed to a home without any furnishings? It'll be hard to imagine a home without it!
Like the classic comparison, you would always see floating around the internet. Of course, there are the expectations vs. reality comparison. Since altered/edited photos will always look beautiful, people will cling to that expectation. If your house isn't up to snuff compared to the pictures you put up, then be prepared for some disappointed faces.
Takeaway
The decision falls unto you for whichever method you want to use for home staging; if you have the budget for going with the traditional method of home staging, then by all means! It's more reliable than the traditional method, but virtual staging would be the best option for the visual factor!