There are certain elements of architectural design along with built-in and added features that exude a sense of luxury and make a statement that a home is a high-end home, worthy of the title of an estate. The inspiration and design ideas can come from many places. They can come from ideas the homeowner has for the home of his dreams, lessons learned by the designer from creating previous homes and from the latest trends in architectural design and home interior design. Another place inspiration comes from is the geographical location of the home.
A home that is built into the side of a mountain becomes luxurious by virtue of its unique, scenic location. Homes that are on the waterfront, whether they are ocean front or lakeside homes, also take on the semblance of luxury. When you have natural scenic surroundings to work with, design elements like floor to ceiling windows become a critical part of the home. Panoramic views also quickly become important and unique aspects of the home.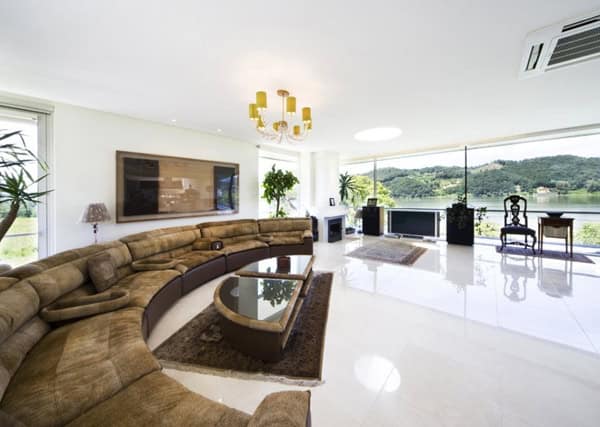 Smart Choices of Luxury Materials
Even homes without stunning outdoor views can express the sense of luxury in choices of materials used in the rooms. Flooring is one important choice that needs to be made, and choices to express luxury can include Travertine stone, granite, tile, ceramic, rare hardwood flooring like walnut or carpeting choices like wool, worsted, silk or cotton. Finely handcrafted area rugs can also be incorporated into rooms to complete an elegant look.
Wall coverings can also express a sense of luxury through unique paint choices and styles including stenciling, custom murals, faux surfaces and texturing, tile designs affixed to the wall, interesting choices like suede wall coverings, and creative uses of mirrors or stone. Choices of counter tops for the kitchen and bathrooms are also made more luxurious by using materials like high quality granite, marble or other stone choices.
Intriguing Unusual Rooms and Additions Also Emanate Luxury
Interesting room additions can also add the sense of luxury to a high-end home. Specially designed outdoor grilling areas, rooftop patios and exercise spaces, rooftop spas, special media rooms and computer rooms, along with elements like gated driveways can all be useful additions that work together to give a home its luxurious feel.
Private swimming pools with heated spas, outdoor tennis courts, basketball courts private home theaters and sunrooms add special touches of luxury. James Bond inspired additions like subterranean garages and a rooftop terraces add an extra wow factor to a well-designed estate home. If the home is a multi-level home, a specially designed elevator to get to each level makes a thoughtful addition.

High End Chosen Appliances Create a Luxurious Zone
When you walk into an estate home and see high-end appliances from suppliers like Subzero for refrigerator and freezer units, Gaggenau for ovens and cook tops and Miele dishwashers, you know you've entered a luxurious zone that few homes fall into. Laundry accouterments like washers and dryers by Electrolux or LG and high-end Miele rotary irons let you know instantly that a lot of thought was put into the comforts and convenience offered by premium appliances.
Special attention paid to little conveniences like added wine cabinets and bars, especially in areas meant for entertaining like the living area and the theater room show that extra thought was put into creature comforts. Other extras that make an estate unique include things like special acoustic additions in theater areas, home alarm systems, control systems for air conditioning, heat, and for opening and closing of window treatments. Little things like thinking about exactly how much sunlight should come into each room all add to the home's comfort and livability.
A Thoughtfully Chosen Home Designer Is Critical To Shaping a Vision
Homes that are meant to be estates are often the types of homes that are created for entrepreneurs like Don Burns. Entrepreneurs will usually have their own specific visions for their dream home and they would like to blend those visions with those of well-chosen architects and home designers who are experts at turning thoughts and ideas into reality.
Designers sometimes will take ideas from surrounding homes, but often times the ideas are directly tied to the homeowners' desires and wishes. They may even find inspiration from homes built in other parts of the world and homes that were designed in other eras of time.
Traits Designers Must Have
Designers must have the ability to work well with the homeowner and with the legal entities, organizations or commissions that they need to get permissions from. Excellent communication between all parties is essential to making an estate home a reality.
Each home design must be viewed as a unique piece of art that is meticulously crafted to fit in perfectly in the geographical area and to fall seamlessly within the scope of the homeowners wishes. This is not always an easy task, but one that is supremely rewarding when everything falls into place. Knowing that one's talent and work is appreciated is also gratifying.