When you buy a new home abroad or invest in a holiday home, either as a getaway for your family or to run your own boutique hotel or guesthouse, you want the interior design to match the culture of your location, but sometimes it can be difficult to know where to begin- especially if you are new to the area or do not know the culture very well. With our easy guide, we can help you match the home of your dreams with an appropriate interior design plan that mirrors the culture perfectly.
Modern Mediterranean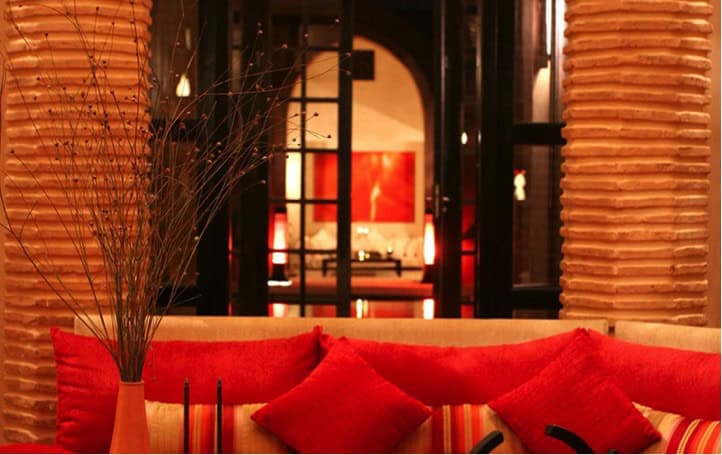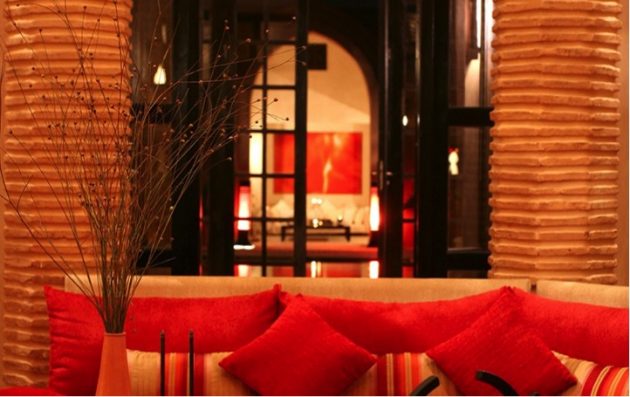 Image credit: Prestige Property Group
Typically, when people think of Mediterranean style they think inspiration derives from Southern European countries like Italy and Spain. Although true, the Mediterranean design embodies more cultures than just these- spanning design inspiration from countries in northern Africa, as well as western Asia. Although these cultures vary vastly in their unique offerings, and can be seen in the choice of the decorative art, they all share features that are the same across all these regions.
Radiant colour palettes, such as oranges and reds, feature predominantly in many rooms in Mediterranean properties, particularly the living space and kitchen -matching the terracotta buildings that inhabit the areas and mirroring the warm climates experienced in these regions. Whether you're looking for property for sale in Sicily or Morocco, picking out samples of these brilliant colours, along with earthy palettes will ensure your room reflects the new culture you are inhabiting. Other colours which will be particularly important in your Mediterranean design are white and beige, to balance out these sharp colours and to add some intricate detail. Also consider deep purples, which can be used in bathrooms and bedrooms to break up the use of orange used in other rooms, and add a little romance to the atmosphere. However, use this colour with caution, you do not want to use orange and purple next to each other in an open plan design, as these colours would contrast too dramatically.
Once the colours have been decided, the next thing to remember in Mediterranean interior design is the use of texture that features heavily in many Moroccan designs. Look towards pillows, rugs and throws that have bold patterns or colours to bring the room together. Consider adding decadent draping of soft material curtains in rooms such as the bathroom and bedroom to add to the romantic vibe.
Add in key features within the design, including a statement artwork on a large wall, ancient looking statues or unique, handcrafted furniture which will grab the attention of your guests and be conversational pieces. A claw-foot tub should definitely be the centrepiece of any bathroom in your new luxury property.
Cool Caribbean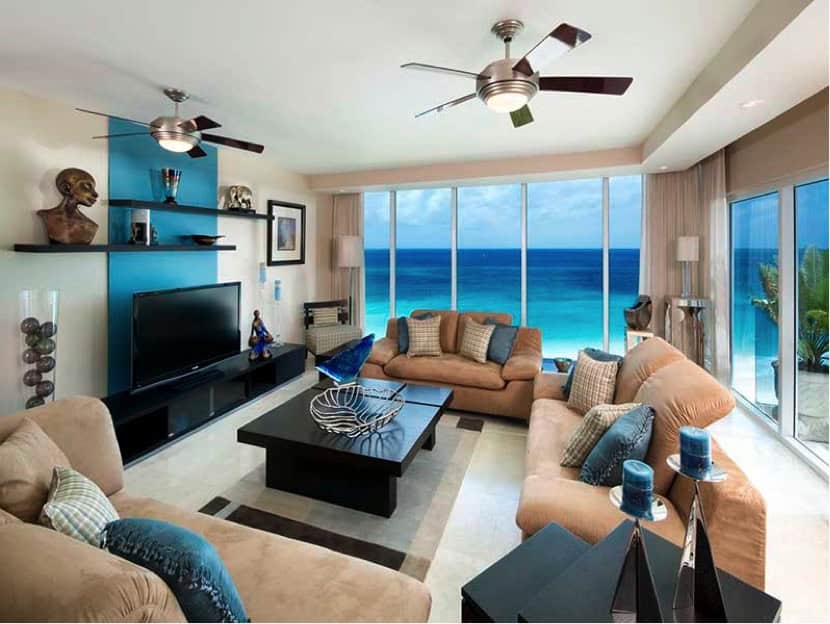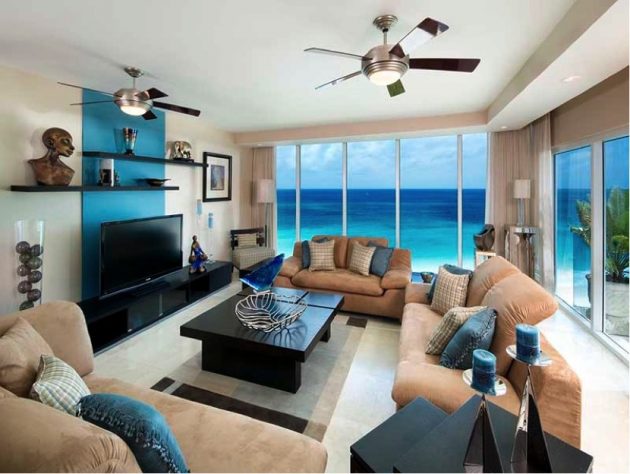 Image credit: Prestige Property Group
The architecture, that sit in amongst the green hills of the Caribbean, are crisp white and pink coral stone buildings that exude luxury. The tiny island of Barbados is an architectures dream- a perfect combination of the old and new, a simple elegance and a magnificent merge of history, tradition and a modern outlook that makes property in this area so desirable. It is therefore vital that the interior design of your Barbados property reflects the guest expectations.
With any Caribbean property, you want to play on the natural colours present in the gorgeous country. From the crystal blue waters that dance upon the white-sand beaches- to the rich colours of the coral, these colours make a great palette for your new luxury Barbados property. Allow this colour scheme to run through the entire property for a crisp and cool abode. Make your statement colour a rich blue, to reflect the ocean views from your window.
Invest in light, flowing drapes, as well as light throws for your sofas. Continue with these light accessories for everything in the bedroom, with a light, white drape hung around the king-size bed.
Parisian chic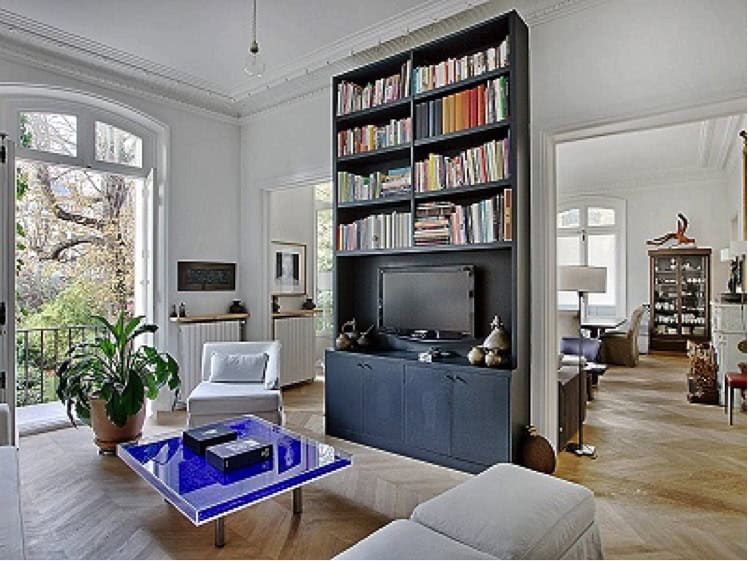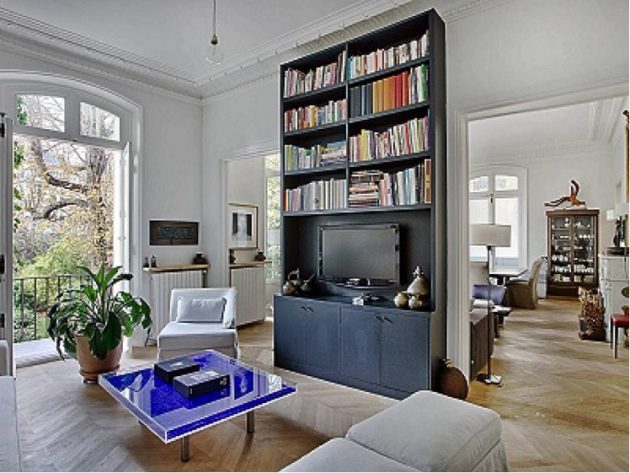 Image credit: Prestige Property Group
Paris is a desirable destination because of its links to fashion. If you're looking for a Paris apartment for sale, or have already bought one, you should make sure your interior design reflects the chic fashion that epitomises Parisian style.
The best way to do this is to stick to white walls and furniture for a crisp look. Add in splashes of colour through your accessories or art. Parisian apartments look best when they have a lot of character pieces in each room, so do not be afraid to be generous with your art budget or have clashing artists- it will only make your abode more interesting when you host parties or have guests to stay. Make sure each room features a fresh potted plant to incorporate a bit of greenery into the room.
Wherever you buy a holiday home, make sure you research the culture and interior design trends of the area to make sure your property is in keeping with the location and expectations of your guests.