Wall art is such a significant step in decorating your home. A house with blank walls lacks energy and character, which essentially reflects on the home's overall feeling. Somehow, art gives a sense of structure, ease, and inspiration to your place.
From gallery walls to DIY creations like framing accessories or plates, there are plenty of wall art ideas that can spark your creativity. Nonetheless, in this article, we will take a closer look at decorating your space and bringing art into your life through framed prints.
And why precisely framed prints? It is because they are such a versatile and inexpensive way to beautify your home. You can opt for framed prints displaying abstracts, architecture or city motives, celebrities, or black and white photography. Almost all images work well as a framed print, so it all comes down to your personal taste and home decor. With that said, let us explore a few creative ways of how framed prints can brighten your home.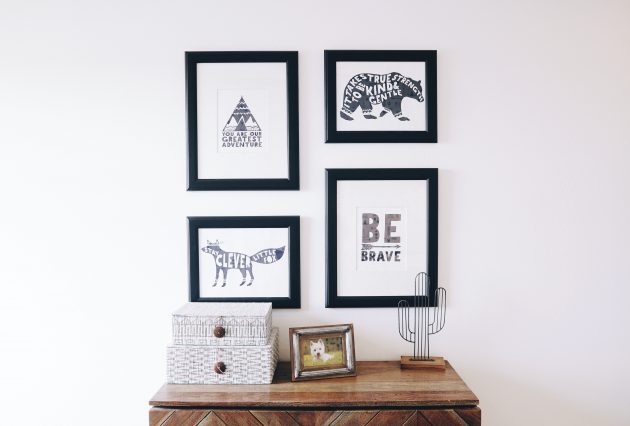 Photo by Josh Hemsley on Unsplash
Making a Statement in Your Living Room
The living room is all about displaying show stopping pieces you want to showcase to the world proudly. And no matter your style, you can amp up your walls and bring out your personality and taste with framed prints. If you have large blank walls, opt for one or a maximum of two large prints.
For example, if you have a large piece of art over the sofa, hang a similarly-sized framed print on the opposite wall. Alternatively, several smaller wall prints that match can be arranged together and balance the larger piece's scale on the opposite wall. In this situation, keep in mind that it is crucial to make sure that they are all the same size when you hang them side by side. If you have a small living room, opt for creating a gallery wall with framed prints, ideally placed above a chest.
Setting a Mood in Your Dining Room
Your dining room is the heart for family meals and memorable dinners with friends. So, before you decide on incorporating framed prints on its walls, consider whether you want something dramatic or something that doesn't distract from the dining room table.
An easy option is to display family photos in a grid of matching frames, which will give the room a warm and homey feeling. Another option is to add floating shelves and arrange colorful framed prints that add a youthful and vibrant texture.
Photo by Sven Brandsma on Unsplash
Create an Atmosphere of Serenity in the Bedroom
You got an ideal headboard and beautiful bedding. Now it comes down to choosing the perfect decoration for the empty wall area over your bed. Framed prints are an easy and exciting way to an atmosphere of serenity and uniqueness in your sleeping heaven.
You can opt for creating a gallery wall with abstract or naturalistic motives with soothing colors or tones. Another idea is to choose one framed print in black and white (as large scale pieces) and hang it at eye level. When it comes to photography, landscapes, or desaturated photos work best. Naturally, the framed prints must complement your bedroom's overall decor.
Photo by Sidekix Media on Unsplash
Do Not Forget Your Kitchen
For many, the kitchen is the most used room in a home, so undoubtedly, art needs to be incorporated here as well. Spaces above cabinets are perfect homes for hanging framed prints.
If you lack space, countertops can also do the job. And when it comes to motives, opt for funny or social prints that will make you smile every time you enter this room.
Finally, consider whether your preferred framed prints (if you opt for more than one) match. To be on the safe side, use a different and suitable motif. For example, use social or food motives for your kitchen to perfectly blend in the ambience. Regardless of your choices, as long as your chosen motif fits with the kitchen room design's flow, it should work.
A Home Office that Inspires You
Whether you work from home or you have created an area for crafting or reading, your home office must stimulate a flow of creativity that will get you down to business. That is precisely why this room must be full of inspiring art.
Our favorite and naturally easiest way to do this is by adding framed prints on floating shelves installed over your workspace or at least close to it. Pick a collection of prints that motivates you and be bold when it comes to deciding on motives and sizes.
If you do not have much space above your workspace, create a gallery wall of framed prints on the opposite wall. You can have them in similar frames to achieve a minimalist look or all in different frames to add some character. Also, you can even put some of them on the floor for a more creative and casual vibe.
Photo by Albuu – Design de Álbuns on Unsplash
What to Keep in Mind Before You Pick Framed Prints
A few fundamental approaches related to displaying your favorite art can help you choose the right size and type of framed prints so you can get the most out of them. First, your preferred print should always match the scale of the other items in your room. That is important if you want your art to fit with the interior design of your home.
Another thing to consider is matching your framed prints with the overall room design. That said, you should not choose an image simply because of its color. However, it can be beneficial to find some matching elements with color, patterns, size, or theme.
Lastly, pay attention to spacing. Framed art prints with different themes and styles should work as accents to the room and, therefore, be spaced far enough apart to be viewed individually.
At the End
Theme, color, style, and size are essential elements to consider when choosing wall prints. However, the power that a bold piece of framed art print can have over its viewer should not be underestimated. Finding a print that speaks to you is probably the most crucial aspect of bringing art into your home.