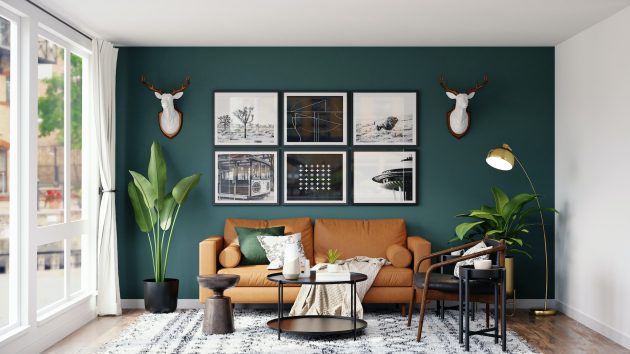 There are many things to consider when choosing artwork for your home. It's important to find pieces that reflect your personal style and taste and coordinate well with the existing decor. Whether you're looking for a series of prints or an original piece of art, this beginner's guide will help you choose the right artwork for your home.
Choose Some Of Your Own Creations
You may not wish to settle for something generic or mass-produced. In that case, why not choose some of your own homemade art? Whether you opt for an oil painting or some personal photos, making it yourself gives it a personal touch.
You may have a sculpture that you previously created. If so, place it on a flat surface and add some spotlighting. If you haven't painted a picture before, this could be a good time to start! If you go online in search of the best oil paints you can view photos, product details, and star ratings. There are paints for beginners or professionals, and specialist websites discussing the pros and cons of each brand.
Seek Inspiration
The internet offers an array of online stores and art galleries featuring high-quality works from both emerging and established artists. Visiting these sites is a great way to discover new and exciting artwork that perfectly suits your preferences. Additionally, visiting art shows or local galleries gives insight into what type of artwork is available in your area.
Finally, check out social media for some inspiring examples of artwork. Platforms such as Pinterest and Instagram are designed to display pictures and photos. Thanks to galleries (Pinterest) and hashtags (Instagram) you can narrow down your searches even further.
Consider Your Budget
Whether you're a beginner or an experienced art collector, you need to have a clear understanding of what you can afford. This will ensure that you make wise decisions when selecting and purchasing pieces of art. Some people prefer to invest in higher quality pieces while others might be looking for more affordable options.
Once you've determined the amount of money that you can dedicate towards artwork, start researching different pieces and artists who fit within this budget range. You should also consider other costs such as frames, shipping fees, taxes and any applicable commission fees if working with an art dealer or gallery.
Consider The Room Size And Architecture
The room size is important whether you're looking to add a new piece to an existing collection, or completely revamp the look of your home. A large wall needs a bold statement piece, while a small wall might need several pieces that can be hung in series. The scale of your art should also match the scale of other objects in the room, like furniture and accessories. Larger pieces should be balanced with smaller ones for optimal visual impact.
Incorporating architectural elements into your home's design is an easy way to enhance its aesthetic value. Consider emphasizing particular parts of the architecture by adding paintings that make use of lines, shapes, or colors already present in the room's structure. Highlighting features like high ceilings with tall vertical art pieces create interesting visual contrast and anchor the entire room together.
Consider The Color Scheme
The right color scheme can create a sense of harmony and balance throughout your home, while the wrong colors could make it look messy and disorganized. Ask yourself if there are any particular shades that stand out, or what overall hues are present in the furniture or wall décor.
You'll want to choose pieces that will complement these existing elements – by either blending with them or adding attractive contrast. Finally, different times of day might influence how certain colors appear in a room.
Consider Your Personal Style
You may love bold and modern art or prefer classic and timeless pieces. Are you drawn to abstract expressionism or minimalist design? Do you prefer monochromatic colors or vibrant hues? Knowing what kind of art speaks to you will help narrow down the wide array of possibilities.
Additionally, think about what kind of atmosphere you want your home to have. Is it a cozy haven from the world outside? Or do you prefer an airy, open space filled with natural light? The right art will create the right mood in your home.
Thanks to these helpful tips, you now know more about choosing the right artwork for your home. You understand where to look and what to look for. If you choose wisely you'll enhance your home interior, change the atmosphere and create a talking point for guests.