At one time in history, the bedroom décor all had to match. If your bed frame and headboard were made from oak, then all the dressers, nightstands, and mirrors would also be made of the same wood, and they would all be stained the same color. Today that is not the case unless you truly love to have everything match. The great thing about the trends today is that you are entirely free to show off your personality through a colorful bedroom filled with décor based on a mix-and-match design.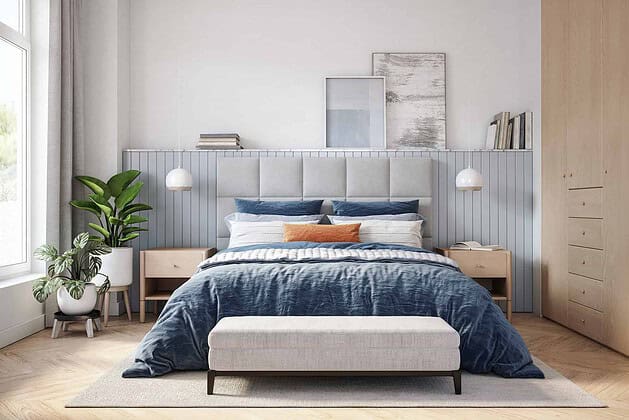 But, that is much easier said than done because you cannot just through a bunch of pieces together, add an old metal angle iron frame under a box spring and mattress, and call it a day. You must still use your inner design skills and match your combinations to make it look good. So, let's look at a few different ways to use bedframe décor styles to find the perfect match to compliment the rest of your bedroom décor.
Modern Décor Style
Platform beds are one of the most modern styles trending today, and since they have been a trend off and on for as long as most people can remember, it is a surefire bet that they will be in fashion for many more years to come. The great thing is that even with this idea, there are many options.
For instance, you could go with a simple frame style, such as a soft padded pedestal that cushions the blow when you stub your toe (which always happens no matter how careful you are.) On the other hand, if you need more storage area, you could go with a bottom frame with built-in drawers or storage containers, giving you space to put things that would generally be wasted open areas.
Tech Décor Style
The world has found itself in the middle of the age of technology. Everything has to do with smart homes, smart cars, smartphones, and all the innovative gadgets that accompany them. The bedroom is no exception because, let's face it, that is where a substantial amount of your time is spent, even if it is just to sleep between working. If you are a techie that loves all the lights and the bling, the tech décor style is for you.
The best way to instill this style in the bedroom is to start with a standard bed frame with feet coming down to hold the frame up and plenty of open-air underneath. That open air will allow you the opportunity to climb underneath and wire in some neon lights, speakers, and maybe even some projection lights to give you a show in the walls while you slip into a deep slumber.
Minimalism Décor Style
The final trending style you need to know about is the minimalism décor style, which is exactly as it sounds. Less is better is the new type of philosophy floating around the nation. The idea behind it is why have things in the bedroom you do not need, so starting with the bed and the bedframe, think "less is more."
For some, that means putting the mattress directly on the floor, while for others, it involves having a small platform underneath that sits on the floor, elevating the bed just enough to make it easy to get on and off the mattress.
Final Thoughts
What it all boils down to is you and your specific style. Granted, it is vital that you pick a trending style if you want to stay up with the times, but it does not make sense unless it matches your specific tastes. So, with that in mind, think about what you want to portray to people that see the bedroom and what you want it to mean to you when you walk into it. Once you have that picture in your head, get online and start shopping.