There are two areas where home renovations have the greatest return on the investment, the kitchen and the bathroom. Yet these are areas where it is easy to make a mistake and make the home less appealing to potential buyers. Here are a few modern bathroom furniture ideas that appeal to home buyers. We'll cover everything from vanity unit ideas for a new bathroom to accessibility upgrades that make it attractive to the entire age spectrum.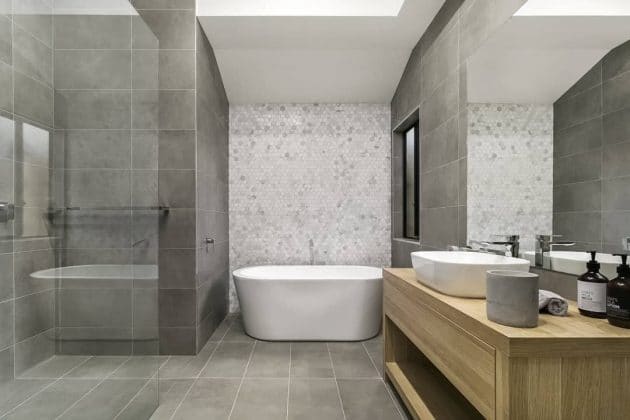 Upgrade the Bathroom Vanity
There are several vanity upgrades that can add value to the bathroom. In a small bathroom, floating vanity with underneath for someone's feet or shoes can add valuable inches. Vanities that fit over the toilet or tightly under the sink are another option for small bathrooms. Vanities built around gravity toilets and sinks make the most of limited space, as well.
A double vanity / sink is appreciated in larger shared bathrooms, whether it is a master bathroom or children's bathroom. Replacing the vanity is essential if it is warped or decayed due to a prior water leak. In other cases, a new vanity can make the entire room appear to have been updated, and you'll get points for aesthetics when it includes elegant storage.
The Walk-In Shower
The walk-in shower is associated with upscale hotels and spas. It is also a practical upgrade in many homes to allow people to age in place. Done right, it allows someone with limited mobility to enter a shower without assistance. It should have space for a shower stool or chair. That gives them the dignity of bathing by themselves, but it allows assistants to enter if necessary. It won't make the home seem like it is part of an old folk's home the way a walk-in tub would. If the bathroom has the space for a walk-in shower and bath tub, this feature confirms the elegant spaciousness of the bathroom.
The Decorative Trends
Bathrooms undergo design trends like living areas and bedrooms. Some of these architectural trends reflect social changes such as the shift toward side mounted faucets that are accessible for those with limited balance or reach. Wall mounted toilets are part of the aesthetic movement to hide plumbing as much as possible. That's why you see more wall mounted vanities around sinks to hide the plumbing over open sink supports that maximize the usable space underneath.
The shift toward all natural materials is a broader aesthetic movement. It is almost a rebellion against an increasingly high tech age. You may still see bright metals, but it tends toward brass and bronze over silvery surfaces. Not only is wood coming back, but it is fashioned to show off the natural contours and colors of the material, not painted. Stone tiles that show small color variations are replacing pure white
tiles. And plants are being added to every room of the house. Bathrooms are ideal for succulent plants, since they need little light or water.
Bathrooms may remain multi-purpose, but we see more emphasis on their original purpose. This lead to more large free standing tubs that are the focal point of the décor or walk-in showers with spa-level amenities like double showerheads.