Home renovations are one of the most exciting projects, but without a keen eye on the costs, the project can spiral out of control. Whether you have a small or big budget, it's important for you to have some kind of plan to guide you through the entire process.
In this guide, you'll find 9 effective ways to help you minimize costs for your home renovations project.
Create a Budget
When you have the money, it's easy for you to ignore the budgeting process. Also, the adrenaline rush that comes with these renovations can be quite overwhelming to the point that you forget about creating a budget.
Most of the time people think budgeting is boring, but it will go a long way in helping you to see how much money you'll spend on the entire project. To create a budget, take a look at your total income and savings and find out which type of renovation you'll want to start with.
List everything you need for the project including lighting, paint, tiles, appliances and much more. Afterward, make calls to a reputable contractor to find out the cost of labor and materials.
This way, you'll identify various areas in the budget which are taking up a lot of money. You can decide to go for less expensive items or choose to strike them out altogether.
Also, don't forget to include a certain amount to take care of uncertainties. About 10 percent of the total cost is fine. Creating a budget is only half the work, you have to stick to it to realize the full benefits.
Pay with Cash
With the money in your savings, you can pay for materials with cash. This is a fantastic way to save and avoid the huge interests involved if you decide to take out a loan then search here for lenders or if you use credit cards. Keep in mind that there may be scenarios in which taking out a loan make senses.
One such scenario is if you intend to sell your home after the renovations. This is because you know the house will sell at a profit, thus allowing you to clear the loan on time. If you have the money in cash, it'll be better to opt for this method.
Time is Everything
You might be eager to get on with the renovation process, but you don't have the money to do so yet. Look at this as a blessing in disguise. You don't want to start renovations without a concrete design in place.
With time on your hands, you can go through various designs to come up with the perfect one.
If the renovations will cover the entire house, it can get quite overwhelming trying to come up with the best designs for each room. To avoid complications, concentrate on two rooms at first. Complete the renovations in these rooms before moving to the next one.
This way you won't have to live in an unfinished house should you encounter financial constraints. Also, by dealing with two rooms at a time, you can work your way out if money issues step in.
In addition, you won't have to stop the renovations in the entire house, take out a loan, or even compromise other rooms.
It's important to take the time to incorporate every detail to avoid wasting money and time while deep in the project.
Get Your Hands Dirty
Of all money-saving techniques, this is the most effective. You might think you're not handy when it comes to the crafts, but that is far from the truth. You can do most of the repairs alone. For example, you can install tiles, or even prepare a space before the professionals come in.
Also, you can clean up the surfaces or even paint to get a step ahead. In addition, you can take this opportunity to hone your skills with YouTube. If you have your own tools, that'll be a plus. If not, you can still rent them out from a local hardware store. Besides, the deadlines for renting them out will push you into completing the renovations on time.
While DIY can save you a lot of money, there are tasks you should not do without a license. This includes fixing electrical problems or utility lines.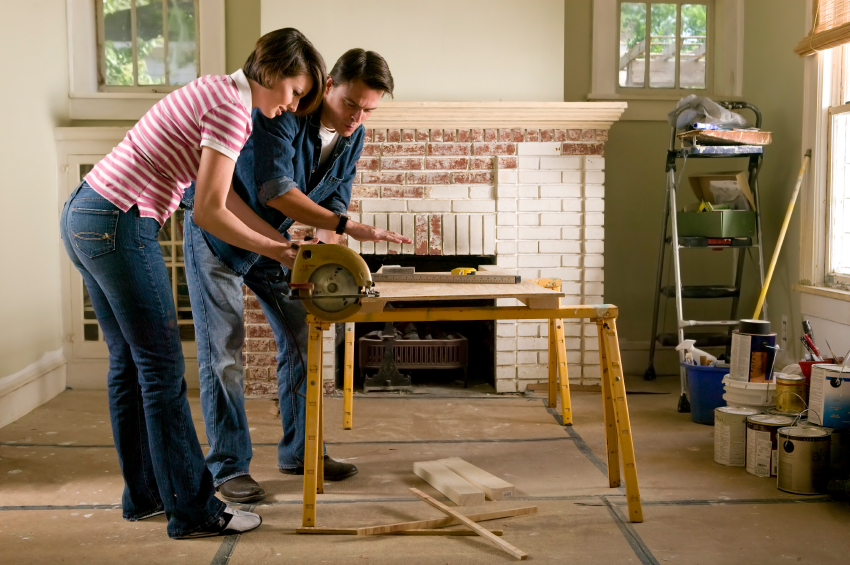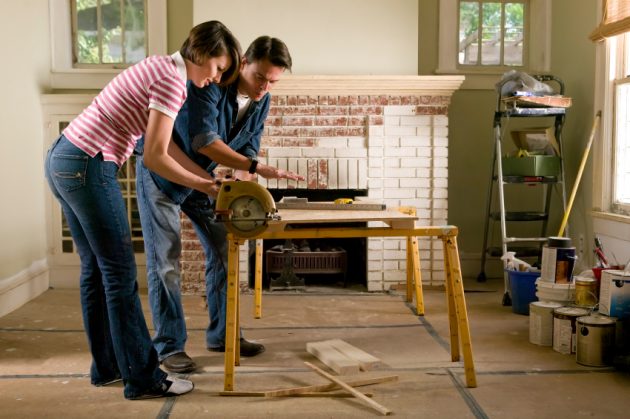 Recycle Old Materials
Not everything you pull down will go to waste. Some appliances or materials can be reused to save you some money. It will be impossible to reuse everything, but you can look for cheap, used materials on websites rather than buying new. Some people might be moving and want to sell some of their appliances fast.
Take advantage of these opportunities and buy second-hand items to save money on renovations.
Get Professional Help
Sometimes you have to bring in the experts to take care of some installations and repairs because you might not have the necessary expertise. Furthermore, you might end up making mistakes which will require pros to fix, thus burdening you with more expenses.
As you enlist some help, be cautious about who you choose. You can find out from your friends who have done renovations before. They can provide some insights into the best contractors in the industry. What's more, you could even have friends who are contractors and can offer you a reasonable discount.
Sell What You Don't Need
When pulling down some appliances, you don't want to throw them away. Rather, sell them off to get some money you can pump into the project. There are numerous sites where you can put these items on sale such as Craigslist and OfferUp.
If no one buys them there, you can sell them at scrapyards. Another alternative is to donate them to various support centers near you.
Maintain the Same Home Architecture
Renovations come in sizes. The biggest of them all include moving around the big stuff such as stoves, sinks, walls, windows, and bathtubs. Breaking down walls is a heavy task and it may require you to put up expensive beams.
However, this will depend on the renovations you want completed. Moving the utility lines in the wall might be more expensive than breaking down the wall. Often, you'll need to hire professionals to do the complicated work which means digging deeper into your pocket.
Look Out for Big Sales
There are various big sales throughout the year such as Black Friday and the like. You can take advantage of these big sales to make big purchases such as electronics, furniture and other appliances.
Take time to find out when these sales occur so that you can start saving early. Also, don't let impatience take over your chances of getting the best deal.
Over to You
Home renovations can be exciting and overwhelming at the same time. The latter is sometimes more prominent, especially if you don't have a clear budget to guide you through.
Apart from budgeting, it's crucial for you to understand what you want. This includes the type of renovation and the amount of money you intend on spending on the entire project. The tips in this article will help you save on your home renovation.